Taiwan: Falun Gong in National Day Parade in Changhua County
October 14, 2017 | By Xia Yun, Minghui correspondent in Taiwan
(Minghui.org) Falun Gong practitioners' Tian Guo Marching Band participated in the National Day Parade in Changhua County, Taiwan, on October 10, 2017.
The 200 synchronized musicians in their striking uniforms brought the message of Falun Gong to crowds of spectators during the joyful celebration.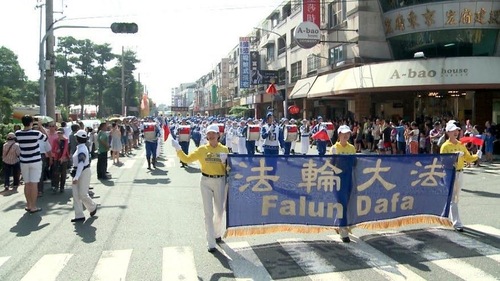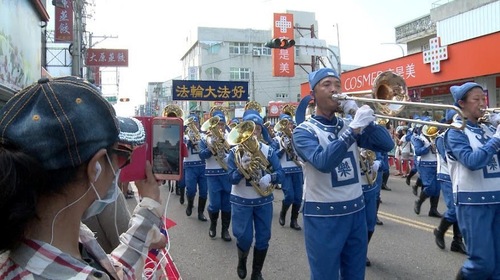 The Tian Guo Marching Band in the National Day Parade in Changhua County, Taiwan.
For two years in a row, the Tian Guo Marching Band has been invited to lead the parade procession. People cheered the band's outstanding performance: "Magnificent!" "How exciting!" Many government officials thanked the practitioners in person for their great contribution.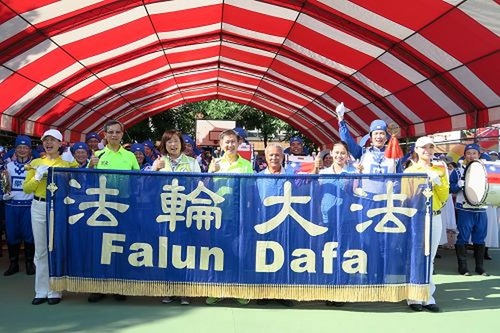 Mr. Ye Yan-Bo, Director of the Changhua County Public Health Bureau (second from left); Mr. You Ruei-Chun, County Council Member (third from left); and Mr. Chen Wen-Bin, Director of Changhua County Cultural Affairs Bureau (fourth from left) express their appreciation for Falun Gong practitioners' great contribution.
Ms. Lai Ching-Mei, Member of Changhua County Council (second from left), photographed with Falun Gong practitioners. She praised the practitioners for their boundless energy.
Mr. Yang Fu-Jian, Head of Xihu Township, praised the Tian Guo Marching Band for their precise movements and energetic performance. Mr. Yang used to serve as a Changhua County Council Member and supported Falun Gong practitioners at many activities.
Mrs. Ke, who owns a rice mill on the parade route and saw the band, said, "Powerful!" She said it was a rare chance to see such a great performance that had lifted everyone's spirits.
The practitioners played another piece after the parade ended, and the spectators were impressed, commenting, "I really admire them!" "They are soaked in sweat in such hot weather, but every one of them is still playing so conscientiously!"
A group of Thai Chinese participated in the parade. Their procession was right behind the Tian Guo Marching Band. One of them went to see the practitioners during a break and praised their wonderful performance.