Minghui Report: Overview of Persecution of Falun Gong in First Half of 2016 (Part 1 of 2) – 4,892 Arrested, 1,939 Harassed, 5 Die
August 30, 2016 | By a Minghui correspondent
(Minghui.org) The Chinese Communist Party continued to persecute Falun Gong in the first half of 2016, with 4,892 people arrested and 1,939 harassed for their faith in the spiritual discipline based on the principle of Truthfulness-Compassion-Forbearance.
Five of the targeted Falun Gong practitioners died within hours or weeks of their arrest or harassment by authorities.
While 1,882 (38.5% of the 4,892 arrested practitioners) have been released, the remaining practitioners are held in various detention facilities or brainwashing centers. Some have been formally arrested and indicted.
Those who were harassed were often asked to sign statements renouncing Falun Gong or had their biometric information forcibly taken. Many were also placed under constant police surveillance. Some practitioners were demoted or suspended from work for refusing to comply with the authorities. A few even went into hiding to avoid arrest.
Family members of the practitioners were also subjected to constant threats and intimidation from authorities. While some were brave enough to support the practitioners in their families, others gave in under pressure and did everything possible to try to stop the practitioners from practicing Falun Gong. Some families were broken up as a result, with couples divorcing or children cutting types with their parents.
5 Die Shortly After Arrest or Harassment
Among the affected practitioners, 5 died shortly after their arrest or harassment.
Henan Woman Dies Within Hours of Arrest
Ms. Wang Xiuyun, in her 70s, lived in Henan Province. She was arrested on May 13 of this year for filing a criminal complaint against Jiang Zemin. She died within hours of her arrest, and the police did not give any explanation to her family for her death.
Man Dies 17 Hours after Police Surround His House and Shut Off Utilities
Mr. Li Yuqin, a 68-year-old man from Shanghai, died 17 hours after police put his house under siege and shut off his water and electricity. He had taken a fall just days ago and was still bedridden when the police came to harass his family at around 10 a.m. on January 19 of this year. The police ordered their utilities shut off after failing to pry the door open.
Traumatized by what was happening, Mr. Li fainted that afternoon. His wife and children pleaded with the police to restore water and electricity to their house, but the police refused.
The police also did not allow anyone to leave the house. Denied medical attention, Mr. Li passed away at around 3 a.m. the next day.
A Teenager's Nightmare: Mother Still Detained, Father Dies in Police Custody
Mr. Gao Yixi from Heilongjiang Province died ten days after he and his wife were arrested for their faith on April 19, 2016. According to his family who saw his body, his chest protruded, and his abdomen was sharply sunken. There were handcuff marks on his wrists. He was 45.
With her mother still in detention, the couple's teenage daughter quit school to seek justice for her parents.
Two Brothers Die in Police Custody Three Years Apart
Mr. Yang Zhongsheng died within 11 days of his arrest on April 10, 2016 for practicing Falun Gong. Only three years earlier, his older brother Mr. Yang Zhonggeng was beaten to death, also for refusing to renounce Falun Gong.
Originally from Ruian City, Zhejiang Province, the Yang brothers worked in Zhengzhou City, Henan Province, where they both lost their lives at the age of 38 for exercising their constitutional right to freedom of belief.
Hebei Woman Dies 2 Months after Arrest
Ms. Yan Guoyan from Hebei Province was arrested on January 15, 2016 for suing Jiang Zemin. The director of the local brainwashing center called her family on February 2, ordering them to get 1,500 yuan ready before picking her up. Her family saw her lying in bed and appearing very weak. She died at home on March 13.
42 Other Death Cases
The first half of 2016 also saw the deaths of 42 other Falun Gong practitioners who were arrested in years prior. They died as a result of torture during detention or long-term harassment by police.
Below is a full list of the 47 death cases that took place in the first half of 2016.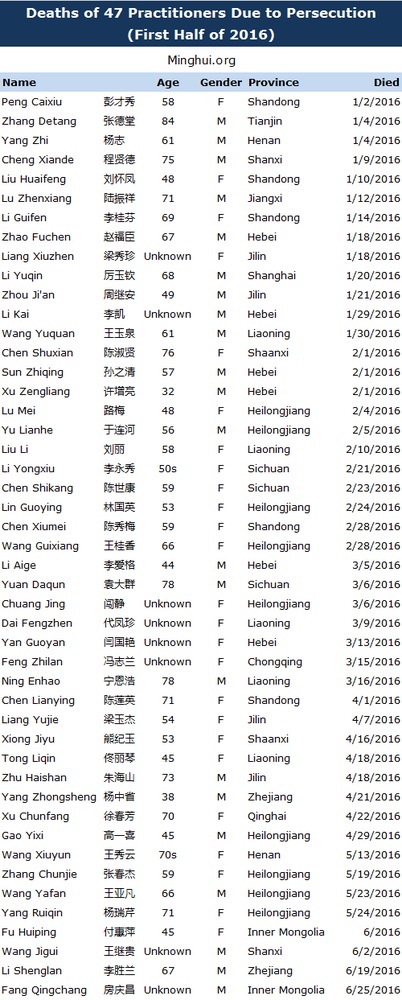 Practitioners All Across China Targeted
The 4,892 arrested practitioners hail from all across China, covering almost every province and centrally-controlled municipality. Shandong Province had the most arrests (968, 19.8%), followed by Liaoning (574, 11.7%), Hebei (422, 8.6%), Heilongjiang (369, 7.5%) and Jilin (314, 6.4%).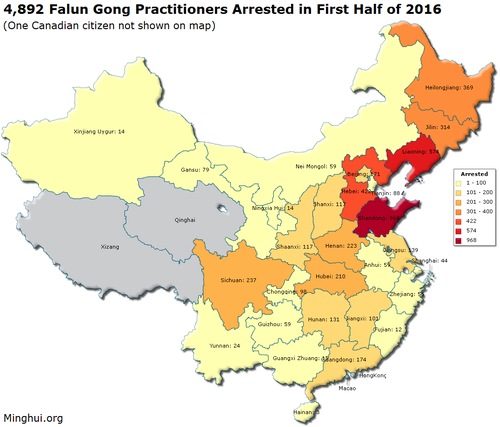 The 1,939 harassment cases were also scattered around the country, with Shandong Province topping the list with 577, followed by Hebei (383) and Sichuan (120). Nineteen other provinces registered double-digit cases of harassment, while the remaining 7 provinces logged single-digit cases.
The affected practitioners include people from all walks of life, including college instructors, students, doctors, engineers, accountants, and entrepreneurs.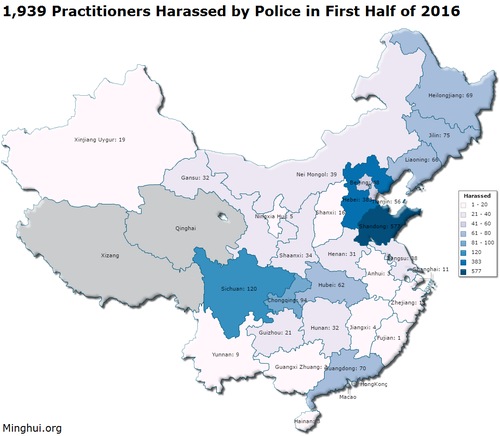 Direct Triggers for Arrests
Among these practitioners, 682 (13.9%) were arrested for filing criminal complaints against former Communist Party leader Jiang Zemin, who ordered the persecution of Falun Gong in 1999.
Others were reported to or caught by police for distributing information about the persecution, or arrested during practitioners' gatherings.
Group Arrests
Many Falun Gong practitioners are on police blacklists, and their daily lives are monitored. They are often arrested while meeting with other practitioners.
On January 21, 2016, a dozen practitioners in Beijing were arrested during a gathering. They were held at a police station before being transferred to the Tongzhou Detention Center. Only one practitioner was released on bail.
On May 10, 2016, eleven practitioners from Xianyang, Shaanxi Province were arrested while reading Falun Gong books together. Officers detained them at a police station overnight. Six practitioners were released on the next morning, and five remained in custody.
Repeatedly Arrested and Persecuted
Among those who were targeted for their faith in the first half of 2016, some have been repeatedly persecuted in the past 17 years.
Mr. Yang Dexin, 48, from Wanzai County, Jiangxi Province, was arrested when he visited his 80-year-old mother on February 27, 2016. Since the communist regime started its campaign against Falun Gong in 1999, Mr. Yang has been illegally detained for more than 10 years, including three years in a forced labor camp and more than seven years in prison.
Mr. Teng Shijun, from Tumen, Jilin Province, was arrested at his residence on May 12, 2016, after eight years of going from place to place to escape the persecution. Prior to his latest arrest, he had been arrested multiple times, sentenced to a labor camp twice, and detained at a brainwashing center three times. He was brutally tortured for refusing to renounce his belief in Falun Gong.
To escape further harassment, he was forced to leave his home and live on the streets after his latest release from the labor camp in 2008. Eight years later, he was arrested once again. He is currently out on bail due to high blood pressure.
Mr. Qin Wei, an artist in Beijing, was arrested for the eighth time on May 18, 2016 while distributing commentary criticizing the Chinese Communist Party. He is currently detained and charged with "using a cult to undermine law enforcement." Before that, he had been imprisoned for five and a half years because of his belief. He was shocked on the face with electric batons, deprived of sleep for months, and subjected to other forms of torture.
Police Brutality During Arrest
The police often used brute force and violence while arresting the practitioners. Their non-practitioner family members were also implicated in many cases.
Ms. Liu Gexin, a practitioner from Beijing, was reported to the police for talking to people about Falun Gong. While the police was arresting Ms. Liu, the police van hit her 4-year-old boy, Xiaoyu, leaving bruises on his face, knee, and arm.
The mother and son were both taken to the police station on June 3. While Ms. Liu was being interrogated, the little boy was taken to a different room and questioned about his parents' work, their practice of Falun Gong, and where they lived.
The 4-year-old was taken back home by his family after 36 hours of terrifying detention. His mother was detained in police custody for a month and released on July 4.
In another case, 81-year-old Ms. Yuan Liqin, was grabbed by officer Lei Shaowei and thrown to the floor when she went to the police department to demand the release of her son and daughter, who were arrested on May 10, 2016 with nine other Falun Gong practitioners.
Struggling to get up, Ms. Yuan grabbed Lei's leg. Lei dragged and kicked her again, severely injuring Ms. Yuan's abdomen. She was unable to straighten her back days later and still has difficultly standing and sitting.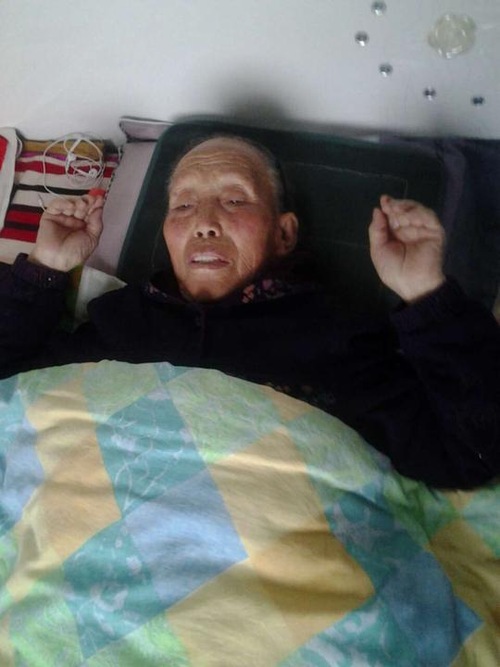 81-year-old Ms. Yuan Liqin was thrown to the floor and kicked by police officers, resulting in severe injuries to her abdomen.
Arrested Around "Sensitive Days"
Under the so-called "Weiwen policy," which refers to "maintaining stability" for the Party, the police often heightens their harassment and arrests of Falun Gong practitioners around politically sensitive dates, such as National People's Congress meetings, major sporting events, or major Falun Gong-related anniversaries.
Mr. Zhao Ming, 56, a dentist in Hengshui City, Hebei Province, was arrested on March 11 and detained in the Hengshui Detention Center for over a month during the annual plenary sessions of the National People's Congress (NPC) and National Chinese People's Political Consultative Conference (NCPPCC).
Mr. Zhao may have been put on a blacklist by the 610 Office for filing a criminal complaint against Jiang Zemin for launching the persecution of Falun Gong in 1999.
Put Under House Arrest with Utilities Shut Off
When practitioners refused to cooperate with the police, officers would put the practitioners under house arrest and cut off their water, power, and other utilities.
In the case of Ms. Wang Wenjun, twenty officers took turns to watch her at home for five days starting on March 23, 2016, after she refused to go to the police station for a talk. The police turned off power and gas to her home, stopped all grocery and water deliveries, and refused to allow anyone to see her.
Arbitrary Detention
Although some practitioners were released shortly after their arrests, a large portion of them remain in detention, sometimes for months or years, despite the legally permissible detention length having long expired.
In Hebei Province, eleven practitioners were arrested for filing criminal complaints against Jiang Zemin between January 14 and 20, 2016. After the 15-day limit of temporary detention expired, the police still refused to release them unless they agreed to write a statement renouncing their belief and for their families to pay fines and their meal expenses.
On June 14, 2016, Mr. Wang Zhongxian, from Yantai City, Shandong Province went to the prison to pick up his wife, Ms. Wang Haohong, who had been imprisoned for seven years. Instead of going home with his wife, Mr. Wang himself was arrested and detained at Ling'nan Brainwashing Center. He was transferred to Zhaoyuan Detention Center on June 21 and denied family visits.
When his family went to the Domestic Security Division on August 5 to demand his release, they were told that Mr. Wang had been transferred to Linglong Brainwashing Center. His current situation is unknown.
Abuse in Detention
Many practitioners were brutalized and tortured during detention for not giving up their belief.
Three Falun Gong practitioners recently released from a Beijing detention center recounted the extensive torture they suffered there, including constant beatings, arms tied with restraint straps, and restricted restroom use. The guards also forced them to take ice-cold showers and wear wet underwear, despite freezing cold weather in Beijing and lack of heating in their cells.
Other physical tortures that Falun Gong practitioners often suffered in detention included being hung up, sleep deprivation, shocking with electric batons, and force-feeding.
In addition to physical torture, there were also cases of police forcibly injecting unknown drugs into the practitioners, causing various symptoms, including muscular atrophy, blurred vision, memory loss, and weight loss.
Mr. Zheng Kaiyuan, 78, a retired teacher from Hechuan District in Chongqing, was arrested on June 12 and taken to the Wuzun Brainwashing Center by agents from the local 610 Office.
When he went on a hunger strike to protest the mistreatment, the officers drew his blood and injected some unknown drugs around his liver and spleen. He soon experienced muscular atrophy and extremely long-lasting pain in his entire body. He is now bedridden, extremely thin, and restricted to a liquid diet.
Forcible Collection of Blood and DNA Samples
In 2014, police in the provinces of Guizhou, Sichuan, Liaoning and Hebei began to forcibly draw blood and collect DNA samples from practitioners at their homes or during their arrests. Some officers mentioned establishing a DNA database of practitioners.
The forced blood drawing continued in 2016. In addition to the above-mentioned provinces, practitioners in Shandong, Hubei, Guangdong, Chongqing, Beijing, Jiangsu Provinces all reported having their blood drawn by police.
In Sichuan Province, eight practitioners were arrested for suing Jiang Zemin and had their blood drawn at the police station on June 23, 2016.
Ms. Mao Huilan was arrested in Hubei Province while distributing Falun Gong informational flyers on February 25, 2016. The police took pictures of her and forcibly obtained her fingerprints and blood sample before letting her go home.
Ms. Liao Yuan from Guizhou Province was on her way home around noon on March 16 when a man walked up and struck up a conversation about the demolition in her area.
When they were near her home, policewoman Han Liping appeared and pushed Ms. Liao against a wall. She pinned Ms. Liao with her arms and knees, and shouted for the man to jab her with a needle quickly. He jabbed her in the hand seven times. After they collected her blood sample, they released her and ran off.
Financial Penalties
To "ruin their reputation, destroy them physically and bankrupt them financially" were Jiang Zemin's directives against Falun Gong when he initiated the persecution campaign in 1999.
As a result, cutting off financial resources from practitioners and sometimes their family members is another method Communist Party officials often use in the persecution. This includes extortion, seizure of personal possessions while ransacking practitioners' homes, dismissal from work or school, demotion, withholding of compensation, pensions, or even low-income subsidies.
Home ransacking and extortion
While ransacking practitioners' homes, police officers often seize their valuables, including jewelry, cash, and bank deposits. Money confiscated or extorted from practitioners by police in the first half of 2016 added up to nearly two million yuan.
In the case of Mr. Zhang Jingquan and Ms. Liu Jinru in Siping City, Jilin Province, the police confiscated 168,000 yuan in cash and other valuables, such as computers, cell phones, and even a motorcycle, during their arrests on June 16, 2016.
In Jinzhou, Liaoning Province, agents from the 610 Office have extorted between 50,000 and 80,000 yuan from practitioners' families, who fear that their relatives would be tortured in custody. Both practitioner Chen Youbin and Wang Ping's family paid huge amounts of money in exchange for their release.
Financial Punishment
As a way to penalize 14 locals who filed criminal complaints against Jiang Zemin, the "610 Office" in Duolun County, Inner Mongolia issued an order on April 18, by which two practitioners received pay cuts, two were demoted, two were fired from their workplace, and eight retirees had their pensions stopped.
Denied School Admission
Mr. Guo Jiayu, a new college graduate from the University of Science and Technology of China, was denied admission to his alma mater's graduate school in January 2016 as a result of pressure from local authorities. He appealed the decision but was unsuccessful.
Related article in Chinese:明慧报告-2016上半年中共对法轮功的人权迫害(下)
(Continued in Part 2)