Minghui Report: Overview of Persecution of Falun Gong in First Half of 2016 (Part 2 of 2) – 510 Sentenced, 801 to Face Punishment for Their Faith
August 31, 2016 | By a Minghui correspondent
(Minghui.org) (Continued from part 1)
The Chinese Communist Party continued to persecute Falun Gong in the first half of 2016, with 1,311 people placed at various stages of prosecution.
Except for a few arrested in 2016, most of the 1,311 Falun Gong practitioners were arrested in years prior. A total of 510 practitioners have been sentenced to prison for their faith. It is unclear how many of them have filed appeals.
Among the remaining 801 cases, 413 practitioners are awaiting verdicts after being tried, 90 have been indicted and are facing trial, 246 have had their arrests formally approved and are facing indictment, and 52 were released on bail and are waiting for their arrest to be formally approved.
Causes of Arrests and Sentences
Most of the sentenced practitioners were arrested because they were reported to or caught by police for distributing information about the persecution of Falun Gong.
Ms. Huang Yuping from Shandong Province was arrested on February 29, 2016 for talking to people about Falun Gong at a farmers market. The police refused to release her even though the 15-day detention limit had expired; they instead transferred her to Dezhou Detention Center. Ms. Huang was formally arrested on April 21, 2016 and now faces indictment.
Mr. Cheng Huaigen from Chengdu, Sichuan Province was sentenced to four years on June 10, 2016 for hanging up a banner reading "The World Needs Truthfulness-Compassion-Forbearance."
Four elderly women from Qiqihar, Heilongjiang Province were sentenced to terms between three and three and a half years for posting stickers that said "Falun Dafa Is good" in their residential areas. Ms. Zhao Xiuzhi, 78; Ms. Li Guizhi, 76; Ms. Li Fengqin, 72; and Ms. Peng Shurong, 72, received their verdicts in April of this year.
Others were taken into custody because they had been monitored by the police for refusing to renounce Falun Gong. Mr. Zhang Jinsheng from Gucheng County, Hebei Province, was sentenced to prison on May 27, 2016, following his arrest at home on August 21, 2015. The exact sentence is unclear, but he has filed an appeal.
Sentenced for Suing Jiang Zemin
A portion of practitioners were targeted because they filed criminal complaints against former Chinese leader Jiang Zemin for launching the persecution of Falun Gong and violating their constitutional right to freedom of belief.
More than 200,000 Falun Gong practitioners have filed criminal complaints against Jiang Zemin since May 2015, in some cases resulting in police retaliation. At least 59 practitioners were sentenced to prison for suing Jiang in the first half of 2016.
In particular, more than 300 from Chaoyang, Liaoning Province were arrested last November for filing criminal complaints against Jiang. To date, 29 of them have been sentenced to prison, with terms ranging from 6 months to 12 years. The oldest victim is 79-year-old Liu Dianyuan, who was given 11 years.
Violation of Court Procedure
In many cases, the courts violated legal procedures and illegally sentenced the practitioners, from blocking their lawyers from defending them to secretly upholding sentences and sending the practitioners to prison without informing their lawyers and families. Some lawyers were threatened not to enter a not-guilty plea for their clients.
Mr. Wu Zhiqi, a doctor from Maoming City, Guangdong Province, was tried on April 7, 2016. The judge barred his lawyer Zhang Zanning from entering a not-guilty plea for him, but instead appointed two lawyers who made a guilty plea for their involuntary client.
The judge sentenced Mr. Wu to three years and three months in a secret court session on April 28, 2016. Mr. Wu appealed the sentence, but the higher court upheld the sentence on June 29 without a hearing. Mr. Wu was transferred to Sihui Prison on July 6 to serve his term.
Ms. Li Xing, a high school art teacher in Fengcheng City, Liaoning Province, was sentenced to three years by Fengcheng Court on April 18, 2016. The court did not inform her lawyer about the sentencing until ten days later, when it was too late to file an appeal.
Three Falun Gong practitioners, Ms. Li Baoxing, Ms. Jin Fuwan, and Ms. Deng Yueer, from Huaihua, Hunan Province were tried by Yongding District Court in Zhangjiajie City on April 12, 2016 after eight months of detention. Each practitioner hired a lawyer to represent them. However, the lawyers' rights were seriously violated; one was removed from the courtroom as he was defending his client's constitutional right to freedom of belief.
The lawyer was later allowed back inside, only to be threatened with arrest by the prosecutor if he continued to argue for his client's acquittal. The judge adjourned the session without issuing a verdict.
Practitioners All Across China Targeted
These sentenced practitioners represent almost every province and centrally-controlled municipality. Liaoning Province had the most sentenced (115), followed by Hebei (43), Shandong (42), and Heilongjiang (40). Twelve other provinces also registered sentences in the double digits, ranging from 10 to 33, while the remaining provinces logged single-digit cases.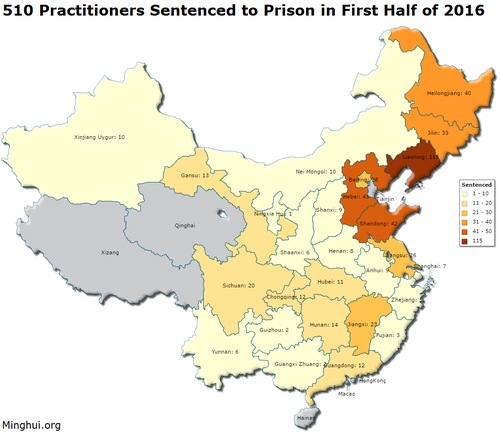 Those sentenced include teachers, physicians, retirees, border patrol agents, company managers, and homemakers.
Funds Extorted
In addition to sentencing practitioners for refusing to renounce their beliefs, the courts also levied heavy fines on some of them.
Mr. Deng Hui from Kunming, Yunnan Province, was seized at a railway station on October 1, 2015 after being monitored by the local police for months. He was sentenced to 6 years and fined 60,000 yuan on May 24, 2016.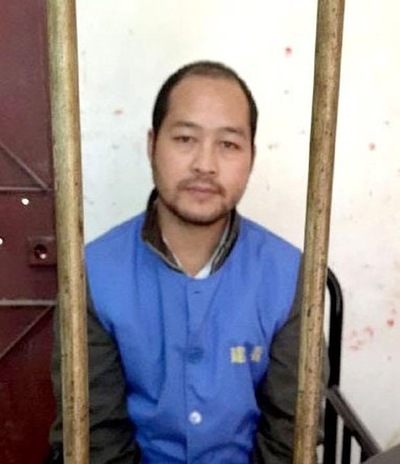 Mr. Deng
This is Mr. Deng's fifth arrest for refusing to renounce Falun Gong. He had been sent to forced labor camps twice in the past.
Related report in Chinese: 明慧报告-2016上半年中共对法轮功的人权迫害(下)