I felt bitter and that is what was difficult during those times. I felt bitter because I couldn't understand things from the standpoint of the Fa. I felt it was difficult because I had very limited time to take care of my family and yet do a good job of validating the Fa. I studied the Fa more and made efforts to balance the relationships among family, work, and cultivation. I could not use conforming to the everyday people as an excuse and spent time and effort on my family. In the meantime, I could not go to extremes and ignore my family because of my cultivation. During those times, I overlooked a lot of the housework, so my mother sent me steamed buns, pickles, and all kinds of food to help me save time. In terms of ordinary human society, I didn't have anything my mother would be proud of, but I believed that, in the future, my mother would be proud of me forever.
…
Practitioners at the conference share about how people in China are awakening to the truth about Falun Gong and the persecution.
(Minghui.org) Falun Dafa practitioners in Australia helped raise awareness of the Chinese Communist Party's (CCP) inhumane practice of harvesting organs from live Falun Dafa practitioners. The event took place on the sidewalk of the iconic Princes Bridge in downtown Melbourne, Australia on November 17, 2012.
Simply because they were Falun Gong practitioners, Mr. Jia Guanglin and others were illegally arrested, their homes ransacked, and personal belongings stolen by authorities.
~ Accounts of Persecution ~
~ 9th China Fahui on Minghui.org ~
~ Clarifying the Truth ~
~ Solemn Declarations ~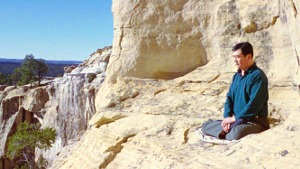 Master Li quietly watching the world from amidst the mountains after leaving New York following July 20th, 1999. (Published January 19, 2000)