Highlights of the 2012 Taiwan Falun Dafa Experience Sharing Conference (Photo)
November 22, 2012 | By Zheng Yuyan
(Minghui.org) On November 17, 2012, a day before the 2012 Falun Dafa Cultivation Experience Sharing Conference was to start, practitioners from Taiwan gathered at the Chientan Youth Activity Center to share their experiences in doing truth clarification work. Practitioners were divided into small groups based on the different projects that they had worked on. They shared their understandings of the Fa principles, encouraged each other to progress more diligently, and inspired more practitioners to step forward to validate the Fa and save more sentient beings.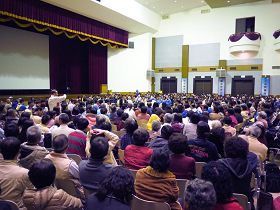 Falun Dafa practitioners share their experiences in Chientan Youth Activity Center on the evening of November 17, 2012
Looking Within is Key
Mr. Zhao called people in China regularly to tell them the facts about Falun Dafa and help them quit the Chinese Communist Party (CCP) and its affiliated organizations. In the process, he eliminated his attachment of fear and his competitive mentality. When he spoke with a compassionate heart, the corrupted elements behind these Chinese people seemed to disappear. As a result, they naturally wanted to quit the CCP. He noted that in the process of eliminating his attachments, looking within was the key.
Mr. Zhao made daily notes on how he could improve his phone calls. He also asked his wife, a fellow practitioner, to tell him what he needed to improve. "Cultivation is a miraculous thing," he said. "The more I progress, the more amazing I feel, and the more I am able to do the three things well"
Yanmei, a member of the Phone Rescue Team, said that phone calls to China from overseas practitioners were extremely important, not only for the practitioners who needed to be rescued, but also for their families. She read aloud a thank-you letter from a practitioner in China. At the end of the letter, it said, "Oh no! I just got news that another local practitioner has been arrested!" The phone call group immediately sprang into action and quickly secured the release of the detained practitioner. "There are so many instances like this one," Yanmei said. "I just want to tell the practitioners who call China that you are very important. Perhaps you have been cursed at on numerous occasions. Perhaps you cannot see the fruits of your labor. Perhaps you feel helpless, unable to make a difference. But whatever you do, please do not get frustrated. If you hang on for just one more second, things may definitely change. The evil tries to sabotage our phone-calling efforts, but do not let them succeed. Our overseas phone calls have made a huge impact. Please cherish what you do!"
Clarifying the Facts to Tour Guides from China Like a True Friend
Practitioners who work at scenic sites shared the importance of clarifying the truth to tour guides from China. One of them said that more and more tour guides now understand the truth about Falun Dafa and the persecution because practitioners have talked to them naturally, like friends. Many tour guides who had some free time, dropped off their groups at truth clarification sites and told them, "Please meet here at the Falun Dafa site, at the designated time." Thus, they helped the tourists from China learn the truth in a indirect way.
Ms. Chen, from Taichung, said that one day, while standing near Sun Moon Lake, a tour guide openly told his group, "Taiwan is such a good place with so many Falun Dafa practitioners. Falun Dafa is good and you can take their materials for free." The guide then signaled Ms. Chen to quickly distribute her fliers.
Even the Guards Respect Practitioners
Ms. Yao Shuhua was clarifying the truth regularly at the Shilin Presidential Residence. She approached tour guides and greeted them with a sincere attitude, and even offered to help them. The unfriendly guides gradually became friendly towards her. The CCP agents claimed that the practitioners stationed at these scenic sites were paid to be there. Ms. Yao told the guides and their groups, "I work for the XX shoe store, one of the most popular brands in China. Please take my business card and visit my store. I will give all of you discounts on your purchases." It was easy for her to expose the CCP lies. Now, when the tour guides see her, they often share a good laugh together.
A guard stationed at a site once told Ms. Yao, "My coworkers were chatting one day and they talked about how they admired the efforts of Falun Dafa practitioners." One time a man told Ms. Yao, "Thank you Falun Dafa practitioners. Only Falun Dafa dares to stand up to the CCP when they are treated unfairly." Another time, a Chinese tourist helped protect Ms. Yao from a person who was unfriendly toward Dafa.
A Feeling of Joy After Learning the Truth
Ms. Xu went to the 101 Building in Taiwan every Sunday. Two weeks ago, she met dozens of Chinese tourists who refused to take any fliers from her and just stood in front of a TV watching truth clarification videos. When Ms. Xu tried to talk to them, one of them asked her, "How much are you paid to do this every day?" Ms. Xu pointed at some practitioners and said, "Look at how old they are. Would you sit there all day for minimum wage?" They all shook their heads. Ms. Xu told them that all practitioners are volunteers, and pay for the posters and materials out of their own pockets. All they wanted was for the Chinese tourists to understand the truth and make the right choice. One of them immediately asked, "Can I take one of these brochures?" "Sure," said Ms. Xu. Quickly all of the tourists had a flier in their hands.
Ms. Xu Jingzhi clarifies the truth using Internet-based tools. She once helped a person quit the CCP online and asked him to remember, "Falun Dafa is good." She continued on and talked to the next person. After she helped the next person quit the CCP, the previous person opened the webpage and wrote, "I remembered it! 'Falun Dafa is good!'" When Ms. Xu looked at the second line,the entire page was full of lines saying, "Falun Dafa is good!" Ms. Xu was so happy. She understood how exhilarating it must be for a sentient being to finally learn the truth!