I realized that practitioners' improvement is very important. I put aside my own business and established a Fa-study group to help practitioners. We send forth righteous thoughts, study the Fa, read experience sharing by other practitioners together and encourage one another to look inward. Everyone is able to improve quickly.
…
A peaceful atmosphere filled Taipei University's stadium as over 7,500 practitioners gathered for the experience sharing conference.
Despite there being no evidence of wrongdoing, a kindhearted elderly woman is sentenced three years and six months in prison.
After driving her husband to suicide, the police continue to subject Ms. Chen to persecution and illegal detention.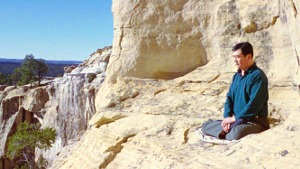 Master Li quietly watching the world from amidst the mountains after leaving New York following July 20th, 1999. (Published January 19, 2000)