Taiwan: Master Li Sends Congratulatory Letter to the Taiwan Fa Conference, Encouraging Practitioners to Cultivate Well and Save Sentient Beings (Photos)
(Minghui.org) On November 18, the 2012 Taiwan Falun Dafa Cultivation Experience Sharing Conference was held in the stadium of Taipei University with more than 7,500 practitioners from Taiwan and other countries in attendance. Master Li Hongzhi sent a congratulatory letter to the conference. In the letter, Master Li said: "Conveying the truth to the world's people may appear simple, yet it impacts the futures of sentient beings. In order to do this task well, you must cultivate yourselves well." Master Li encouraged practitioners: "Your Fa conference is for sharing together in the cultivation process and finding your shortcomings in cultivation, thereby becoming more diligent. To this end, Master hopes your Fa conference will be a complete success and hopes you will be even more diligent in cultivation."
Eighteen practitioners shared their experiences in cultivation and truth-clarification.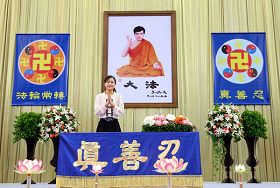 Experience sharing
Several practitioners talked about how they took the opportunity to clarify the truth about Falun Gong at their workplaces. Lin Fangtsai, a businessman from Kaohsiung, often takes business trips to mainland China, where he tells his customers about Falun Gong. When he is on business trips in Taiwan, he also brings the Epoch Times or Shen Yun flyers to his customers. Many of his business partners have bought Shen Yun tickets for their employees.
Chiu Yutang, a practitioner from Taipei who started cultivation four months ago, talked about how he quit smoking after practicing. He told a story of how one day he went to a tourist spot to clarify the truth. It was raining hard, and he was doing the sitting meditation. A group of Chinese tourists said to him that if he could finish the meditation in the rain, they would quit the communist party. He did it, although he was cold and wet. With another senior practitioner, he convinced more than 30 Chinese tourists to quit the party that day.
Several practitioners talked about how to cooperate with fellow practitioners and look inward during conflicts. He Hsiu'e, a practitioner from Pingtung, talked about her experience of helping senior practitioners to study the Fa and clarify the truth on the phone. She realized that helping other practitioners is a process of cultivating herself, and she has benefited a lot from doing so.
A practitioner from Vietnam talked about how she overcame many difficulties to attend the conference. "The first time I came to a Taiwan Fa conference was in 2009. There were four practitioners from Vietnam that year. The number keeps increasing. This year, we have 30 Vietnamese practitioners at the conference. Every one of us had troubles and interference, but we overcame the difficulties. We realized that strong righteous thoughts can break through all the blockages. Nothing can stop us if we have righteous thoughts," she said.
Mr. Lv Qiongmin is a successful businessman in Indonesia. He has several companies and more than 100 employees. He went to Beijing with his wife in 1997, and both obtained the Fa there. Both he and his wife came to the conference.
Mr. Lü expressed that cultivating Dafa has helped him solve problems in business. "Dafa gives me wisdom. Everything that looks hard becomes easy," he said, "I treat my employees according to the principle of Truthfulness-Compassion-Forbearance, and create a harmonious environment in my companies."
Ms. Wang is from Denmark. She heard about Falun Gong when the persecution started in 1999. She didn't understand why the Chinese government would persecute a cultivation group, so she downloaded Zhuan Falun, and read it. "I was concerned about the immoral things in society. When I read Zhuan Falun, I saw hope for humankind. I was amazed and told myself 'no matter what other people do, I will follow the principle of Truthfulness-Compassion-Forbearance'. If everybody follows this principle, the world will be a better place," Ms. Wang said.
Ms. Wang attended a Taiwan Fa conference in 2000. She said that she has benefited from the conference this year too. "A Fa conference is a form of cultivating that Master Li created for us. Practitioners in Taiwan have a good cultivation environment. It is really special and precious," she said.
Huang Shuhua, a practitioner from Chungli, also learned about Falun Gong from the news about the persecution in 1999. "When I saw the scenes of practitioners doing the exercises, I was deeply moved. It is so beautiful. So I read about Falun Gong, and realized that it is what I had been looking for," she said.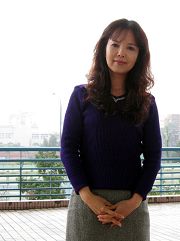 Huang Shuhua, a practitioner from Chungli
Ms. Huang had a good life, but she always had a lot of concerns, worries, and anxiety. "After reading Zhuan Falun, I relaxed. My heart calmed down, and I found the real purpose of life," she said, "I never miss any Fa conferences in Taiwan. I listen to practitioners' sharing, and look for my own problems. Practitioners' sharing has helped me improve myself. I feel so peaceful in the conference hall. I benefit a lot from the Fa conference every year. I appreciate this form of cultivation that Master Li has created for us."
The Fa conference concluded at 4 p.m.