(Clearwisdom.net) On the morning of August 18, 2008, a group of police officers stormed in Ms. Yang Jingfen's home located at the Liaohe Petroleum Field in Liaoning Province. After about two hours, Ms. Yang fell from the sixth floor. The group of police officers made sure she was dead, then left together. Another group of police came, claimed that Ms. Yang committed suicide, and demanded that her family immediately cremate her body.
(Clearwisdom.net) Wen Jingsong from Fengcheng City, Liaoning Province, was sentenced to a four-year jail term in 2005. He was jailed at Dabei Prison in Shenyang City and Xihu Prison in Benxi City. In 2006, he was released on medical bail and passed away in July 2008. In April 2005, his family members asked the police to release him after he was arrested. As a result, his father and wife were detained and sent to forced labor camps. The following is what Wen Jingsong and his family have experienced.
(Clearwisdom.net)
Ms. Ge Yulan, 77, was a Falun Dafa practitioner who lived in Zhaojia Village, Zhangxing Town, Zhaoyuan City, Shandong Province.
In June 2008, six to seven police officers made a repeat visit to Ms. Ge's home and attempted to arrest her oldest daughter Ms. Zhao Yuhong, who had suffered numerous severe tortures for years because she refused to renounce Falun Dafa. Despite Ms. Zhao's absence, the officers ransacked Ms. Ge's home without showing any official documents. They took away Falun Dafa books and pictures of Master Li Hongzhi, Falun Dafa's founder. Ms. Ge's second daughter was at home and protested against this illegal action by the police, but the officers threatened to take her into custody "if she did not shut up."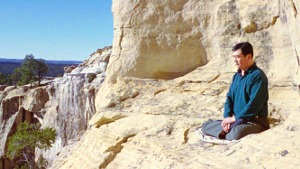 Master Li quietly watching the world from amidst the mountains after leaving New York following July 20th, 1999. (Published January 19, 2000)