Wen Jingsong from Fengcheng City Tortured Before His Death (Photo)
(Clearwisdom.net) Wen Jingsong from Fengcheng City, Liaoning Province, was sentenced to a four-year jail term in 2005. He was jailed at Dabei Prison in Shenyang City and Xihu Prison in Benxi City. In 2006, he was released on medical bail and passed away in July 2008. In April 2005, his family members asked the police to release him after he was arrested. As a result, his father and wife were detained and sent to forced labor camps. The following is what Wen Jingsong and his family have experienced.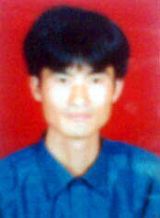 Wen Jingsong
In September 2000, Falun Gong practitioner Wen Jingsong from Guangsheng Village, Lanqi Township, Fengcheng City, went to Beijing to appeal for justice for Falun Gong. He was arrested on the way by officers of the Lanqi Police Station. Deng Bo, from Lanqi Police Station, and Lu Bingkai, head of Lanqi Township, handcuffed seven practitioners to their seats in the police vehicle and forced them to squat all the way from Dalian City to Fengcheng City. They were sent to Caohe Brainwashing Center and released four months later.
On April 20, 2005, Men Guangjun, director of Hongqi Police Station, and officers Wang Sen and Deng Bo arrested Wen Jingsong again. They cursed and threatened him, and Wang Sen slapped his face very hard. They tried to force him to give the police other practitioners' names. He refused. Wen Jingsong's parents, sisters, wife and young daughter went to Hongqi Police Station and asked Men Guangjun to release him. But Men Guangjun instead sent his father, sister and wife to Fengcheng Detention Center. Two weeks later, his sister was released. His father Wen Cunfu and wife Zhou Jing were sent to Weiningying Labor Camp in Benxi City and Masanjia Labor Camp for two years.
Wen Jingsong was sentenced to four and a half years of imprisonment. Men Guangjun, Wang Sen and prison doctor Wang Lianchun threatened, intimidated, swindled, deceived and harassed him at Fengcheng Detention Center. Later on, he was sent to Dabei Prison in Shenyang City, and then transferred to Xihu Prison in Beixi City. Wen Jingsong was tortured. At the end of 2006, he was released on medical bail. Xihu Prison called his home and sent people to harass him every six months, telling him to get a medical statement from the hospital to verify his qualification for medical bail. Wen Jingsong was in constant fear and pain, and passed away at 6 p.m. on July 31, 2008 at age 38.
Those responsible:
Hongqi Police Station: 86-415-803120
Jiang Guangfu, director of Xihu Prison: 86-13941402722 (Cell)
In 2000, Wen Jingsong was arrested on the way to Beijing to appeal for Falun Gong. He was detained at Dalian Drug Rehabilitation Center and beaten by police.
On April 21, 2005, when Wen Jingsong's family members were arrested at Hongqi Police Station, Sun Xiaobin and Guan Wei from the Committee of Political and Legislative Affairs in Fengcheng City were present.