(Clearwisdom.net) Since May 17, 2008, Zhou Yingkang, Secretary of the Political and Judicial Committee of Chinese Communist Party (CCP), has directed the Chinese Consulate to incite spies and mobs to attack volunteers at the Service Center for Quitting the CCP in Flushing, New York. Member of the Swedish Parliament (MP) Göran Lindblad indicated when interviewed that the Flushing incident was initiated by the CCP to divert Chinese people's attention in China. He pointed out that police in USA and other countries should watch out for what the CCP attempts to provoke.
(Clearwisdom.net)
Mr. Qiu Cuizhen is the Chairman of the Board of Huaxia Company, and former chief consultant to the Taiwan Administrative Cabinet. At a rally in Taiwan on June 3, Mr. Qiu commented on the recent attacks on Falun Gong practitioners in New York City instigated by CCP officials. He said, "In this world, only the Chinese Communist Party would do such things to slander Falun Gong." He urged the United States government to intervene and protect Falun Gong practitioners' rights.
(Clearwisdom.net)
On May 31, the Houston Tuidang (Quit the Chinese Communist Party) Service Center held a rally to support the 37 million Chinese people who have openly quit the CCP and its affiliated organizations and condemn the Party for orchestrating violence in Flushing against Falun Gong practitioners.
~ Other Community Events ~
~ People in China Awaken to the Truth ~
~ Other Community Events ~
~ Persecution Outside China ~
~ Deaths ~
~ Accounts of Persecution ~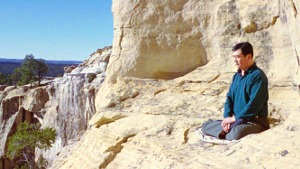 Master Li quietly watching the world from amidst the mountains after leaving New York following July 20th, 1999. (Published January 19, 2000)