(Clearwisdom.net) On May 31, Falun Gong practitioners and human rights activists from all circles held a grand rally in front of the Flushing Public Library to condemn recent violence in Flushing instigated by the Chinese Communist Party (CCP). At the rally site, many local Chinese residents expressed their support for Falun Gong and condemned the violence orchestrated by the CCP.
(Clearwisdom.net)
On May 2, 2008, Guo Hongtang from the Shouguang Public Security Bureau in Shandong Province led police officers to knock on the door of Falun Dafa practitioner Mr. Li Yuping, who works in the Fukang Pharmaceutical Factory, at about nine o'clock in the evening. At about ten o'clock, Li Yuping was forced to open the door. The police officers broke into his room and ransacked his home until one o'clock the next morning. They arrested Li Yuping and confiscated Dafa books and a bankbook of several tens of thousands of yuan without giving her any kind of receipt.
(Clearwisdom.net) On May 13, 2008, practitioner Mr. Xu Shutang was arrested by seven police officers, including Zhu Siyong, from the Bianhe Town Police Station of Jianli County, while he was on the way to work. In the afternoon, he was transferred to the notorious Tangxunhu Brainwashing Center in Wuhan City, Hubei Province for further persecution.
~ Accounts of Persecution ~
~ Solemn Declarations ~
~ Journeys of Cultivation ~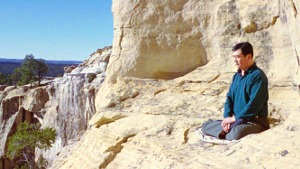 Master Li quietly watching the world from amidst the mountains after leaving New York following July 20th, 1999. (Published January 19, 2000)