Japan: Citizens Support Falun Gong Practitioners' Anti-Persecution Efforts in Kobe (Photo)
June 05, 2008 | By a practitioner in Japan
(Clearwisdom.net) Since mid-May 2008, Falun Gong practitioners in Japan have been holding activities in Kobe, an important city in the Kansai area. They exposed to the local people the Chinese Communist Party's (CCP) brutal persecution of Falun Gong that has persisted for nine years. They also called on kind-hearted people to sign a petition to express their support for justice and human rights, in an effort to stop the inhuman persecution.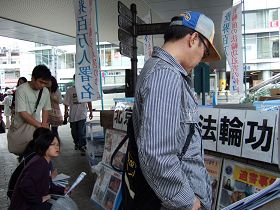 People in Kobe, Japan view the Falun Gong photo display boards attentively
The signature collection drive in Kobe started on May 11 and continued until the end of May. Practitioners displayed many photo boards exposing the persecution and played recordings clarifying the facts in downtown Kobe. Many people hurrying by on their way to work did not pay attention to the display boards, but when they waited for traffic lights to change, they could hear the recordings explaining the signature collection drive. Once they understood the nature of the event, many people returned to sign the petition and to take more information about it.
On the afternoon of May 22, 2008, a middle-aged Japanese woman viewed all the display boards and then walked up to a practitioner to sign the petition. She said, "I have been thinking of doing something for you. I'm so glad that I can sign the petition. The CCP is so terrible. Many people around me are disgusted with the Communist Party's autocratic rule. Can I bring some signature forms back home so that my family can also sign their names?" The practitioners told her that she could certainly do so, and told her that after signing the signature forms, she could fax them to the practitioners. The woman took ten pages of forms, and said, "I will definitely fill them out. I will not use fax; rather, I will mail to you directly. Then, all the signatures will be original."
An older American couple read the English flyer and then signed the petition. They also had their photo taken with a practitioner carrying a display board.
A middle school student signed her name, and said that her father had signed the petition the day before and also brought back a truth-clarifying flyer. Her father asked her whole family to sign the petition after learning the facts.
An older woman with poor eyesight could not clearly read the content of the flyer, so she asked a practitioner about the meaning of the signature collection. The practitioner briefly explained to her about the persecution of innocent Falun Gong practitioners, and the woman immediately signed the petition. She said, "How come people nowadays are such a hurry? All passersby should pay attention to what you are doing. You should keep up your efforts!"