Tianjin Man Suffers Multiple Organ Failure After Six Years of Hunger Strike and Force-Feeding
March 9, 2021 | By a Minghui correspondent in Hebei Province, China
(Minghui.org) After six years of hunger strike and force-feeding, a once healthy man in Tianjin is now emaciated and on the verge of dying. According to people familiar with Mr. Zhou Xiangyang's case, he is experiencing multiple organ failure and has been taken to the prison hospital for treatment.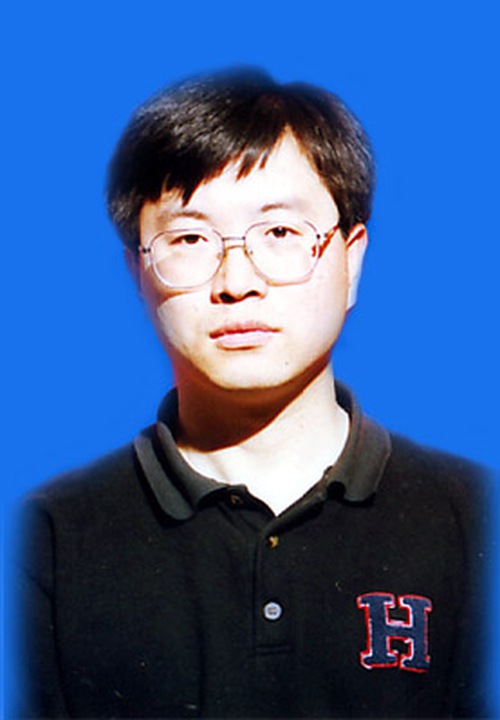 Mr. Zhou Xiangyang
Mr. Zhou started the hunger strike in March 2015 after he was arrested for practicing Falun Gong, a spiritual and meditation discipline that has been persecuted by the Chinese communist regime since 1999.
He continued the hunger strike after he was sentenced to seven years in December 2016 to Binhai Prison in Tianjin. He was already in a wheelchair when he was taken to the prison.
Mr. Zhou's latest prison term was preceded by a nine-year prison term given in 2003. Also in Binhai Prison, he was subjected to barbaric torture, including electric shocks, sleep deprivation, and beatings. By the time he was released on medical parole on July 28, 2009, he was only 90 lbs, incontinent, and unable to walk.
While he was imprisoned between 2003 and 2009, his then-fiancée Ms. Li Shanshan worked tirelessly to rescue him but ended up being targeted by police herself.
The young couple finally got married in 2009 after a decade-long separation. They didn't enjoy their days together for too long before both of them were seized by police on March 5, 2011. They spent the next two years apart, trying to rescue each other from imprisonment, only to be arrested again in 2015 and sentenced in 2016.
Mr. Zhou isn't the only one in his family to have been persecuted for practicing Falun Gong. His mother, Ms. Wang Shaoping, was once forced to live away from home for four years. She was given 1.5 years of forced labor in September 2005 and sentenced to 1.5 years in prison on March 27, 2018. His father, Mr. Zhou Zhencai, was once given two years of forced labor and also sentenced to 1.5 years in prison on March 27, 2018.
Mr. Zhou's brother, Mr. Zhou Xiangdang, was sentenced to 9 years in 2001. Xiangdang's wife was once sentenced to three years.
***
Below is Mr. Zhou Xiangyang's mother's plea for his release:
My son, Zhou Xiangyang, is being held in Binhai Prison in Tianjin for practicing Falun Gong. It has been six years since he started his hunger strike to protest against the persecution. Using the pandemic as an excuse, the prison hasn't provided any updates about my son for ten months. I recently heard from a person held at the same prison that my son was taken to the prison hospital. He has multiple organ failure and is in critical condition.
My older son, Zhou Xiangdang, took my husband and me to the prison to visit my younger son. It took a long time for the guard on duty to come out and talk to us. Xiangdang asked him how long Xiangyang had been held at the prison hospital and why the prison didn't allow us to see him, call him, or write to him. He asked whether the prison applied the same rule to other inmates.
The guard responded, "Why do you ask this?" Then he began to blame Xiangyang for not contacting us. He added that Xiangyang couldn't write a letter in the hospital. I thought to myself how weak he must have been if he couldn't even write a letter. I knew the guard was just trying to find an excuse to deceive us.
We wanted to ask for more information about Xiangyang, but the guard stopped the conversation and went back in. We were not allowed in and went home.
The last time I visited Xiangyang, he told me that the inmates brought him to a room. As he was too weak to walk on his own, they dragged him by his arms. His heels were rubbed raw against the ground, leaving two long trails of blood.
I heard it has been months since he was taken to the hospital, but there has been no update about him. We are truly worried about his current situation.
Xiangyang isn't the only Falun Gong practitioner being persecuted for their faith. There are many, many more practitioners [being tortured] like him. I urge the international community to pay attention to their cases and help stop the persecution. The persecution can't go on any longer. Please help my son and all the other kind-hearted people to come back home soon.
Related reports:
Imprisoned Man on Hunger Strike for More than 3.5 Years to Protest Against Persecution of His Faith
Binhai Prison in Tianjin Continues to Abuse Falun Gong Practitioners
Daughter Imprisoned for Her Faith, Mother Denied Visits for Sharing Same Faith
Tianjin Couple Given Prison Term for Their Faith, Vow to Appeal Unjust Sentence
Tianjin Couple Appears in Court Again—New Lawyers Defend Their Right to Practice Falun Gong
On a Hunger Strike over a Year, Mr. Zhou Xiangyang Being Force-Fed
Surveillance Leads to More Arrests and Trial Without Legal Representation
Young Couple Arrested Again after 10 Years Spent Trying to Rescue Each Other from Prison
Ms. Li Shanshan Leaves Labor Camp with Dignity after Closure of Hebei Women's Forced Labor Camp
Young Couple Subjected to Extreme Torture and Forced to be Apart
A Young Couple's Journey: Zhou Xiangyang's Fiancee Appeals Seven Years for His Release
All articles, graphics, and content published on Minghui.org are copyrighted. Non-commercial reproduction is allowed but requires attribution with the article title and a link to the original article.
Category: Accounts of Persecution