Young Couple Subjected to Extreme Torture and Forced to be Apart
October 23, 2013 | By a Minghui correspondent from Hebei Province, China
(Minghui.org) The Mid-Autumn Festival is a traditional Chinese holiday when families gather and celebrate. However, many families of Falun Gong practitioners have been split apart as a result of the Chinese Communist Party's (CCP) persecution of Falun Gong, and many are unable to ever reunite again. Mr. Zhou Xiangyang, a former engineer from the Tianjin Third Railway Exploration and Design Institute, is one such victim who is longing for his wife's return.
In the past month, Mr. Zhou has visited to the Hebei Provincial Women's Forced Labor Camp, Hebei Provincial Bureau of Forced Labor, and the Tangshan City Domestic Security Bureau in Hebei, seeking the release of his wife, Ms. Li Shanshan, who is the last imprisoned Falun Gong practitioner in Hebei Provincial Women's Forced Labor Camp. Each agency has denied responsibility. They refused to release her because she had not been "transformed." They didn't even let Mr. Zhou visit his wife during the Mid-Autumn Festival.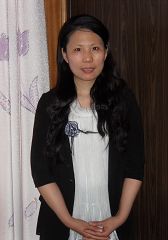 Ms. Li Shanshan
This young couple's tragic story, covering their youth, blood, and tears, have moved many people both inside China and overseas...
I. Seven Years of Waiting
Ms. Li Shanshan, from Fengrun District, Tangshan City, graduated from the Department of Foreign Languages at Hebei Normal University. Because her boyfriend Mr. Zhou Xiangyang had been sentenced to nine years in prison for practicing Falun Gong, she kept appealing for his release. She spent seven years waiting and appealing for Xiangyang, who she married later. During her appeal, Shanshan wrote an open letter about their story "A Young Couple's Tragic Journey: Wife Waiting for Seven Years and Husband Imprisoned for Nine Years." (Refer to the article "A Young Couple's Journey: Zhou Xiangyang's Fiancee Appeals Seven Years for His Release." Her story moved many people. In retaliation, the CCP sentenced her twice to a forced labor camp and put her into the Banqiao Women's Forced Labor Camp in Tianjin, and the Hebei Provincial Women's Forced Labor Camp.
In her open letter, Shanshan wrote that when she went to the prison to visit her boyfriend... "The land surrounding Gangbei Prison was very empty. On both sides were ditches full of reeds. After an hour bus ride I had to walk half an hour to the prison building, and being winter, there had been a heavy snowfall. All criminal inmates were able to see their friends and families, but Xiangyang wasn't able to. Dejected and hopeless, I sat at the prison gate. I felt that this world was colder than winter itself.
"Xiangyang just wanted to live by Truthfulness-Compassion-Forbearance. He had committed no crime. I suddenly had the courage to ask the prison officials to unite Xiangyang and myself through marriage. This request shocked the officer's cold hearts. Many Falun Gong practitioners' families have been broken up since the persecution of Falun Gong began. The prison usually only received requests for divorce. This was the first time they had received a request for marriage. After five months of persistence, the prison finally agreed to let me see my fiancée. At that moment, I was so happy after so many years of sadness and hardship."
Shanshan's pure heart and righteous actions moved 2,300 people to sign a petition asking for the release of Mr. Zhou Xiangyang. In January 2006, as a result of the CCP's retaliation, "I was sent to a forced labor camp for fifteen months," wrote Shanshan, "Hao Baogang interrogated me, and told me that Zhang Shilin (from Gangbei Prison) said that I had threatened their prison. He said that by crying out against Xiangyang's torture I was attempting to incite a crowd to riot at the prison gate. So I was charged with 'inciting subversion of the state' on my forced labor sentence.
"I was only 25 years old at that time. I was subjected to forced labor and suffered from unbearable loneliness. But I do not regret appealing for Xiangyang. The day before my term ended, a Domestic Security leader came to the forced labor camp to talk to me. He tried to make me give up my appeals for Xiangyang. I told him solemnly that I would help any friend in need, and even more so my fiancée."
After being released, Shanshan continued going to the prison to visit her fiancée.
After suffering another round of brainwashing and solitary cell torture, Xiangyang started a year-long hunger strike. He was taken to hospital for emergency treatment twice, in April and May 2009. Because he was in such critical condition, the prison let his family take him home for medical care in July 2009.
II. Nine Years of Imprisonment
Xiangyang was previously very healthy. He was 5 foot 9 inches in height and weighed 150 pounds. However, after being released from prison he weight merely 90 pounds. His heart beat was 40 beats per minute. He was in critical condition.
In the Gangbei Prison, Xiangyang once suffered 97 days of "anchor torture."
"In the humid and gloomy small room which was three meters in length and one meter wide, I lay on my back and tried to stretch out my arms, but the walls were so close I couldn't fully straighten them out. One overhead light bulb was kept on continually. My wrists were handcuffed to metal rings, while my legs and feet hung suspended above the cement floor. The fetters were locked to the ground.
"A prisoner sitting near my head monitored my movements. If I moved my hands a little, he stepped on my arms. Another prisoner controlled my lower back, and a third prisoner controlled my feet, keeping my feet hanging to enhance the pain." (from "I Was Subjected to the 'Anchor Torture' in Gangbei Prison")
Gangbei Prison head Wei Wei and two guards, Zhang Shilin and Song Xuesen, formed a special team during the second half of 2005 to "storm the fortifications within 100 days" (100-day intensive torture to force Falun Gong practitioners to give up their beliefs).
On December 8, 2005, guards ordered inmates Cong Shuwei, Zhang Bin, Li Wanjun, Liao Jinpeng, and Huo Honggang to drag Xiangyang into a solitary cell to torture practitioners. There they locked Xiangyang to the ground for many days. Though the "anchor" position looked simple, the sharp pains in my lower back, arms, and thighs was unbearable. It was crueler than being shocked with electric batons. When it was time to eat or use the bathroom, Xiangyang couldn't get up. He could only move a little, then rest for a while, then move a little. Criminal inmates then dragged his arms to pull him up. Xiangyang cried out in great pain. Inmates released him to let him fall to the ground, and then pulled him up to cause him pain again. They claimed to be "helping him exercise his body."
Xiangyang held a hunger strike to protest the torture. He didn't eat or drink for seven days. His sputum became filled with blood. When the doctor came to check his blood pressure, the first device didn't have response. They changed it to a high-accuracy one and found his high-pressure to be 50, and the low-pressure was 30. But they couldn't detect his pulse. Even though he was this weak, prison guards continued to subject him to the "anchor torture." In March 2006, after 97 days of torture, Xiangyang was released from the solitary cell. He wasn't able to stand up for several months afterwards. He was taken to Tianjin Prison in December 2006.
Xiangyang was taken back to Gangbei Prison again on June 30, 2008. He was assigned to the No. 9 Ward, which was designated for persecuting Falun Gong practitioners. The head of the Ward was Yang Zhongshui and deputy head was Song Xuesen. When Xiangyang came out of the car, four criminal inmates took him into a room to shave all his hair off. They didn't allow him to wash. Instead, he was ordered to sit on a bench. The four inmates surrounded him. One pushed his knees from the front, two slapped his legs on the side, and one pushed his back from behind. Since Xiangyang's back had not yet fully recovered, he tried to tell them, but the inmates pushed him to the ground. Some held his head and some held his feet while they beat and kicked him.
When Song Xuesen came, Mr. Zhou Xiangyang asked him, "How can you treat me like this? And beat me?" Song replied, "Don't beat? Then kick!" After Song left, the inmates pushed Mr. Zhou to the ground. Wang Xin'guang violently kicked Xiangyang's leg several times, causing him to be unable to walk normally for over ten days.
Xiangyang said, "I know too well the viciousness of Gangbei Prison. There is endless torture. I held a hunger strike. The prison threw me in a solitary room and subjected me to the 'anchor torture.' It was summer and very hot. The solitary room's temperature was several degrees higher than other rooms. The inmates assigned to torture me didn't want to stay in the room at all. They couldn't even bear the heat for thirty seconds when coming in to open the lock to let me use the bathroom. But I was locked in there around the clock. The guards sent Wang Xin'guang to the solitary room to monitor and torture me. He threatened me, saying that he would kill me. He used force to pressure my legs (half of my legs were in the air) which gave me a lot of pain. He also made a hole in the fly screen to allow mosquitoes to fly in. Because my hands were locked, I had no choice but to let the mosquitoes bite me. I was 'anchored' for nearly a month."
III. "Please Encourage Me to Continue Walking Forward (on) the Path to Appeal for Justice, Though It Is So Vicious and Difficult"
Xiangyang said, "When hearing that I was taken to a hospital when my heartbeat was only 40, and the prison still refusing to release me, my father drove a tractor for over ten hours to carry my mother from Qinhuangdao City, Hebei, to Gangbei Prison. In near zero degree Fahrenheit weather, my parents wore white clothes and stayed outside the prison gate for over 70 hours to request that the prison release me. It was hard to imagine the hardship they went through."
Fifteen hundred people in Changli County, Qinhuangdao City, Hebei Province, signed a petition in August 2011 requesting the release of Mr. Zhou Xiangyang. The case was reported on websites overseas and aroused a lot of attention. Shanshan's letter "A Young Couple's Tragic Journey: Wife Waiting for Seven Years and Husband Imprisoned for Nine Years" has moved the hearts of numerous Changli citizens. More and more people learned of their plight and signed the petition. Twenty-three hundred people from ten towns and townships in Changli had signed the petition by October 2011.
The Amnesty International website published "Urgent Action - Falun Gong Man Close to Death" to request public attention to Mr. Zhou Xiangyang.
After Mr. Zhou returned home, he studied Falun Dafa teachings and practiced the Falun Dafa exercises. His health soon recovered. The young couple, who had been separated for many years, finally got married.
Xiangyang was arrested once again less than a year after their wedding, and Shanshan started another round of appeals. To stop her appeals against the Gangbei Prison, the Tianjin 610 Office and Gangbei Prison worked with the Tangshan Domestic Security Bureau to retaliate against her. Shanshan was sentenced to two years of forced labor on October 29, 2011, and imprisoned at the Hebei Provincial Women's Forced Labor Camp.
Xiangyang was released from prison in late April 2012. He wrote a sequel to Shanshan's open letter, entitled "Pure Truthfulness and Pure Compassion, Being Wronged and In Danger." He started the appeal to release his wife, "Please encourage me to continue walking forward... (on) the path to appeal for justice, though it is so vicious and difficult."
Xiangyang, who has been subjected to brutal torture and almost lost his life in prison, wrote the following, "To face this vicious reality and to appeal to the government who does not follow the law is so difficult for a person like me who has just come out of prison and is still weak... However, there is nothing wrong with appealing. This is not just for Shanshan. This situation of everything being upside down is not something we can accept or acknowledge. Not only did my family, friends, and fellow practitioners try hard to rescue me, but people in my hometown, many of whom I don't even know, and righteous people from overseas (e.g. Amnesty International wrote a letter to the CCP to request my release) also spoke with their just voices. Moreover, the voice to support Falun Gong has become more popular both overseas and inside China. I am encouraged while feeling grateful."
The touching story of this young couple who believes in "Truthfulness-Compassion-Forbearance" has roused many people's attention and sympathy. Almost ten different overseas media agencies reported their story. The number of people signing the petition for Miss Li Shanshan's release has reached 5,291.
This couple's suffering is just one example of the millions of Falun Gong practitioners who have been tortured by the CCP. Exposing the CCP's crimes and rescuing Shanshan also awakens more people so that they can understand the facts about Falun Gong and choose a righteous future!
People who participated in the persecution of Ms. Li Shanshan:
Hebei Provincial Women's Forced Labor Camp
Lu Youlin, director
Feng Kezhuang, deputy director (in charge of persecuting Falun Gong): +86-311-83939177 (Office), +86-311-83939125 (Office), +86-13933840195 (Mobile)
Yu Yan, assistant to deputy director Feng: +86-311-83939166 (Office), +86-13582132059 (Mobile)
An Huan'e, deputy director (in charge of the No. 2 and No. 3 Wards): +86-311-83939168 (Office)
Wang Xin, head guard of the No. 3 Ward
Guards in the No. 3 Ward: Zhao Man, Xu Jie, Xu Wenjing, Liu Ziwei (+86-18903216536 (Mobile)), Liu Jia, Li Xin, Li Zhe, Zhang Ning, Zhang Jing, Zhang Yanyan, Lu Lijie, You)
Related articles:
Hebei Women's Forced Labor Camp Extended Ms. Li Shanshan's Sentence
I Was Subjected to the "Anchor Torture" in Gangbei Prison
Qinhuangdao, China: Residents Express Their Support for Married Couple Persecuted for their Belief
Ms. Li Shanshan and Ms. Chen Xiumei Still Subjected to Persecution at Hebei Women's Forced Labor Camp