Surveillance Leads to More Arrests and Trial Without Legal Representation
January 26, 2016 | By a Minghui correspondent from Tianjin
(Minghui.org) A couple from Tianjin was arrested on March 2, 2015 for practicing Falun Gong. The authorities approved the arrest on April 8 and held a show trial on November 30. They were tried without the presence of lawyers, and the judge ignored the couple's request of postponing the trial until their lawyers were available. The couple's family and friends were arrested outside the court building when they came to observe the trial.
The couple's lawyer filed complaints against the judge for violating established legal procedures on December 18. The husband also filed a complaint on December 30, charging the judge and the prosecutor with ignoring legal procedures during the trial.
Mr. Zhou Xiangyang used to be a railway design engineer from Tianjin. He was detained for nine years for his belief. Ms. Li Shanshan, his wife, was given a labor camp sentence twice for collecting 2,300 signatures calling for his release.
After Amnesty International issued a press release highlighting his case and the signatures, the authorities released Mr. Zhou in April 2012, but continued to detain his wife until Nov. 8, 2013.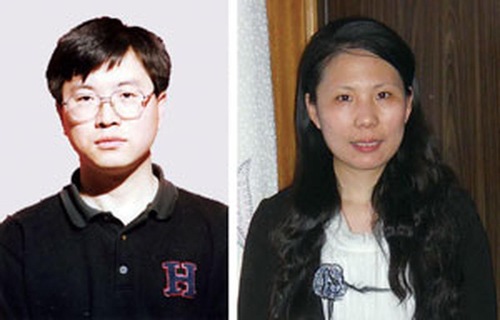 Picture: Mr. Zhou Xiangyang and his wife Li Shanshan
Police Harassment Since 2013
When Ms. Li was released, prison guards videotaped more than 100 family and friends who came to the prison doors to celebrate her freedom and to prevent the police from taking her to another detention center. Many of them were arrested one week later.
After Ms. Li returned home, at least four police cars followed and monitored the couple during the first week. The couple had to move to a new home. The police then repeatedly harassed Ms. Li's parents in Tangshang City. They kept sending text messages to Ms. Li, trying to find out their new home address and workplace.
When the police discovered where Mr. Zhou worked in September 2014, they demanded that his employer perform a background check. The police monitored the couple's car and followed them home. They found the landlord of their rental home to confirm their identity. The couple had little choice but to move again.
Police Hack Ms. Li's Computer and Cut Her Phone Line at Work
Three plainclothes police officers pretended to be from the local water company and entered Ms. Li's office at the end of December 2014. Later, Ms. Li's boss discovered that the police had installed monitoring software on her computer and phone, and also destroyed her electronic book reader.
Since then, Internet police have repeatedly hacked into Ms. Li's work computer, sometimes disabling it. Her office phone line would intermittently go dead, causing difficulties at work. Ms. Li had to replace the modem and install a new phone. Internet police attacked her computer and planted a virus two days later. Her new phone line went dead more frequently than before.
Police Install Surveillance Equipment to Monitor the Couple's Car
The couple heard a strange sound from the bottom of their car when driving on the highway in February 2015. The repair shop found a surveillance monitor attached to the undercarriage. Several days later, the couple was arrested at home.
Persecution During Detention
According to a letter written by Ms. Li from the detention center in April 2015, she was forced to do unpaid labor to produce plastic flowers that were exported. In the detention center, food and necessities were priced several times higher than outside the center. Detainees were subjected to solitary confinement and being anchored to the floor.
Related articles:Young Couple Arrested Again after 10 Years Spent Trying to Rescue Each Other from Prison
Ms. Li Shanshan Leaves Labor Camp with Dignity after Closure of Hebei Women's Forced Labor CampYoung Couple Subjected to Extreme Torture and Forced to be ApartA Young Couple's Journey: Zhou Xiangyang's Fiancee Appeals Seven Years for His Release