Daughter Imprisoned for Her Faith, Mother Denied Visits for Sharing Same Faith
June 18, 2017 | By a Minghui correspondent in Tianjin
(Minghui.org) A Tianjin woman serving time for her faith has been denied visits with her mother since her prison transfer early this year.
Ms. Li Shanshan and her husband, Mr. Zhou Xiangyang, were arrested on March 2, 2015 for refusing to renounce Falun Gong, a spiritual discipline that is persecuted by the Chinese communist regime. The couple was sentenced to prison on October 12, 2016, with Ms. Li receiving 6 years and Mr. Zhou 7 years.
Their appeal was turned down less than two months later, and they were transferred to prison around New Year's Day of 2017. Ms. Li's mother has since tried four times to visit her in prison, but was turned away each time because she too practices Falun Gong.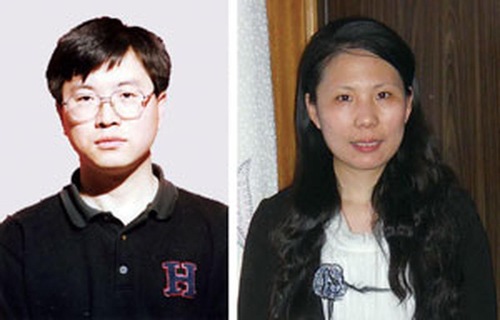 Mr. Zhou and Ms. Li
First Try
Ms. Li's mother, accompanied by her mother-in-law, visited Tianjin Women's Prison on January 14, 2017. The guards, however, demanded that Ms. Li's mother show proof that she was indeed the biological mother.
She didn't have any documentation with her, as no law requires such proof for a prison visit. The guards then tried, unsuccessfully, to get her to sign a statement promising to give up her practice of Falun Gong.
Ms. Li's mother and mother-in-law went to Tianjin Prison Management Bureau to complain about the denied visits and were told that Falun Gong practitioners are not allowed to visit prison inmates. They were further referred to Tianjin Appeals Office, which said the same thing as the Bureau.
Second Try
Ms. Li's parents went to the prison on February 8, but only her father, who does not practice Falun Gong, was granted a meeting with her.
Ms. Li's father saw that his daughter was accompanied by two inmates, who acknowledged that Ms. Li had been tortured by being forced to stand for extended periods of time.
He also noted that his daughter's eyes were bloodshot and suspected she might have been deprived of sleep. Ms. Li told him that she was only given meager amounts of food every day. One inmate suddenly snatched away her phone and no longer allowed her to talk.
Ms. Li's father encouraged her to keep up with her belief in Falun Gong because she did nothing wrong. Hearing this, the guards monitoring the meeting immediately shut off the phone system and threatened to revoke his future visits with his daughter.
Third and Fourth Tries
Ms. Li's mother and mother-in-law went to the prison on May 10, but were turned away.
They tried again on June 6. This time, the guards claimed that Ms. Li's mother didn't look like her picture on her ID. They even threatened to have the two elderly women arrested.
Related Reports:
Tianjin Couple Given Prison Term for Their Faith, Vow to Appeal Unjust Sentence
Tianjin Couple Appears in Court Again—New Lawyers Defend Their Right to Practice Falun Gong
On a Hunger Strike over a Year, Mr. Zhou Xiangyang Being Force-Fed
Surveillance Leads to More Arrests and Trial Without Legal Representation
Young Couple Arrested Again after 10 Years Spent Trying to Rescue Each Other from Prison
Ms. Li Shanshan Leaves Labor Camp with Dignity after Closure of Hebei Women's Forced Labor Camp
Young Couple Subjected to Extreme Torture and Forced to be Apart
A Young Couple's Journey: Zhou Xiangyang's Fiancee Appeals Seven Years for His Release