Eleven Falun Gong Practitioners Die in the Persecution of Their Faith in July and August 2020
Sept. 29, 2020 | By a Minghui correspondent in China
(Minghui.org) Eleven Falun Gong practitioners died between July and August 2020 as a result of the persecution of their faith.
Falun Gong, also known as Falun Dafa, is a mind-body practice that has been targeted by the Chinese Communist Party since July 1999.
The eleven practitioners, including five women, were aged between 48 and 80. They lived in six provinces. Jilin reported four death cases, followed by two cases each in Heilongjiang and Liaoning. Shandong, Hebei and Gansu each had one case.
Two female practitioners were beaten to death. One male practitioner died in custody, after he was denied medical parole while serving a four-year term. Others passed away as a result of long term incarceration, torture, displacement, and harassment.
Mr. Liu Changkun, a Changchun City, Jilin Province resident, passed away in July 2020. While the details surrounding Mr. Liu's death remain to be investigated, below are the remaining ten death cases.
Beaten to Death
Woman Beaten to Death 16 Days after Arrest
Ms. Li Ling, of Dazhangjia Village, Penglai City, Shandong Province, died on July 13 as a result of savage beatings following her arrest on June 28, 2020. The village authorities forced her family to cremate her remains on the same day. According to her family, her face was deformed and she was covered in bruises.
The village's Chinese Communist Party (CCP) secretary, and several paramilitary soldiers descended on Ms. Li's home on June 28, after she was reported for bringing home dozens of Falun Gong booklets.
They took her to an empty house for interrogation. Ms. Li refused to reveal from whom she got the booklets. Two paramilitary soldiers tried to beat her into submission. Some of her teeth fell out and her mouth ruptured as a result of the brutal beatings. There was a contusion in her left rib cage and she had bruises all over. One of the soldiers also poked Ms. Li hard on the chest with a stick.
Ms. Li still refused to give up her practice or answer questions. One of her perpetrators kicked her so hard that she lost her balance and hit her hip on a rock outside the door. It later started to rain, and he forced her to stand in the rain for a long period of time. She went on a hunger strike to protest the abuse.
Around July 6, 2020, Ms. Li's husband committed a suicide and the authorities brought her home to take care of the funeral. She did not talk to her son when they hugged. According to her son, her mouth was ruptured and several of her teeth were missing. She was quickly taken away, and the authorities refused to disclose the location where she was taken. After her son's repeated requests, the authorities agreed to cover up his head and take him to see his mother at the undisclosed location. That was the last time they saw each other.
Ms. Li was pronounced dead on July 13. The authorities took her remains to her family immediately afterwards. Paramilitary soldiers were stationed outside her house and said they would not leave unless her family had her remains cremated that day. Her loved ones had no option but to comply with the demand.
While changing her clothes, her relatives noted that Ms. Li's eyeballs appeared protruding and looked unusually large.
On the day of Ms. Li's funeral, the two paramilitary soldiers who beat her during interrogation showed up in plainclothes to harass her friends and relatives, and attempted to stop them from attending the memorial service. When asked who they were, the two soldiers lied, and said they were relatives of Ms. Li's.
Heilongjiang Internist Beaten to Death (Graphic photo in the linked article)
Ms. Wang Shukun, a 66-year-old physician of internal medicine at Hailin Town Hospital in Haining City, Heilongjiang Province, received a call in late June 2020 from Han Yan, the Party secretary of the hospital, and was told that Chen Guangqun, the president of the hospital, was looking for her.
When she got to the hospital, it turned out it was officers from Hailin City No. 1 Police Station who were looking for her. The officers attempted to force her to write statements to renounce Falun Gong and to acknowledge that her husband, Mr. Yu Xiaopeng, also practices Falun Gong.
Mr. Yu, a surgeon at the same hospital, was fired 29 years ago for refusing to fabricate medical records as directed by the then-hospital-president. He had been petitioning all these years and was considered a primary target by the authorities, who tried to further the persecution of him by claiming he also practiced Falun Gong when he never did.
When Ms. Wang refused to sign the statements, the police beat her for hours in the hospital. They threatened that if Ms. Wang didn't write the statements, they would find others to write the statements on her behalf.
Ms. Wang suffered sharp pain in her leg and begged for the officers to let her go. They agreed, but threatened that they would find her again a few days later.
Ms. Wang had to crawl up the stairs to get back to her apartment unit. Her husband noted she had bruises on her body. Her kneecaps were broken, and she was soaked in sweat.
Ms. Wang suddenly suffered cerebral hemorrhage in the afternoon on July 1. She was very dizzy and felt like throwing up. She passed away around 4:25 a.m. on July 2. Her body was cremated on July 4.
After Ms. Wang's death, the police kept harassing Mr. Yu and demanded him not to report this to the Minghui website.
Deaths Due to Torture or Abuse in Custody
Heilongjiang Man Denied Medical Parole Dies Six Months Before End of Prison Term for His Faith
Mr. Wang Fengchen died in a hospital on August 9, 2020, barely one month after he became critically ill but was denied medical parole. He had been serving a four-year term for his faith in Falun Gong and his death came six months before his term was set to expire.
Mr. Wang, a middle school geography teacher in Daqing City, Heilongjiang Province, was arrested on January 18, 2017, together with his wife, Ms. Leng Xiuxia, and three other Falun Gong practitioners who all work in the same school as the couple.
Mr. Wang was later sentenced to four years in Hulan Prison and Ms. Leng to an unknown term in Heilongjiang Women's Prison. They were each fined 30,000 yuan.
On May 31, 2020, Hulan Prison informed Mr. Wang's family that he had been coughing for two months and experiencing persistent dizziness. At his family's request, the guards sent Mr. Wang to the prison clinic that evening. The clinic doctor said that he had pneumonia and prescribed him some antibiotics.
The prison clinic proposed to send Mr. Wang to a bigger hospital under the administration of the prison on June 18 and asked for a 10,000 yuan deposit from his family. Pressed by the family, the clinic doctor revealed that Mr. Wang had a serious lung infection.
After seeing that Mr. Wang's condition still didn't improve after receiving treatments at the prison hospital, his family demanded to send him to an outside hospital for a comprehensive checkup and better treatment. It took a week for the prison to respond to them.
Before approving his family's request, the prison authorities forced them to sign a liability waiver on June 26, claiming that the prison wouldn't be held accountable if Mr. Wang died in prison and that he must be returned to the prison after the checkup.
Mr. Wang's family sent him to a cancer hospital, but he kept vomiting blood during the checkup, rendering him unable to finish all the examinations, including a bronchoscopy. Due to the coronavirus epidemic, the hospital couldn't admit Mr. Wang, but asked him to come back to the hospital on July 2 to finish the examinations. Mr. Wang was sent back to the prison that day.
Mr. Wang's condition became critical on June 30 and he was taken to the cancer hospital for emergency treatment.
Around 8 p.m. on July 1, the prison informed his family that he had difficulty breathing and was being treated in the hospital. The guards demanded that Mr. Wang's family pay his medical fees. His family rushed to the hospital and saw blood all over Mr. Wang's nose and mouth. The doctor said that he could die at any time.
Mr. Wang's family applied for medical parole for him on July 2, but their appeal was rejected by the prison authorities. Their excuse was that they didn't have a firm diagnosis for Mr. Wang and that the cancer hospital wasn't qualified to issue such a diagnostic report. The prison guards said to Mr. Wang's family that he had to finish serving the remaining six months of his term, even if he died in prison before the end of his term.
Four days later, Mr. Wang vomited blood again and couldn't breathe. The cancer hospital issued a notice of critical condition for him.
His family went to the prison to demand his release again on July 8 but was turned down again.
Mr. Wang passed away around 5 a.m. on August 9 at the cancer hospital. His wife is still serving time at the time of writing.
48-year-old Man Dies of Respiratory Failure, Family Suspects Forced Drug Administration During Ten-Year Imprisonment
Mr. Zhang Chongyue began having difficulty breathing in early August 2020. When he passed away at home on August 7, 2020, the 48-year-old man's head, ears and lips were blue. His left hand was extremely pale and cold.
Mr. Zhang's death came three years after he was released from serving nine and a half years in prison for practicing Falun Gong.
Mr. Zhang, a Suizhong County, Huludao City, Liaoning Province resident, was subjected to constant torture and denied family visits during most of his term. His family suspected he was given toxic drugs in the prison, based on his abnormal behavior after his release.
He is survived by his 83-year-old mother, his wife, and two daughters aged 15 and 19.
Mr. Zhang was sentenced to ten years on May 14, 2008. Between 2008 and 2012, he was held in Panjin Prison. He developed high blood pressure during this period and was tied up on a bed and force-fed unknown drugs.
When his wife was allowed to visit him on June 12, 2010, Mr. Zhang was emaciated and extremely weak. He had trouble walking and talking, and constantly felt dizzy. He lost his appetite and couldn't take in enough food. Worried about his health, his wife applied for medical parole for him, only to be rejected by the authorities with the excuse that he didn't renounce his faith.
In 2012, Mr. Zhang was transferred to the Shenyang No. 1 Prison. There, he was held in a dark solitary confinement cell and ordered to sit on a small stool all day long. His high blood pressure persisted and he developed a heart condition as well. As a result of long-term isolation, he began to experience loss of speech and memory.
According to another practitioner who was held in the prison around the same time, Mr. Zhang often experienced a suffocating sensation and had difficulty breathing, similar to the symptoms he experienced before passing away.
After Mr. Zhang was released on August 24, 2017, six months ahead of his scheduled date, he was very mentally unstable and often lost his temper over minor things. He appeared to follow a strict schedule in doing things and would be irritated if he couldn't do things as he wanted.
Beginning mid-July 2020, Mr. Zhang began to experience stiffness of his tongue. In early August, he lost his temper and had a quarrel with his neighbor. Then he began to have difficult breathing and passed away two days later.
Once Imprisoned for 11 Years, Jilin Man Dies a Month and a Half after Latest Arrest
Mr. Jiang Quande, a resident in Nong'an County, Jilin Province, passed away on August 26, 2020, about a month and a half after being arrested in a police sweep for practicing Falun Gong. His wife, who was arrested with him, is still detained at the time of writing.
Mr. Jiang Quande
Mr. Jiang and his wife, Ms. Sun Xiuying, were arrested at home on July 15, 2020. Mr. Jiang had been suffering from a medical condition and was emaciated at that time, but the police still took him into custody.
After Mr. Jiang was released about two weeks later, he remained on daily IV drips to sustain his life. The police refused to release Ms. Sun so she could take care of him.
Mr. Jiang passed away at the age of 66 on August 26, 2020, four days after the Nong'an County Procuratorate approved Ms. Sun's arrest.
After the communist regime ordered the persecution of Falun Gong in 1999, Mr. Jiang was held in a forced labor camp for a year and a half and then sentenced to 11 years in prison. He was subjected to gruesome forms of torture, including sitting on a small stool for long hours, carrying 200 lbs beans as free labor, sleep deprivation, electric shocks, beating and tying on a death bed.
The police once sat him on one end of a long bench with his legs tied to the bench. They put a plastic bag over his head and pierced his fingers and nipples with sharpened bamboo sticks. In another occasion, they cuffed his hands behind his back and pulled his hands over his head to the front. They repeated this more than ten times. They also handcuffed him and then shook his wrists. His right arm was broken and became disabled as a result.
Hebei Man Dies Four Days After Prison Release
Sixty-nine year-old Mr. Bian Qunlian fell into critical condition while imprisoned for his faith in Falun Gong, and died on August 12, 2020, four days after being sent back home.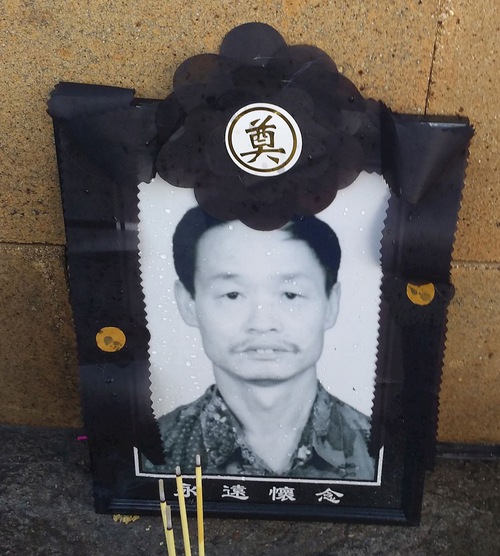 The late Mr. Bian Qunlian
Mr. Bian, of Chengde City, Hebei Province, was arrested on July 8, 2016 for talking to people about Falun Gong. One officer slapped his face with a shoe and verbally abused him in the Chengde County Detention Center.
The Chengde County Court sentenced Mr. Bian to six years in prison with a 20,000 yuan fine on February 15, 2017. This was the second time he was sentenced for his faith, following an eight-year term in 2005.
Mr. Bian was diagnosed with rectal cancer in early January 2020, and he had surgery on April 13, 2020. The prison authorities didn't allow his family to accompany him in the hospital, and took him back to the prison after he was discharged.
On August 9, Mr. Bian was driven back to Chengde in an ambulance. The residential committee staff took pictures of him before allowing his family to take him back.
According to his family, Mr. Bian was emaciated, and a feeding tube was inserted into his stomach, as he could no longer eat after the cancer metastasized. He had high fever and couldn't recognize his own brother.
Mr. Bian passed away after spending four days with his family.
Deaths as a Result of Long-Term Harassment
80-year-old Woman Serving Time at Home for Her Faith Dies After Harassment
Ms. Guo Yulian, of Wuwei City, Gansu Province, was constantly harassed while she was serving a one-year sentence at home for her faith in Falun Gong. Her health continued to decline and she passed away on August 22, 2020. She was 80.
Ms. Guo took up Falun Gong in 1998. Because of upholding her faith, she was repeatedly arrested and incarcerated over the past two decades.
Ms. Guo was arrested in 2000 when she went to Beijing to appeal for the right to practice Falun Gong and was given one year of forced labor after eight months of detention.
The police broke into Ms. Guo's home in August 2004 and attempted to arrest her. As she wasn't home, the police confiscated her Falun Gong books and materials. She was forced to live away from home to avoid being arrested.
The police found Ms. Guo in December 2006 and arrested her. She was later sentenced to four years in prison. She was released on medical parole after her sentencing but was taken back into custody in May 2007 and sent to the Lanzhou Prison.
Ms. Guo was arrested one more time and had her home ransacked on June 2, 2015, after she was apprehended for posting information about Falun Gong on a telephone pole.
The police harassed Ms. Guo on April 21, 2017 and arrested her three days later. While Ms. Guo was released on the evening of her arrest, the police arrested her again on April 26. As the detention center refused to accept her due to her health condition, the police had to send her back home.
On September 19, 2017, four staff members from the Liangzhou District Procuratorate informed Ms. Guo that the police had just submitted her case to their office.
The prosecutor indicted her on February 8, 2018 and forwarded her case to the Liangzhou District Court.
Ms. Guo was tried on December 23, 2019 and sentenced to one year with a 2,000-yuan fine in January 2020. She was ordered to serve the time at home.
Staff members from the local Justice Bureau kept coming to her home and harassing her. The ongoing mental distress eventually caused her tragic death.
Jilin Woman Passes Away After Frequent Harassment
Ms. Bai Yaqing, a Changchun City, Jilin Province, resident passed away around July 20, 2020, after her health declined as a result of repeated arrests and harassment for practicing Falun Gong. Her daughter is still serving time, also for refusing to renounce Falun Gong.
Ms. Bai used to work as a labor camp guard. She was arrested at work on November 17, 2006, and given one year at Heizuizi Forced Labor Camp. Because of holding firm to her faith, she was subjected to the "death bed" torture, whereby her limbs were stretched to the fullest extent possible and tied to the four corners of a bed in a spread-eagle position. She was kept in the position for ten days and suffered excruciating pain.
Her term was later extended as punishment for holding fast to her faith. By the time she was released, she was still suffering pain in her legs from the "death bed" torture.
Ms. Bai's daughter, Ms. Han Bing, 36, was arrested on July 13, 2017 and later sentenced to 3.5 years in Changchun Women's Prison. Ms. Bai was under enormous distress as her efforts to rescue her daughter didn't have any success and the authorities also denied her daughter family visits for more than a year.
Ms. Bai was arrested again and had her home ransacked on April 4, 2020, after being reported for distributing information about Falun Gong. As she was found to have medical problems, the police ordered her to pay a 1,000-yuan bond and released her on bail to seek medical treatment. They still monitored her after her release.
Ms. Bai's health quickly deteriorated upon returning home. Her feet, which were subjected to the "death bed" torture in the labor camp, turned black and began to have pus oozing out.
Ms. Bai was summoned to the procuratorate in early July to answer questions. The condition of her feet continued to deteriorate and she could no longer walk after she returned home. As she lived by herself, she couldn't get out of bed and didn't eat for three days.
Later on, a friend visited her and cooked for her. With her friend's care, she was able to get out of bed and walk slowly.
The police arrested Ms. Bai again on July 13. She was denied admission by the local detention center due to her precarious condition. The latest harassment dealt a big blow to Ms. Bai and she passed away about seven days later, on July 20, according to her neighbor. She was in her 60's.
Liaoning Man Passes Away After Suffering Long-Term Persecution
Mr. Du Xinggui, a Fushun City, Liaoning Province resident, was arrested on June 29, 2016, for his faith in Falun Gong. He was later sentenced to two and a half years with his prison term set to expire on December 28, 2018. Since he failed the required physical examination for prison admission, he was released on medical parole.
In May 2020, the police harassed him and attempted to take him back to the prison to serve his term. The harassment caused a quick decline in his health. He passed away around August 2020, at the age of 69. The exact date of his death remains to be investigated.
For telling people how Falun Gong cured his severe asthma that tormented him for 40 years, Mr. Du was repeatedly arrested and subjected to detention, forced labor terms, and brainwashing sessions during the past two decades.
He was arrested six times between 2001 and 2013, which happened respectively in January 2001, July 2002, October 2003, July 26, 2008, winter of 2010, and June 4, 2013.
During the 2008 arrest, the police bribed the officials of the local detention center to have him detained for 15 days and then bribed the labor camp officials to admit him into the local labor camp to serve a 1.5-year forced labor term, after both places had initially refused to accept him because of his health condition.
After a month in the labor camp, he became critically ill and was resuscitated in the hospital. The authorities had to release him afterwards.
Mr. Du was arrested on June 28, 2016 for talking to people about the persecution of Falun Gong. Although he failed the physical examination and was released, the police still submitted his case to the Shuncheng District Procuratorate.
Mr. Du was tried by the Shuncheng District Court on November 10, 2016 and later sentenced to three years in prison. He appealed to the Fushun City Intermediate Court, which then ruled to reduce his term to two and a half years. However, due to his health, he was on medical parole during his entire term, which expired on December 28, 2018.
The police from Gebu Police Station found Mr. Du in May 2020 and ordered him to have a physical exam. They attempted to bring him back into custody to serve his term. The Shuncheng District Court also sent him a notice to serve time outside of prison, despite that his term had already expired.
The repeated harassment caused Mr. Du's health to deteriorate. He passed away recently at the age of 69.
Two Siblings Lose Their Mother to the Persecution of Her Faith
Growing up in fear and constantly forced into displacement due to the persecution of their mother's faith in Falun Gong, Ms. Zhu Yan's children were dealt a heavy blow when she passed away on August 15, 2020. She was 57.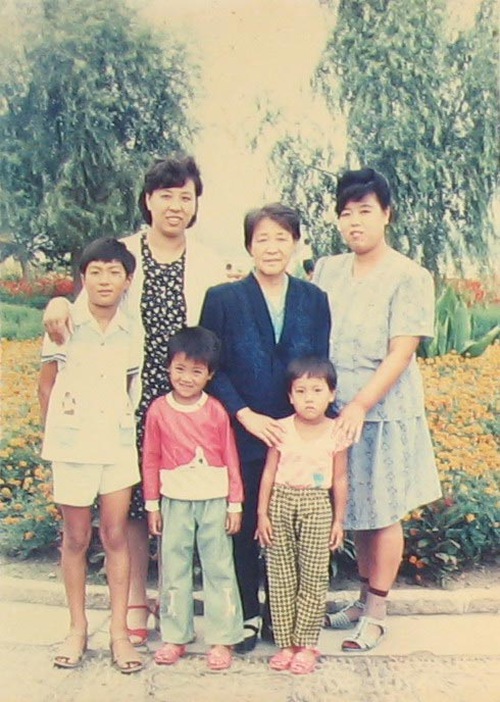 Ms. Zhu Yan (on the right in the back row) and her Family
The death of Ms. Zhu, a Jilin City, Jilin Province, resident, was proceeded by repeated arrests, incarceration, and two 1.5-year labor camp terms. She was forced to live away from home at one point to hide from the police. The mental and physical distress from the persecution took a toll on her health and eventually claimed her life.
Ms. Zhu isn't the only victim in her family who has suffered from the persecution of Falun Gong. After her husband could no longer bear the pressure and divorced her in 2003, her teenage son and daughter struggled to live by themselves while she was incarcerated. For seeking her release, her two children were beaten by the police and severely injured. Arrested and tortured several times himself, Ms. Zhu's son suffered three mental breakdowns.
Related reports:
40 Falun Gong Practitioners Persecuted to Death for Their Faith in First Half of 2020
Twenty-seven Falun Gong Practitioners Die Due to Persecution Between January and May 2020
Persecution of Falun Gong Claims Another Seventeen Lives in First Quarter of 2020