San Francisco: Rally in front of Chinese Consulate Calls for an End to the Persecution and Exposes Recent Escalation
Sept. 29, 2020 | By a Falun Dafa practitioner in San Francisco
(Minghui.org) Falun Dafa practitioners in the San Francisco Bay Area held a peaceful rally in front of the Chinese Consulate on September 21. They called on the world's people to help stop the persecution of Falun Dafa in China and drew attention to the CCP's (Chinese Communist Party) recent escalation of arrests of practitioners. The rally also appealed to Chinese people to withdraw from the Party.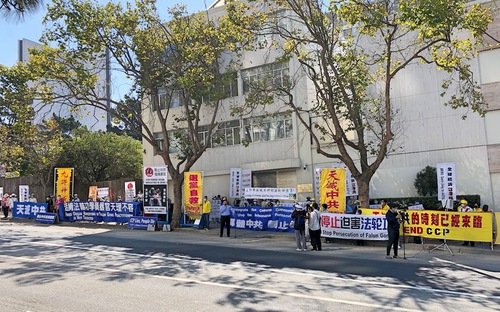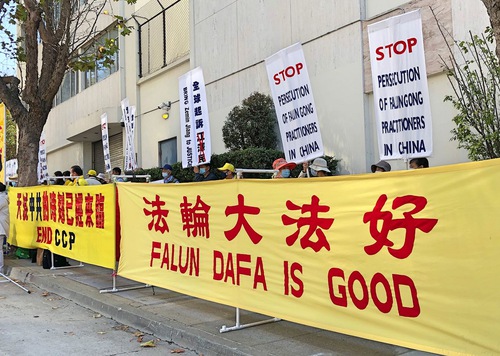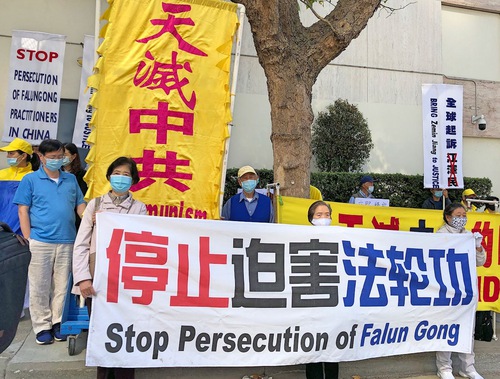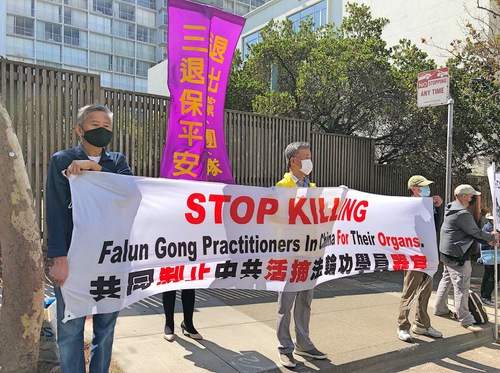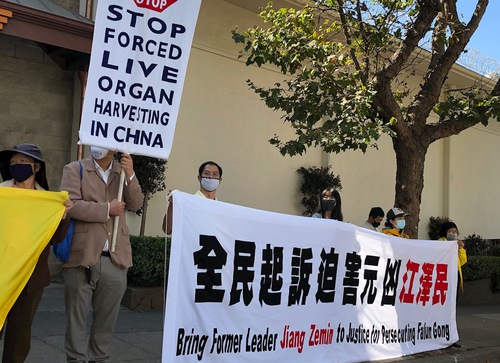 Practitioners in the San Francisco and Bay Area rallied in front of the General Consulate of China on September 21, 2020.
The CCP started a nationwide "zero out" campaign in the spring to try to force Falun Dafa practitioners to give up their belief. Representatives from the Political and Legal Affairs Committee, the 610 Office, residential subdivisions, and police stations visited known practitioners and threatened them to sign a guarantee statement to stop practicing. They intimidated them and their family members with threats of arrest, brainwashing, detention, imprisonment, stopping their pension, or implicating their children and grandchildren.
In August, 1,184 Falun Dafa practitioners were harassed by the authorities; 463 were arrested, 721 were threatened, 59 abducted into brainwashing, 211 had their house ransacked, and 87 were indicted.
Six practitioners reportedly died as a direct result of the persecution in August, including Wang Fengcheng, a teacher at the Lindian County First High School, Daqing City, Heilongjiang Province, Du Xinggui of Fushun City Liaoning Province, Bian Qunlian of Hebei Province, Zhang Chongyue of Huludao City Liaoning Province, Guo Yulian of Wuwei City Gansu Province, and Jiang Quande of Nong'an County Changchun City, Jilin Province.
Falun Dafa Association Representative: Quit the Party Before It's Too Late
Huang Yun, representative of the Falun Dafa Association of San Francisco, addressed the rally. Huang said that the persecution has gone on for 21 years and practitioners continue to call to end the persecution and release all jailed practitioners.
Huang added that although the CCP continues the persecution, the world has changed. More people know about the persecution and Heaven is about to destroy the CCP. He reminded Party members and those who work for it to immediately sever their connection and quit the Party so that they won't be implicated in its crimes.
News Commentator: The CCP Is Against Humanity
News commentator Lan Shu told the rally that the coronavirus' rapid spread gave the world a chance to think about the damage the CCP has done to Western democratic societies. Recognizing the danger, the United States and many western countries have changed their attitude about communism and began reconsidering their relationship with China.
"Western countries now realize that the communist regime has no moral compass. It is a regime that is against humanity," Lan said.
News Commentator Lan Shu addressed the rally.
Lan said that Western countries believed they could "be the example" and lead China to democracy. But they now realize that they can't trust the communist regime.
Former Beijing Judge: Don't Be the CCP's Scapegoat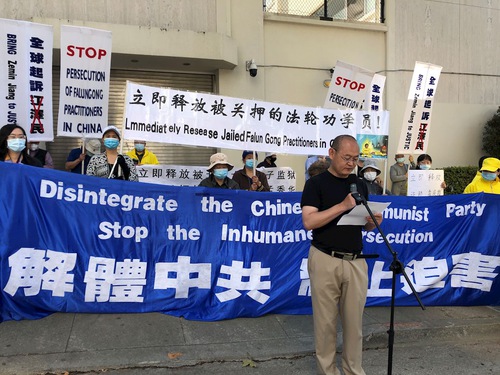 Former Beijing court judge Wang Chongming was persecuted for his belief.
Wang Chongming, a former Beijing court judge, was persecuted for his belief in Falun Dafa. He was dismissed from his job, sent to forced labor camps twice, and incarcerated many times for appealing to the government.
He told rally attendees that those who work for law enforcement and the judicial system in China should know that the persecution of Falun Dafa is illegal. "They just pretend they don't know, because greed blinded them. They don't see that the world has changed and they don't understand that the CCP regime is doomed," he said.
He recommended to those who continue helping the Party to read about its history. The CCP uses people to carry out its orders, and then they become the Party's scapegoats.
Persecution Survivor: The CCP's Boat Is Sinking
San Francisco resident Shen Yueqian once ran a successful business in Beijing importing and selling golf equipment. Due to her faith in Falun Dafa, she was jailed in the Beijing Women's Forced Labor Institute for two years. Her business was forced to close and her family lived in fear for years.
While incarcerated in the labor camp, she was subjected to brainwashing, sleep deprivation, and forced labor, and unknown drugs were placed in her food. The camp authorities also collected blood samples, which were likely entered into the national organ supply database.
She wants to tell officials who work in the Chinese Consulate not to follow the CCP's orders because that path leads to danger and destruction. "The CCP's boat is sinking. Jump off the boat now for your own safety. Choose a bright future and sever your ties to the Party! Stay away from the Party and the plague!"