41 Falun Gong Practitioners Sentenced for Their Faith in August 2020
Sept. 15, 2020 | By a Minghui correspondent
(Minghui.org) According to information collected by the Minghui.org website, the month of August 2020 saw 41 Falun Gong practitioners sentenced to prison for their faith.
Falun Gong, also known as Falun Dafa, is a spiritual practice centered on the principles of Truthfulness, Compassion, and Forbearance. Since the Chinese communist regime started persecuting the practice in July 1999, many practitioners have been subjected to arrest, imprisonment, torture, forced labor, and even organ harvesting.
Among the 41 practitioners sentenced in August 2020, seven of them are 65 or older. An 80-year-old woman from Shanxi Province was given a 1.5-year prison term. A 79-year-old woman from Hebei Province was sentenced to 1.5 years of house arrest.
The prison terms given to the practitioners ranged from ten months to eight years, with an average of 3.42 years. Five practitioners in Heilongjiang Province were sentenced to seven years in a joint case. Among the remaining thirty-six practitioners, three of them were given probation and two practitioners' terms were unknown. In addition, thirteen of the 41 sentenced practitioners were fined for a total of 70,000 yuan by the court, averaging 5,385 yuan per person.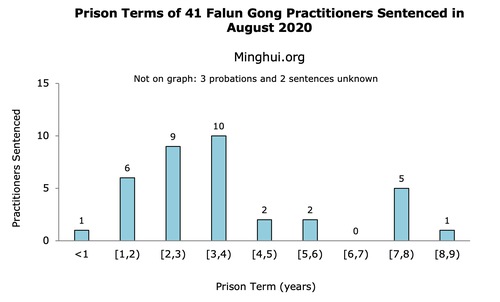 The 41 practitioners came from 13 provinces and municipalities. Heilongjiang had eight cases, followed by six in Henan, five in Jilin, four in Jiangxi, Liaoning and Chongqing each. Shanghai and Hebei registered three and two cases, respectively. The remaining regions, including Anhui, Fujian, Guangdong, Shanxi and Yunnan, each had one case.
With August data available, the year-to-date confirmed sentencing cases in 2020 have reached 246, including 46 in January, 18 in February, 21 in March, 21 in April, 21 in May, 39 in June, 39 in July and 41 in August, with a steady increase in monthly cases as the coronavirus pandemic gradually subsided.
Of note, information about the sentencing cases was collected between January 1 and September 5, 2020. Due to the communist regime's information blockade, the actual number of Falun Gong practitioners sentenced for their faith is likely much higher.
Download/view the full list of sentenced practitioners here (PDF).
Below are snapshots of some sentencing cases.
Heavy Terms
Five Heilongjiang Residents Secretly Sentenced to Heavy Terms
Five residents of Mudanjiang City, Heilongjiang Province, were each sentenced to seven years on August 15, 2020, for practicing Falun Gong.
Ms. Cao Shufang, Mr. Gao Pengguang, Mr. Sun Shiwei, and Ms. Gao Yongli were arrested on April 24, 2020. It is unclear when Ms. Shi Ying was arrested. All five of them had their homes ransacked. Ms. Cao was released around 2 a.m. the next day after she was found to have high blood pressure.
Ms. Cao was informed by the Bamiantong No.1 Police Station on August 15, 2020, to go to the Hailin Court to pick up her copy of the verdict. When she arrived, she was told that she and the other four practitioners had each been sentenced to seven years. Ms. Cao was also fined 20,000 yuan.
It's not clear whether a trial ever took place regarding the practitioners' cases.
Ms. Cao and Ms. Gao are being held in Mudanjiang Detention Center. Mr. Gao and Mr. Sun Shiwei are in the Bamiantong Town Detention Center.
Jilin Woman Given Eight Years for Spreading Information about Falun Gong
Ms. Liang Chunhua, of Jilin City, Jilin Province, was arrested on March 17, 2019, after being found by the police for exchanging banknotes that had messages about Falun Gong printed on them. Due to the strict information censorship in China, many Falun Gong practitioners are using creative ways to raise awareness about their faith, including printing messages on banknotes.
The police followed Ms. Liang and confiscated the 10,000 yuan in cash she had on her. They also ransacked her home and almost emptied the place. Her bank cards were taken away as well.
It was reported in August 2020 that she has been sentenced to eight years in Jilin Province Women's Prison.
Elderly Practitioners Targeted
75-year-old Woman Sentenced to 3.5 Years
Ms. Yang Mei, of Luoyang City, Henan Province, was sentenced to three years and six months with an 8,000-yuan fine for her faith in Falun Gong on August 13, 2020. As the detention center refused to admit her after she failed the physical examination, Ms. Yang is currently serving time at home.
Ms. Yang, 75, was arrested on July 29, 2019 while studying Falun Gong teachings with four other practitioners at her home. A group of police officers broke in and confiscated her Falun Gong books, an mp3 player, all the cash they could find, as well as her grandchild's toys.
All five practitioners, including Ms. Yang, Ms. Song Aizhen, Ms. Yin Zhirong, Ms. Wang and Ms. Du, were taken to the Changchunlu Police Station. While Ms. Yang was released the same day to take care of her incapacitated husband, the other four practitioners were detained for ten days before being released.
The police summoned Ms. Yang several times to the police station for interrogation afterwards. Her two daughters were also harassed.
The police accused Ms. Yang of being a "repeat offender" upon finding out that she had once been sentenced to three years for practicing Falun Gong. They initiated a formal prosecution process against her and submitted her case to the procuratorate.
Ms. Yang appeared in the Jian'xi District Court on November 22, 2019. She acted as her own lawyer and pleaded not guilty. She returned home after the hearing.
Ms. Yang was arrested again on April 17, 2020, after being reported for posting information about Falun Gong. The police ransacked her home and confiscated her Falun Gong books and informational materials.
The judge sentenced Ms. Yang on August 13, 2020. She has appealed the verdict.
Man in His 70s Sentenced to 3.5 Years for Passing Out Literature about His Faith
Mr. Zhong Guoquan, in his 70s, was arrested on March 4, 2020, while distributing information about Falun Gong on the street. The police took his cellphone and obtained his call and text message history before returning the phone to him. Mr. Zhong was released on bail around midnight after he was found to have a medical condition.
Mr. Zhong, a Mishan City, Heilongjiang Province resident, appeared in Mishan Court on August 10, 2020. His family wasn't allowed to attend the hearing. The few copies of Falun Gong flyers confiscated from him were used as prosecution evidence against him, and he was charged with "undermining law enforcement with a cult organization," the standard pretext used by the communist regime to frame Falun Gong practitioners.
Prosecutor Wang Kaifeng complained to the judge that Mr. Zhong had a bad attitude for not pleading guilty. Mr. Zhong's lawyer refuted that it was within his freedom of belief to practice Falun Gong, which didn't harm or disrupt any individuals or society. Wang shouted back, "Don't you know how much impact it would cause when people read the materials he passed out?"
After the hearing was adjourned, Mr. Zhong, who was so weak that he almost passed out, was taken away by the police. He was taken to the Jixi Detention Center the next day. A few days later, the judge informed his family that he had sentenced Mr. Zhong to three and a half years. Mr. Zhong's family was outraged by the verdict and helped him file an appeal.
Mr. Zhong used to have a bad temper. He completely changed after taking up Falun Gong and became much more considerate. After his arrest this year, he repeatedly told his family not to hold grudges against the police, as they are the true victims of the persecution.
Woman and Her Mother-in-Law Sentenced for Their Faith, Her Own Mother Dies After Police Harassment
A woman and her 79-year-old mother-in-law were sentenced to prison on August 21, 2020, for practicing Falun Gong. Both women were also fined 1,000 yuan each.
Ms. Zhang Xiangrong, her mother, and her mother-in-law Ms. Liu Naifen were arrested on July 7, 2017 for distributing informational materials about Falun Gong. All of the women are residents of Langfang City, Hebei Province. While Ms. Zhang's mother was soon released as she didn't practice Falun Gong, Ms. Zhang and Ms. Liu were later sent to the Langfang Detention Center.
Ms. Zhang's mother was traumatized by the arrest. The police frequently harassed her after her release and lied to her, saying that they had frozen Ms. Zhang in a freezer. The elderly woman was so terrified that she became ill and passed away three months later.
In the meantime, Ms. Zhang and Ms. Liu were abused in the detention center. The guards only gave them five minutes to use the restroom each time and only allowed them to take a shower every 15 days, despite the summer weather.
Ms. Liu couldn't keep food down and had persistent diarrhea. She was forced to sign a statement to renounce Falun Gong against her will and released on bail on August 10, 2017. The police harassed her at home after she was released.
Ms. Zhang was held in detention for an additional month. She also had diarrhea and trouble taking in food. She was released on bail on September 2, 2017. The police also harassed her after her release.
On August 11, 2019, Ms. Zhang was taken back to the detention center. When her lawyer visited her on the morning of January 20, 2020, before her court hearing in the afternoon, she told him that she hadn't been able to eat or have a normal bowel movement for 13 days. The guards force-fed and beat her. Instead of providing medical treatment to Ms. Zhang, they attempted to have her sign a waiver to clear the detention center of responsibility if she died there. She refused to comply.
Both Ms. Zhang and Ms. Liu were tried by the Anci District Court on the afternoon of January 20. The judge announced on August 21, 2020 that Ms. Zhang was sentenced to two years and Ms. Liu to one and a half years. They were each also fined 1,000 yuan.
Having being detained for a total of around 14 months (2 months between July 7, 2017 and September 2, 2017 and 12 months between August 11, 2019 and August 21, 2020), Ms. Zhang has about 10 more months left on her prison term.
Ms. Liu, who had been detained for just over one month (from July 7, 2017 to August 10, 2017), has about 17 months to serve. Due to her advanced age and health condition, she was allowed to serve the remainder of her sentence at home under supervision.
Targeted for Speaking Out
Liaoning Woman Sentenced to Prison for Handing Out Open Letter about Her Faith
Ms. Chen Lihong, 64, was arrested on January 6, 2020, after being reported by two soldiers for giving them copies of an open letter written by a group of Falun Gong practitioners. The open letter explained the illegality of the persecution, and urged people to quit the CCP. The police brought Ms. Chen back home at around 9:00 p.m. and attempted to ransack her home, but were stopped by her husband.
Ms. Chen, a Shenyang City, Liaoning Province resident, was then sent to Shenyang City No. 1 Detention Center. The Tiexi District Procuratorate approved her arrest on January 20 and indicted her in early June. On August 17, her family was informed that she was sentenced to three years and four months.
Ms. Chen's husband's life fell apart after her arrest. Still struggling to recover from a stroke, he had trouble getting around or talking clearly. Unable to take care of himself, he had to hire people to do grocery shopping and cook for him. After the outbreak of the coronavirus epidemic, his life became even more difficult.
Life Renewed by Practicing Falun Gong
When Ms. Chen was in her youth, she was sent to the countryside to receive rural education, as part of the "Down to the Countryside Movement" in the Cultural Revolution. Often known as the "lost generation," many in Ms. Chen's generation lost the opportunities to attend college.
Due to the poor living condition in the countryside, Ms. Chen developed severe rheumatism in her joints. When the weather was humid, she had pain in her bones all over her body and couldn't even lift a kettle of water. She also had severe nephritis, gastritis, and migraines.
At the recommendation of a friend, she took up Falun Gong in the spring of 2004. Within only a short month, all of her symptoms disappeared and she felt that her life had been renewed.
Her husband suffered a stroke in the winter of 2009. She stayed in the hospital and took care of him day and night. One month later, her mother-in-law was diagnosed with late-stage cancer.
After her husband was discharged from the hospital, she got up early and prepared meals for him. Then she took a two-hour bus trip to go to the hospital to take care of her mother-in-law. She did that every day for four months, until her mother-in-law passed away. Many of the doctors and nurses said she was the best daughter-in-law.
Legal Procedure Violated
Chongqing Teacher Secretly Sentenced for Upholding His Faith
A middle school teacher in Chongqing was quickly imprisoned for two years and eight months after he was arrested on June 10, 2020, for practicing Falun Gong.
Mr. He Zhenyu, 47, took up Falun Gong in 1997 and credits the practice for enabling him to become more calm and considerate. He has been a popular teacher in the past two decades.
Mr. He was arrested on November 12, 2018, after being reported for spreading information about Falun Gong. Due to the strong protest from his school, the police soon released him on bail.
The police arrested Mr. He again on June 10, 2020 and took him to the Wanzhou District Detention Center. They revealed that they were executing an arrest order from the Kaizhou Court.
Mr. He's family soon learned that he had been sentenced to prison, but they have not received any official notices regarding his detention, trial (if any) or verdict. They were also ordered by the court to pay a 5,000-yuan fine for him.
At the time of writing, Mr. He's family is still kept in the dark of where he is being detained.
Related reports:
28 Falun Gong Practitioners Sentenced for Their Faith in July 2020
139 Falun Gong Practitioners Sentenced to Prison for Their Faith in First Half of 2020
107 Falun Gong Practitioners Sentenced for Their Faith between January and May 2020
89 Falun Gong Practitioners Sentenced for Their Faith between January and April 2020
33 Falun Gong Practitioners Sentenced for Their Faith During Coronavirus Lockdown in China
The Persecution of Falun Gong Continues in China Despite Coronavirus Pandemic
Chinese Communist Regime's Courts Sentence 193 Falun Gong Practitioners As New Coronavirus Explodes