Falun Gong Practitioners in China Forced to Divorce after Refusing to Renounce Their Faith
Dec. 3, 2019 | By Qing Zhou
(Minghui.org) Family has always been an important part of people's lives, and many long for a contented family. However, many such happy families in China were torn apart when the Chinese Communist Party (CCP) started persecuting Falun Gong in July 1999.
Falun Gong, also known as Falun Dafa, is a spiritual practice based on the principles of Truthfulness, Compassion, and Forbearance. Since the onset of the persecution, many practitioners have been arrested, detained, imprisoned, tortured, and sentenced, for refusing to renounce their faith.
According to available data collected by the Minghui.org website, at least 389 Falun Gong practitioners from 24 provinces and municipalities in China have been forced to divorce due to the persecution, with the provinces of Heilongjiang (62) and Hebei (44) registering the most cases.
In some cases, the authorities forced the practitioners' husbands to marry other women soon after their divorce, and some of the practitioners' spouses turned against them after the divorce and assisted the authorities in the persecution.
Due to the CCP's information blockade, the actual number of Falun Gong practitioners who have been forced to divorce cannot always be reported in a timely manner, nor is all the information readily available.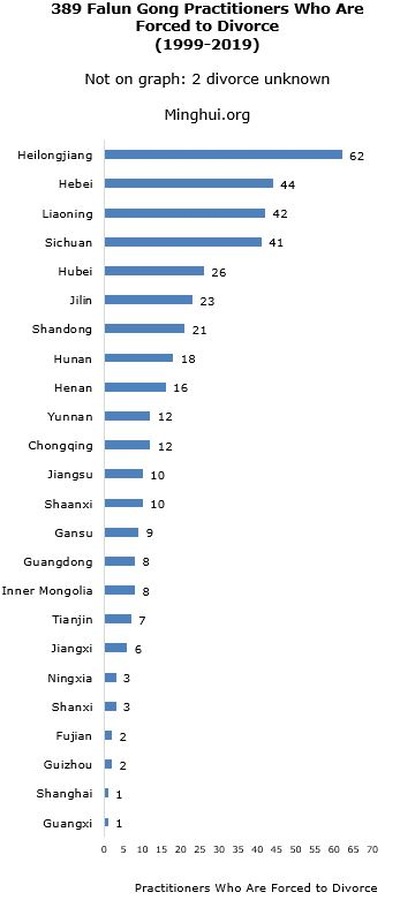 Below are several examples.
Husband Divorces Former Township Chairwoman Against Her Will
Ms. Lu Yanfei was formerly the chair of Chuanshan Township in Suining City, Sichuan Province; the people's representative in the township; and a member of the standing committee of the township's People's Congress.
She was fired from her job shortly after the persecution began in 1999. Her husband became very violent and kicked her out of their home.
Ms. Lu went to Beijing to appeal for Falun Gong in January 2000, only to be arrested. She was later picked up by her husband, who then turned her in to the police. They then detained her.
Ms. Lu's husband attempted to divorce her on February 12, 2000, but she refused to agree.
More than a month later, on March 27, the local city government issued the divorce certificate to her, without her consent.
Former Business Executive Pressured to Sign Divorce Agreement
Ms. Cheng Haiyan was a professor at China Pharmaceutical University in Nanjing City, Jiangsu Province, before she moved within the province to Xuzhou City to join her husband in the military.
She first worked as a manager for medical health products at the Import and Export Corporation in Xuzhou City and was later appointed general manager of the Light Industry and Textile Product Division of the Jiangsu Materials Group Corporation.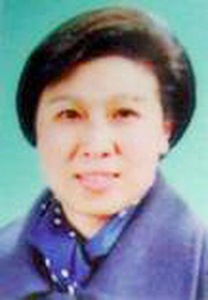 Ms. Cheng Haiyan
After the persecution started, Wen Zhongren, the Party secretary in the Nanjing Military Zone, told her husband he had to divorce her or else he would face involuntary discharge.
Wang Rongsheng, the head of the 610 Office in Jiangsu Province, pressured Ms. Cheng to give up her belief and pressured her family to send her to a mental hospital. Wang Rongsheng and Wen Zhongren convinced Ms. Cheng to sign the divorce agreement by letting her know what would happened to her husband if she did not.
Ms. Cheng signed the divorce paper to protect her husband. Officials then ordered her husband to marry a stranger within three months if he wanted to avoid an involuntary discharge.
Related reports:
Detained for 10 Years, Ms. Cheng Haiyan from Nanjing Arrested Again (Photo)
Ms. Cheng Haiyan Illegally Arrested Again after Eight Years in Prison (Photo)
Former Academic and Business Executive Dies after Repeated Arrests and Lengthy Imprisonment
Retired Police Officer Forced to Divorce
Ms. Li Xiyun was a senior police supervisor at Weibei Prison in Shandong Province before she retired.
Due to the lack of female officers in the prison, she handled all the family visits for more than 350 female inmates. She was known for being fair and honest.
Ms. Li used to have a happy family. Her husband was also a police officer in Weibei Prison. Their daughter, Kong Qian, graduated from nursing school. The young woman was born with early childhood sepsis and was very frail growing up. After she started practicing Falun Gong with her mother, all of her ailments were cured.
Because Ms. Li and her daughter refused to give up Falun Gong despite the persecution, they were arrested and detained multiple times. They lost their jobs and their wages were withheld. Ms. Li's husband was also suspended from his job. He was forced to divorce her under great pressure.
Related report:Retired Police Officer Ms. Li Xiyun from Weifang Unable to Eat Due to Persecution
Police Refused to Intervene in Domestic Abuse
Ms. Meng Fanguang of Yingkou City, Liaoning Province, was sent to a forced labor camp twice. She was tortured for refusing to renounce her faith in Falun Gong.
Zhang Luofang, the deputy director of Tuqiang Police Department, pressured Ms. Meng's husband, who worked under Zhang, to make Ms. Meng sign guarantee statements or else he would detain her the following day. Zhang also threatened to lay off Ms. Meng's husband.
Ms. Meng's family used to support her practicing Falun Gong. But due to the intense pressure from the persecution, her husband started to beat her severely. Desperate, Ms. Meng called the police.
When four police officers arrived and learned of the situation, they told her, "We won't intervene if you don't write the guarantee statements," and continued to let her husband hit her.
The Tuqiang Police Department also ordered her husband to monitor her and prohibit her from doing the Falun Gong exercises or contacting other practitioners.
Ms. Meng was later forced to divorce her husband.
Mr. Liu Chengjun Forced to Divorce
Mr. Liu Chengjun from Changchun City, Jilin Province, went to Beijing to appeal for the right to practice Falun Gong in October 1999. He was arrested and given one year of forced labor, which was later extended by ten months.
Mr. Liu Chengjun
While Mr. Liu was detained, his wife divorced him.
Mr. Liu was later persecuted to death for intercepting TV signals and broadcasting videos about Falun Gong. The broadcast lasted more than 20 minutes on one branch and 30 minutes on the other. Many locals thought that Falun Gong had been rehabilitated.
Related report:The 14th Anniversary of Tapping into China's State Television to Broadcast the Truth about Falun Gong: Remembering a Courageous Act
Changchun Woman Threatened with Prison Term If She Refused to Divorce
Ms. Sun Shuxiang, another practitioner in Changchun City, Jilin Province, was arrested 19 times, sent to labor camps five times, and tortured repeatedly for refusing to renounce Falun Gong. She was later persecuted to death.
In 2001, the police went to Ms. Sun's home and ordered her husband to divorce her. She was taken to the police station, tied to a chair, and beaten by four officers. One officer picked up the book Zhuan Falun and started hitting her until she became dizzy and could barely see.
The officers who were hitting her asked if she agreed to divorce her husband and threatened to send her to prison if she refused.
Ms. Sun was later held in a detention center. Her husband eventually divorced her after constant threats from the police. After the divorce, Ms. Sun became homeless. She was later arrested again and sent to a forced labor camp.
Ms. Sun passed away on October 10, 2010, at the age of 53.
Related report:Falun Gong Practitioners Endure Unbearable Tortures Involving Their Eyes (Photos)
"We'll Tell Your Wife to Divorce You"
Mr. Wang Weineng of You County in Hunan Province was scheduled to be married on January 1, 2001. Agents from 610 Office arrested him the night before and held him in the police department, forcing his family to cancel the wedding.
Afterward, the agents made several attempts to pressure his wife to divorce him.
In February 8, 2001, Mr. Wang was arrested again and detained for 15 days. After he was released, the 610 Office agents told his wife that they planned to sent him to a forced labor camp. They also instructed his wife's employer to fire her and prevented her from attending continuing education courses.
The head of the 610 Office told Mr. Wang, "We'll tell your wife to divorce you."
Mr. Wang and his wife were eventually forced to part.
"You Must Sign the Divorce Agreement"
Mr. Qu Dehong, a Falun Gong practitioner from Jidong County, Heilongjiang Province, was detained and tortured in prison.
In October 2005, personnel from the court went to the prison office to force Mr. Qu to sign a divorce agreement. Because he loved his wife and they have a son, Mr. Qu refused.
"You must sign it!" one guard told Mr. Qu.
He was eventually forced into a divorce.
Related report:Falun Gong Practitioner Mr. Qu Dehong Recounts Years of Severe Torture and Persecution by the CCP
Hebei Woman's Husband Ordered to Divorce Her and Re-marry
Ms. Huo Guilan of Hebei Province was sentenced to nine years in prison in 2005. The authorities stopped her husband's salary for several months and ordered him to divorce her. After the divorce was final, the authorities still refused to reinstate her husband's salary, claiming that their divorce was a fake. Her husband was forced to marry another woman in order to get paid.
Related report:Hebei Woman Sent to Brainwashing Center Again after Nine Years in Prison
Teacher Mentally Affected after Being Drugged, Husband Divorces Her
Ms. Liu Dongmei, a teacher in Wuyi County, Hebei Province, was twice sent to a brainwashing center in 2002. She was later transferred to a mental hospital where she was injected with and also forced to take large doses of nerve-damaging drugs. She suffered physical and neurological damage as a result, making her confused and slow-witted. Her husband later divorced her.
Related report:Cruelties in A Private Prison In Hengshui City, Hebei Province
Woman Dies after Release from Prison, Husband Marries Mistress
Ms. Chen Peipei was a former senior engineer in the logistics department of the Handan Iron and Steel Company in Hebei Province. Her husband, a Party secretary in the company, was very corrupt and had affairs with many women.
In 2002, her husband chased her out of their home in front of their two sons and told her that the house belonged to him.
Ms. Chen had to live with her mother after her husband divorced her. Before the 16th National Congress in October 2002, the police broke into her mother's home and arrested both of them.
Ms. Chen died shortly after her release from prison. Her ex-husband was on his honeymoon with a former mistress at the time.
Villain Turns Over a New Leaf, Pressure of the Persecution Forces Wife to Divorce Him
Mr. Meng Fanqing of Handan County, Hebei Province, was an unscrupulous villain. His first wife couldn't put up with him and divorced him. In 1998, Mr. Meng began to practice Falun Gong and started to understand the true meaning of life and to behave according to Falun Gong principles of Truthfulness, Compassion, and Forbearance.
He became a completely new person. His father was very surprised that Falun Gong really changed him for the better, and he really admired the practice.
After the CCP started the persecution of Falun Gong, Mr. Meng was sentenced to prison twice and brutally tortured. His second wife was unable to withstand the pressure from the authorities and divorced him.
Related report:Abused and Forced into Homelessness for Practicing Falun Gong
Hebei Woman Divorced and Loses Custody of Her Child Without Her Knowledge
Ms. Li Mei of Handan City, Hebei Province, was persecuted by the CCP for refusing to renounce her faith in Falun Gong.
When she was first sent to a forced labor camp, she was slapped, handcuffed, deprived of sleep and use of the restroom, threatened, and made to stand for long periods. She was released on August 3, 2010.
Unbeknownst to her, two months before her release, her husband was harassed and threatened by the authorities. Even though Ms. Li never signed the divorce agreement, the court ruled that Ms. Li and her husband were divorced. When Ms. Li returned home, she found out that she had lost custody of their child and possession of her home. Her husband kicked her out of the house.
Army Major's Wife Divorces Him, He Dies in Prison
Mr. Wang Youjiang was an army major in Lanzhou City, Gansu Province. He was sentenced to six years in prison on September 24, 2013.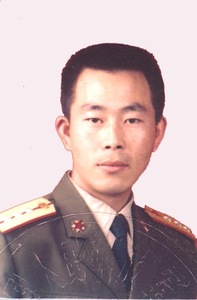 Mr. Wang Youjiang
Mr. Wang's wife, who was also an army officer, supported him in practicing Falun Gong. However, after Mr. Wang was sentenced to ten years in prison, she was unable to bear the tremendous pressure from the authorities and divorced him.
Former Manager of Car Company Forced to Divorce—Loses Custody of His Child
Mr. Lin Shixiong was a manager of the Mitsubishi Repair Division in Yanji City, Jilin Province. He was held in a forced labor camp for one year for writing an open letter about Falun Gong to the mayor of Yanji City.
In 2002, he was sentenced to 13 years in prison for not renouncing his faith. Incarcerated in the Jilin Prison, he was forced to relinquish control of the factory he'd started from scratch. The authorities also made him divorce his wife and give up custody of his child.
Mr. Lin suffered great mental pressure under frequent harassment from the authorities. He passed away on August 29, 2006.
Related report:Practitioner Lin Shixiong from Yanji City, Jilin Province Died as a Result of Persecution