Former Academic and Business Executive Dies after Repeated Arrests and Lengthy Imprisonment
April 07, 2018 | By a Minghui correspondent in Jiangsu Province, China
(Minghui.org) A 63-year-old woman in Xuzhou City died on March 28, 2018, after suffering years of repeated arrests and imprisonment for refusing to renounce Falun Gong, a spiritual discipline being persecuted by the Chinese communist regime.
Ms. Cheng Haiyan was a professor at China Pharmaceutical University in Nanjing City, Jiangsu Province before she moved within the province to Xuzhou City to join her military husband. She first worked as a manager for medical health products at the Import and Export Corporation in Xuzhou City and was later appointed general manager of the Light Industry and Textile Product Division of the Jiangsu Materials Group Corporation.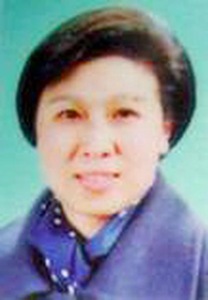 Ms. Cheng
Despite her highly successful career, Ms. Cheng was plagued by hepatitis B and angered at her husband for not helping around the house. Her health, however, greatly improved just one month after she began practicing Falun Gong in 1998. As she followed Falun Gong's principles of Truthfulness-Compassion-Forbearance to conduct herself, she also stopped complaining about her husband.
Her husband was amazed at her change and once said, "If only all military wives practiced Falun Gong!"
Ms. Cheng never wavered in her faith when the persecution of Falun Gong began in 1999. She planned to go to Beijing to appeal for Falun Gong but was arrested at the Nanjing train station on September 29, 2000. She was sent to a mental hospital on December 12 that year and detained for two and a half months.
The local authorities threatened to kick her husband out of the military if she didn't agree to divorce him. She had no choice but to sign the paperwork. Her husband was further pressured to find a new woman to marry within three months.
Ms. Cheng was sentenced to 10 years in prison after she was arrested a second time on September 19, 2001. She was abused and drugged during her imprisonment. She was released on medical parole on April 21, 2009.
Ms. Cheng was arrested four more times in the next few years, in 2011, May 2013, March 2014, and May 2015. When she was not in custody, she was frequently harassed by the police, who also tapped her phone and monitored her every move.
Because no law in China criminalizes Falun Gong, Ms. Cheng thrice filed complaints against the Yulong District Court, which sentenced her to prison, in April 2011, April 2014, and August 2014. She also filed a complaint in 2015 against former Chinese dictator Jiang Zemin for initiating the persecution of Falun Gong that resulted in her imprisonment and broken family.
Her complaints were addressed to the Supreme People's Court, Supreme People's Procuratorate, Jiangsu Province Procuratorate, president Xi Jinping, and a central-government inspection team.
She never received a response from any of them.
Related Reports:
Ms. Cheng Haiyan Illegally Arrested Again after Eight Years in Prison
Detained for 10 Years, Ms. Cheng Haiyan from Nanjing Arrested Again