Detained for 10 Years, Ms. Cheng Haiyan from Nanjing Arrested Again (Photo)
July 11, 2013 | By a Minghui correspondent from Jiangsu Province
(Minghui.org) In China many people are being harassed, arrested, and illegally sentenced to prison, simply because they believe in Falun Gong and live according to the principles of Truthfulness-Compassion-Forbearance. One would think that any government would embrace such outstanding and honest people, but not the Chinese Communist Party. Below is yet another instance of someone subjected to unthinkable treatment for having a spiritual belief.
Summary of Key Facts:
Name: Cheng Haiyan (成海燕)
Gender: Female
Age: 50s
Address: Nanjing, Jiangsu Province
Occupations: Former associate professor, former manager for medical health products at an import/export company, former general manager of a textile company
Date of Most Recent Arrest: May 30, 2013
Most Recent Place of Detention: Nanjing Brainwashing Center
Persecution Suffered: Electric shock, sleep deprivation, forced labor, brainwashing, illegal sentencing, beatings, imprisonment, loss of job, physical restraint, incarcerated in a mental hospital, home ransacked, interrogation, detention, forced injections
Police officers and personnel from the 610 Office in the Jiangning District of Nanjing, Jiangsu Province, broke a window and forced their way into the home of Ms. Cheng Haiyan, who lives in Nanjing, on May 30, 2013. They arrested her and took her to the Nanjing Brainwashing Center.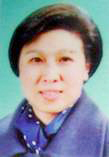 Ms. Cheng Haiyan
Ms. Chen Haiyan used to be an associate professor at China Pharmaceutical University. She later became the manager for medical health products at the Import and Export Corporation in Xuzhou. In 1995, she was appointed general manager of the Light Industry and Textile Product Division of the Jiangsu Materials Group Corporation. Her work was highly recognized, and every year she was honored as an outstanding employee.
After Falun Gong was banned, she was repeatedly harassed, detained, and taken to brainwashing centers. She was incarcerated for ten years simply for believing in Falun Gong. She was once even sent to a mental hospital.
Detained in a mental hospital
In 2000, Ms. Cheng Haiyan was on her way to Beijing to appeal for Falun Gong. She was arrested at the Nanjing railway station. Police officers found a copy of Zhuan Falun in her luggage and took her to the detention center in Nanjing. Xuanwu District police raided her home. Her husband was a general in the army in the Nanjing Military Region, but that did not prevent the police from turning everything upside down.
Ms. Cheng was then taken to Nanjing Mental Hospital and held for four months. She told those who visited her, "I'm normal, but they've locked me up in a mental hospital. I have to be around mental patients all the time and am forced to take drugs and get injections like a mental patient. This is an extremely painful experience."
In the beginning of 2002, she was arrested in a city outside of her hometown. The police took her to Beishan Detention Center in Xuzhou City. Police officers and 610 Office personnel told her, "All you need to do is to say that you give up Falun Gong, then we will release you immediately. If you practice at home, we don't care. But if you refuse, we will send you to a labor camp." Ms. Cheng refused to give up her belief. The police also pressured her relatives to talk to her and persuade her to stop practicing Falun Gong, but they failed.
Forced to Divorce
Wen Zhongren, the Party secretary in the Nanjing Military Zone (who died in 2004), forced her husband to divorce her or face involuntary discharge. Wang Rongsheng, the head of the 610 Office in Jiangsu Province (who is now dying of leukemia), pressured Ms. Cheng to give up her belief and forced her family to send to a mental hospital. Wang Rongsheng and Wen Zhongren forced Ms. Cheng to sign the divorce agreement. She signed the divorce paper to protect her husband. Officials also ordered her husband to marry a stranger within three months if he wanted to avoid an involuntary discharge.
Ten Years in Prison
In August 2002, Ms. Cheng was sentenced to ten years in prison. Her appeal was denied and she was sent to Nantong Women's Prison.
She was horribly mistreated. In order to get her to give up her belief in Falun Gong, the guards made her read books that slandered Falun Gong, stripped her of her winter clothes, banned her from talking, refused to let her buy daily necessities, and did not allow her to take a shower. When her blood pressure rose to 240, they still made her to do slave labor. They often punched and kicked her and tortured her in other ways. One night, she did the Falun Gong exercises in the bathroom when she thought she was not being watched. The guards caught her and put her in handcuffs and shackles, and assigned several criminal inmates to watch her day and night. She was not allowed to sleep for several days.
Arrested Again
After Ms. Cheng was released in 2010, she had no home to return to. She found a job in a drug store. In 2011, she was arrested again when she visited another practitioner. During her detention, she told the police and 610 Office agents the truth about Falun Gong and convinced them to release her.
In May 2013, she was arrested again. This time she was detained in the Nanjing Brainwashing Center. We appeal for help to rescue her.
Perpetrators:
Lu Kezhong, deputy head of the Political and Legal Affairs Committee, Jiangning District: +86-25-52194738
Zhou Ning, police chief in Jiangning: +86-25-84951101
Zhang Jin, deputy police chief in Jiangning: +86-25-84951102
Zhou Yadong, deputy head of the Nanjing 610 Office: +86-13951843028
Xiao Ningjian, head of the domestic security team: +86-13951647329, +86-25-86015780 (Office), +86-25-84420854
(For more contact information of additional perpetrators, please refer to the original Chinese article)