Ms. Cheng Haiyan Illegally Arrested Again after Eight Years in Prison (Photo)
March 24, 2014 | By a Minghui correspondent in Jiangsu Province, China
(Minghui.org) During China's annual meeting of the National People's Congress and the Chinese People's Political Consultative Conference, many Falun Gong practitioners from Nanjing, including Ms. Cheng Haiyan, were illegally arrested on March 5-6, 2014. Personnel from the 610 Office and the Domestic Security Division in the Jiangning District of Nanjing, Jiangsu Province, carried out the arrests.
Ms. Cheng's whereabouts are still unknown.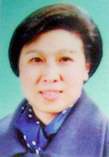 Ms. Cheng Haiyan
Repeatedly Arrested and Persecuted
Ms. Cheng was arrested on her way to Beijing to appeal for the right to practice Falun Gong in September 2000 and taken to a detention center in Nanjing. Her home was ransacked, and her husband was forced to divorce her. She was later transferred to Nanjing Mental Hospital and held for four months.
She was arrested again in early 2002 and detained in the Beishan Detention Center in Xuzhou City. She was later sentenced to ten years in prison in August 2002 and transferred to Nantong Women's Prison. She was brutally tortured and forced to do hard labor. She was released in 2010.
She was arrested for the third time in 2011 when she went to visit a fellow practitioner. She was released after she clarified the truth to the 610 Office agents.
In May 2013, she was arrested and held in the Nanjing Brainwashing Center. After people inside and outside of China called for her release, officials at the brainwashing center released her.
Ms. Cheng used to be an associate professor before becoming a manager for private companies. She was awarded "Outstanding Employee" many times.
Please pay attention to her situation and help rescue her. We urge anyone with knowledge about her situation to report it on the Minghui website.
Key Perpetrators:
Jiangning District 610 Office: Lu Kezhong (呂克忠), deputy chief of the Political and Legal Affairs Committee: +86-25-52194738 Zhou Ning (周寧), police chief: +86-25-84951101 
 Zhang Jin (張進), deputy police chief: +86-25-84951102
Jiangning District Police Department: Jiang Changping (蔣長平), police officer: +86-25-84951221
Nanjing City 610 Office: Hu Xiaoxiang (胡小翔), chief: +86-13591843028 Zhou Yadong (周亞東), deputy chief: +86-13951843028
Nanjing City Police Department: Xiao Ningjian (肖寧建), captain: +86-13951647329, +86-25-86015780
Earlier report: Detained for 10 Years, Ms. Cheng Haiyan from Nanjing Arrested Again (Photo)