Mr. Lei Yangfan Sues Jiang Zemin for Illegal Imprisonment and Torture for His Belief
June 19, 2016 | By a Minghui correspondent from Hunan Province, China
(Minghui.org) Mr. Lei Yangfan from Changsha City filed a criminal complaint against Jiang Zemin with the Chinese Supreme People's Court and Supreme People's Procuratorate in July 2015.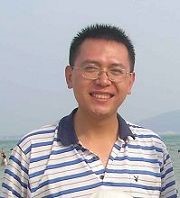 Mr. Lei Yangfan
The 38-year-old accuses the former Chinese dictator of initiating the brutal suppression of Falun Gong that resulted in his being arrested seven time, and incarcerated for a total of six years at a forced labor camp.
Mr. Lei described in his complaint what he endured for refusing to renounce Falun Gong over the past 16 years of the persecution. One torture session, in particular, left him in pain for more than two years.
Narrowly Surviving Brutal Torture
Mr. Lei was arrested at an Internet cafe in May 2010, then taken to the local police station and thrown on the floor with his hands cuffed tightly behind his back. His feet were tied together with a very thin rope, which was tied to his hands behind his back.
Mr. Lei wrote in his statement, "One officer kicked me in the mouth with his shoes like he was kicking a soccer ball into the net. Blood and small pieces of my teeth flew out of my mouth.
"He then savagely kicked my nose, and blood instantly filled my throat. The third kick was to the left side of my face, causing it to immediately swell. The fourth kick was to my left eye. My eye was so swollen that I couldn't open it. The final brutal kick was to my chest.
"A while later, I had difficulty breathing, and the excruciating pain made me moan involuntarily. To try to alleviate the pain, I used my chin to move on the floor bit by bit. The pain in my chest lasted more than two years."
Mr. Lei was eventually given two years of forced labor. This was the second time he was sent to a forced labor camp for two years.
Background
In 1999, Jiang Zemin, as head of the Chinese Communist Party, overrode other Politburo standing committee members and launched the violent suppression of Falun Gong.
The persecution has led to the deaths of many Falun Gong practitioners over the past 16 years. More have been tortured for their belief and even killed for their organs. Jiang Zemin is directly responsible for the inception and continuation of the brutal persecution.
Under his personal direction, the Chinese Communist Party established an extralegal security organ, the "610 Office," on June 10, 1999. The organization overrides police forces and the judicial system in carrying out Jiang's directive regarding Falun Gong: to ruin their reputations, cut off their financial resources, and destroy them physically.
Chinese law allows for citizens to be plaintiffs in criminal cases, and many practitioners are now exercising that right to file criminal complaints against the former dictator.
Related Reports:
Lei Yangfan Holding Hunger Strike to Protest Persecution in Xinkaipu Forced Labor CampMr. Lei Yangfan Illegally Detained, Denied His Right to AppealMr. Lei Yangfan on Hunger Strike in Brainwashing CenterMr. Lei Yangfan Arrested and Beaten Twice in One Month by Police from Changsha CityRelease of Repeatedly Persecuted Practitioner Mr. Lei Yangfan from Changsha City, Hunan Province - Urgent Rescue Efforts Made His Release PossibleTaiwan Citizen's Daughter Zhou Pinjun Held without Trial for One Year, then Sentenced to Seven Years in Prison