Mr. Lei Yangfan Arrested and Beaten Twice in One Month by Police from Changsha City (Photo)
May 30, 2010 | By a correspondent from Hunan Province, China
Name: Lei Yangfan (雷扬帆)
Gender: Male
Age: 36
Address: Changsha City, Hunan Province
Occupation: Former bank loan officer
Date of Most Recent Arrest: May 8, 2010
Most Recent Place of Detention: Laodaohe Brainwashing Center (捞刀河洗脑班)
City: Changsha
Province: Hunan
Persecution Suffered: Brainwashing, arrest, beatings, imprisonment, detention
(Clearwisdom.net) Officers from Shazitang Police Station in Changsha City illegally arrested and beat Mr. Lei Yangfan on May 8, 2010.
Mr. Lei was browsing the web in an Internet bar in the Shazitang area on May 8, 2010, when officers from the Shazitang Police Station arrested him. Four officers beat him down to the ground. His face was bleeding, and his shoes were thrown away. Mr. Lei told the officers that he was a practitioner and did not break any law, but he was taken to the Laodaohe Brainwashing Center of the Changsha City Law Education Base, where he has been detained ever since. His parents appealed to the authorities, but they were not even allowed to see him.
Three weeks earlier, at around 10:00 p.m. on April 18, 2010, three officers from the Wangcheng County Qiaoyi Police Station arrested Mr. Lei while he was distributing Shen Yun Performing Arts DVDs on the street. After Mr. Lei refused to get into the police car, the officers beat him for more than 20 minutes.
Mr. Lei was then taken to the Qiaoyi Police Station, where he was tortured. One officer hit his neck and head with a wooden club until the club was broken in two, and another officer grabbed his collarbone and lifted him up. The officers flashed lights into his eyes, slapped his face, kicked him, and handcuffed him tightly to stop the blood circulation in his hands. Mr. Lei was in extreme pain.
Hu Xin, deputy director of the Wangcheng County Domestic Security Division, rolled up a newspaper and used it to whip Mr. Lei's eyes. Mr. Lei felt dizzy, and his eyes hurt and teared up involuntarily.
Mr. Lei started to practice Falun Gong in 1996. He used to work as a loan officer at the Bank of China, Hunan Province Branch, but was forced to quit his job after the persecution began in 1999. He was subjected to two years of forced labor starting in 2000, and was arrested again in June 2006.
His wife, Ms. Zhou Pingjun, was sentenced to seven years in prison for practicing Falun Dafa. After being brainwashed while in prison, she divorced Mr. Lei, and he has raised their daughter Hanhan as a single father thereafter. Hanhan is now 10 years old.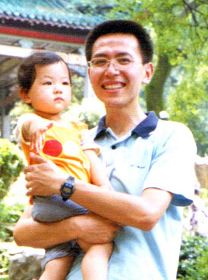 Mr. Lei Yangfan and his daughter
Primary parties responsible for persecution:
Hu Xin, deputy director of Wangchen County Domestic Security Division, Changsha City, Hunan Province: 86-13787291388 (cell)
Huang Guoguang, director of Shazitang Police Station, Changsha City: 86-731-85657182 (work)
Wu Kaiming, director of Laodaohe Brainwashing Center: 86-13308408731 (cell)
Shi Jing, deputy director of Laodaohe Brainwashing Center: 86-13308476059 (cell)
Qiaoyi Police Station, Wangchen County, Changsha City: 86-731-88431003