Once Pro-communism Nations, Now Supporting the Principles of Truthfulness-Compassion-Forbearance
(Minghui.org) It can take a long time for someone to find the purpose of life. Maria from Poland, for example, did not hear about the meditation that brought her inner peace until she was a student at Harvard in 2000. What intrigued her was not only the powerful energy of Falun Dafa, but also the harsh persecution that occurred in China.
Coming from a once pro-Communism country, Maria knows what it means to stand up for one's belief. Nonetheless, she went to China in 2002, where she was detained for telling people the facts about Falun Dafa. Facing Chinese police officers who had been relentlessly forcing practitioners to give up their belief—through physical torture, mental abuse, and brainwashing, Maria said their efforts would end in vain, "Truthfulness-Compassion-Forbearance will not compromise with evil."
Sixteens years into the brutal suppression, more than 210 million Chinese people have announced to separate themselves from the Communist regime. The number has increased rapidly after the Nine Commentaries on the Communist Party was published in November 2004.
Outside of China, after satellite countries of Eastern Europe broke free from the Soviet Union and overthrew their communist regimes in 1989, the remaining 12 republics emerged from the dissolution in 1991 as post-Soviet states.
Here we briefly review how Falun Dafa practitioners practiced their beliefs in the former eight communist states of the Warsaw Pact, a coalition formed in 1955 that consisted of Bulgaria, Czechoslovakia (dissolved into Czech Republic and Slovakia in 1992), East Germany, Hungary, Poland, Romania, Soviet Union, and Albania (withdrew from the alliance in 1968).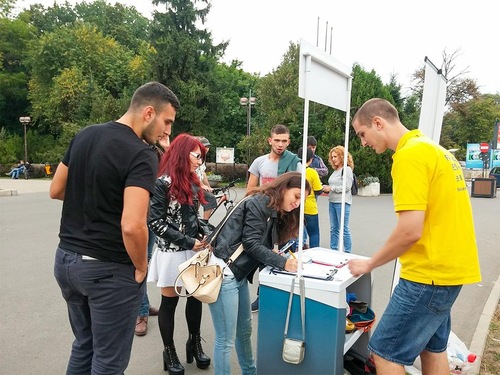 Practitioners telling pedestrians about Falun Dafa on October 4 at Herăstrău Park in Bucharest, Romania's capital city. Many people signed petitions to support their efforts.
Bulgaria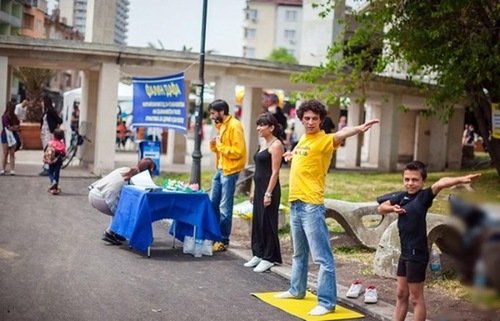 Practitioners from Varna, the third largest city in Bulgaria, demonstrated exercises on May 16 and 17 this year to celebrate World Falun Dafa Day (May 13 of each year).
During a signature drive held in six cities in Bulgaria on November 15, 2014, over a thousand people signed a petition condemning the Chinese regime's state-sanctioned forced organ harvesting from living Falun Dafa practitioners.
Czech Republic and Slovakia
At the 9th annual Mene Tekel international festival against totalitarianism in Prague on February 23 to March 1, 2015, many Czech citizens learned about Falun Dafa and its persecution in China through the The Art of Zhen, Shan, Ren International Exhibition.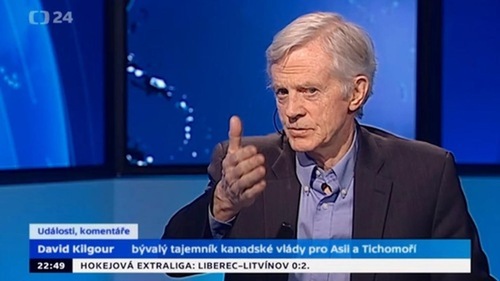 David Kilgour, a former Canadian Secretary of State for Asia-Pacific, was interviewed by Czech Television, the main TV channel in the Czech Republic, about forced organ harvesting from living Falun Dafa practitioners in China.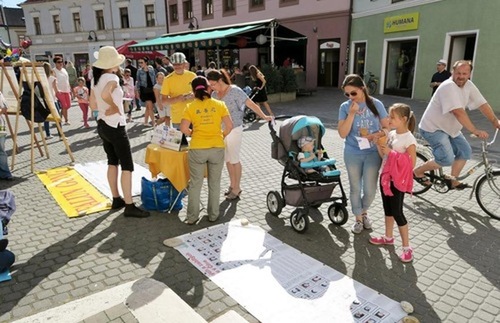 Falun Dafa practitioners held a series of signature drives July 24 to July 31, 2015, in Trencin and five other Slovakian cities to raise awareness of the violent persecution in China.
Germany
German practitioners have consistently held events telling the public about the severe suppression in China. For example, in addition to the Cologne Cathedral, events were held in multiple German cities on August 13 to raise such awareness in Hamburg, Wuerzburg, Titise, Leipzig, and Heilbronn.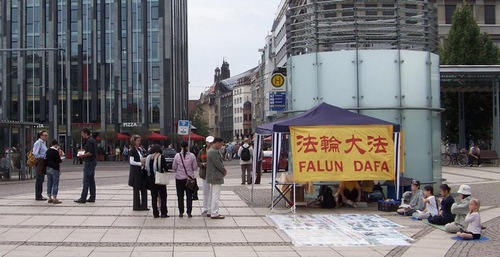 Practitioners held an information day in Leipzig, the second largest city of the eastern German State of Sachsen, on August 13, 2011. The theme of the event was "Supporting 100 million Chinese people quitting the Chinese Communist Party (CCP) and its affiliated organizations and marking twelve years of protesting the persecution."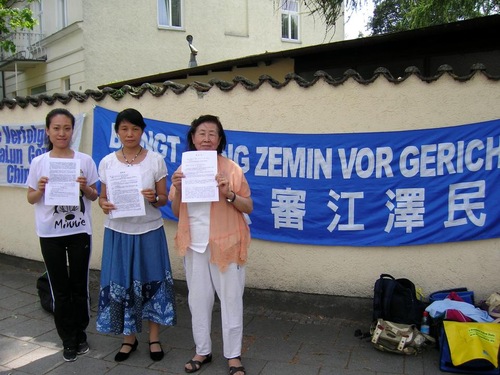 Three Falun Dafa Munich practitioners display their criminal complaints against Jiang Zemin for persecuting Falun Dafa in July. Seeing the banner, "Bring Jiang Zemin to Justice" in Chinese and German, one woman stopped and asked what had happened. Upon hearing they were mistreated for their belief in Truthfulness-Compassion-Forbearance, she said, "Our society needs people like you [practitioners]. Please keep it up!"
Hungary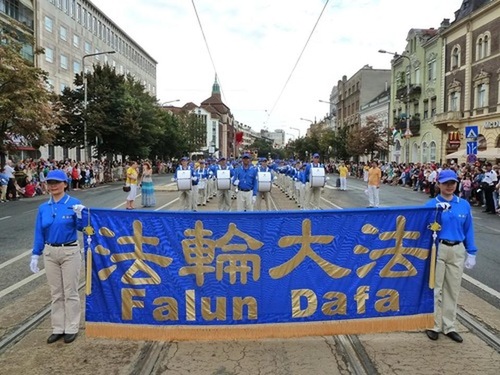 The Divine Land Marching Band joined the Hungary National Day parade on August 20, 2014.
In a meeting last November on forced organ harvesting from Falun Dafa practitioners in China, Hungarian parliamentary faction leader András Schiffer expressed his concern over this issue, "There is also a moral question about moral stability, which Europe enjoys by a majority consensus. The question is: Is it sustainable to have Europeans visit China to obtain organs from prisoners of conscience? More European countries are banning their citizens from traveling to China for organ transplants. China's dictatorship practices naturally goes against everything a Christian or liberal democracy holds important."
Poland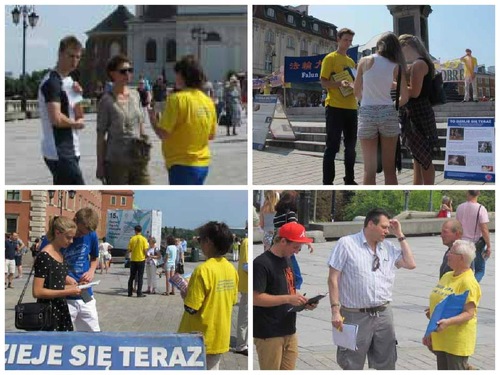 People in Warsaw Old Town learn about the persecution on July 16, 2015.
The practitioners went to Old Town of Warsaw on July 16, 2015, to tell passersby about the persecution in China. Many tourists stopped to read the posters, talk with practitioners, and signed a petition calling for an end to the persecution and for bringing former dictator Jiang Zemin to justice.
Several Chinese stopped to learn more and asked questions. One of them said, "The first thing I will do once back at my hotel is to learn more about Falun Gong online and quit the CCP and its affiliated organizations."
Romania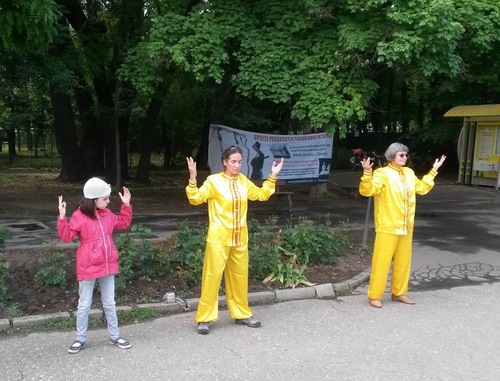 Practitioners demonstrating the Falun Gong exercises in front of the Chinese Embassy on May 10, 2015. A young girl stopped to learn.
When a Romanian practitioner explained to a Chinese tourist about why practitioners did not give up their belief despite the severe torture, the young tourist was moved, "I believe you. Once a person has Truthfulness-Compassion-Forbearance in his or her heart, it will be there forever and nothing can change that."
Albania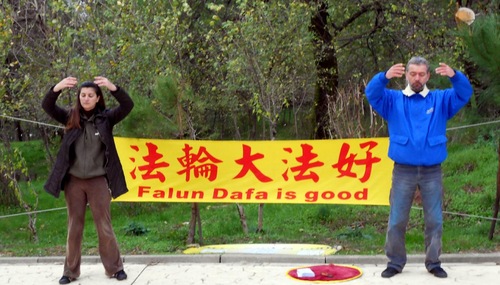 Practitioners doing exercises at Albania's capital city, Tirana.
Russia and Ukraine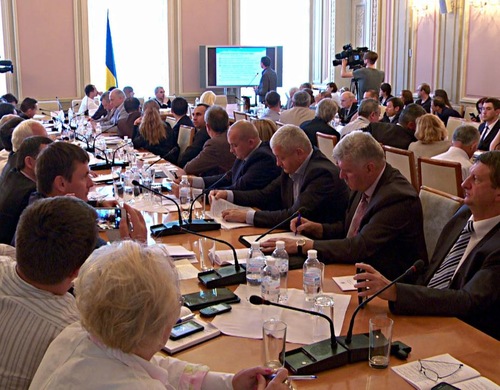 A workshop dedicated to unveiling China's state-sanctioned organ harvesting was held by the Supreme Council of Ukraine on July 15, 2015. Canadian human rights lawyer David Matas attended the workshop and expounded on recent developments in his investigation of the atrocity.
At a forum held by the Tuidang (Quitting the CCP) Center in Kiev on June 11, former Kiev mayor Mosiyuk Oleksandr commented, "Communism is a disease." The forum focused on the increasing number of Chinese who have quit the CCP and its affiliated organizations, which had reached 200 million as of April 2015.
"More than 10 million Ukrainians died because of communism. In China that number has reached 80 million," said Oleksandr. "We must end communism and end everything related to it." Currently working as an adviser to members of parliament, Oleksandr said that this trend was inevitable but that many countries needed to support it.
Lech Walesa, former Polish president and a Nobel Peace Prize laureate, sent a letter to the forum to support the Tuidang movement (to quit the CCP). He wrote, in part, "I deeply believe that nothing will be able to stop [this movement]. No one can stop the spirit of freedom and truth."
Poland passed a law in March 2007 requiring individuals to declare if they had ever worked as communist security service informants.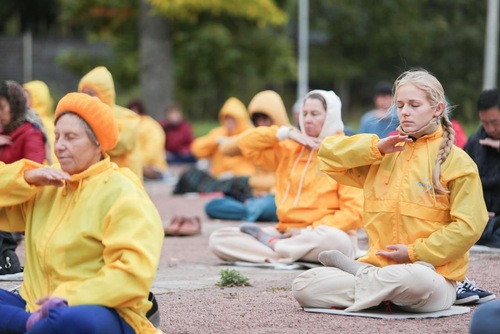 The 16th Russian Falun Dafa Cultivation Experience Sharing Conference was held in St. Petersburg from September 18 to 20, 2015. Practitioners from Russia and many Eastern European countries attended the conference and performed group exercises in nearby parks.