Events Held in Six European Countries to Commemorate the 16-Year-Long Persecution
July 26, 2015 | By practitioners in Europe
(Minghui.org) The peaceful meditation practice of Falun Gong is practiced in more than 100 countries all over the world. In Europe during the past few days, Falun Gong practitioners have held all kinds of events to raise awareness of the brutal persecution of Falun Gong in China.
This article reports on activities that were held in Germany, Austria, and the Czech Republic, Ireland and Netherlands, and Sweden to mark the 16th year of the persecution.
Germany
Bavarian practitioners go to the state capital of Munich every July, not to vacation or to sightsee but to tell Chinese Consulate officials to stop the brutal suppression of Falun Gong in China.
This year they came with copies of criminal complaints that have been filed in China against former Chinese leader Jiang Zemin for persecuting Falun Gong. The Supreme Court and the Supreme Procuratorate in China have acknowledged receipt of the complaints.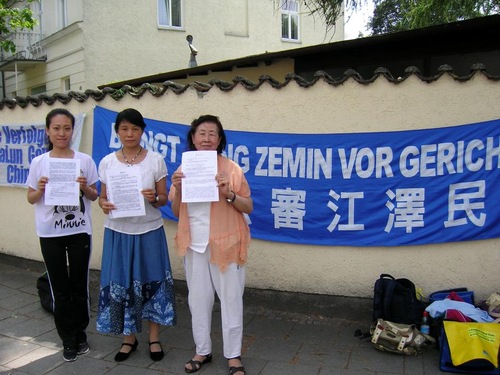 Three Falun Gong practitioners display their criminal complaints against Jiang.
One impressed pedestrian commented, "After Germany lost the war, there were the Nuremberg trials. Now, with the Chinese communists still in power, over 80,000 lawsuits are already waiting for him. Well done."
Calling the live organ harvesting "reprehensible," he said he could not wait for Jiang to be brought to trial.
A banner that said "Bring Jiang Zemin to Justice" in Chinese and German caught the attention of passersby. One woman stopped and asked what had happened. After learning practitioners were mistreated for their belief in Truthfulness-Compassion-Forbearance, she said, "Our society needs people like you [practitioners]. Please keep it up!"
When a practitioner spoke with a Chinese businessman about quitting the Chinese Communist Party (CCP) organizations to avoid going down with the regime, the man replied, "Pay me, and I'll quit."
Referring to the CCP officials who were recently taken down for corruption, the practitioner told him, "Money isn't everything. Those corrupt officials abused their power, and each one of them amassed a big fortune. But look where they are now."
"There's a lot I can learn from you," the man said. "I've decided to quit the CCP--and I will remind myself to be honest and humble."
Austria
Hofburg Imperial Palace on the Danube River and its nearby park in Vienna are must-see tourist destinations. Practitioners set up booths in the area, as well as near the Chinese Embassy, between July 17 and 19 to tell people the facts about Falun Gong.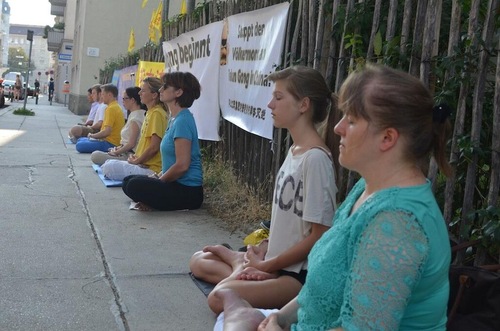 Practitioners meditating outside the Chinese Embassy in Vienna to call for an end to the persecution in China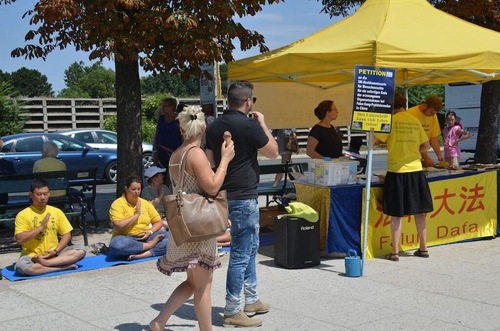 Information booth in Vienna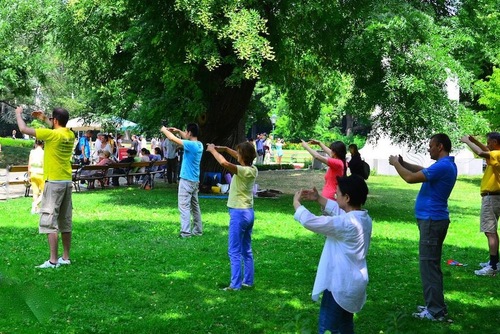 Doing the exercises in a park near the Hofburg Imperial Palace
Similar events took place during these three days in Graz, the capital of Styria and second-largest city in Austria, as well as in Linz, the capital of the state of Upper Austria and the country's third largest city.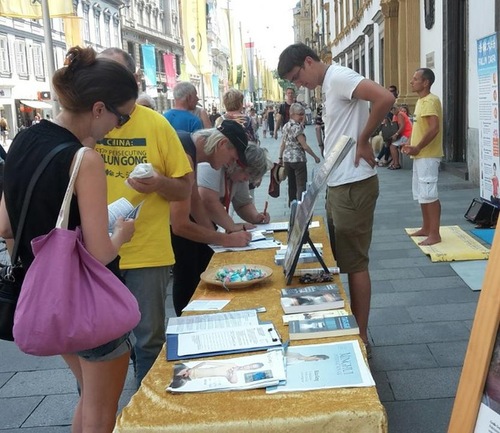 Tourists and residents sign a petition in Linz to support Falun Gong.
Czech Republic
Next to Austria is the Czech Republic, where Prague Castle, the official residence of the President, is one of the most significant Czech landmarks. It attracts tourists all year round.
Practitioners held a rally on July 17 and 18 to tell tourists and local residents about the severe human rights violations taking place in China. They laid out posters, set up a forced organ harvesting reenactment, and collected signatures of support. Their activities ended with a candlelight vigil.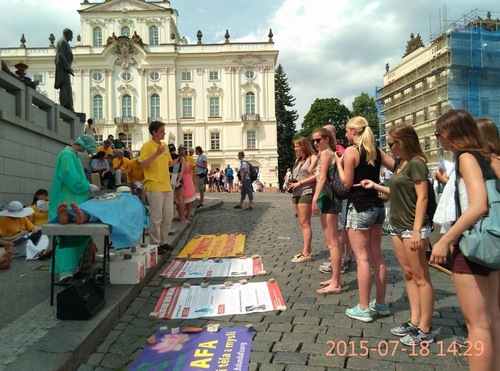 Poster display in Prague on July 17 and 18, 2015
Among the Chinese tourists was a family of three. When she heard about quitting the CCP and its affiliated organizations, the wife said, "We often visit overseas websites with software that gets through the Internet firewall. We've read your materials in the past. Jiang is rotten to the core and should have been arrested a long time ago."
All three agreed to withdraw from the CCP organizations, which include the Youth League and the Young Pioneers.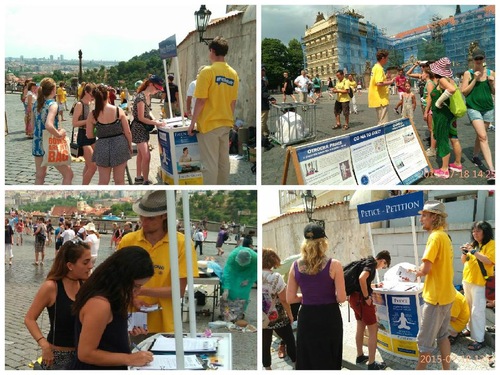 Reading about Falun Gong and signing a petition calling for an end to the persecution
Two young men, one from Shanghai and the other from Guangzhou, were on a 17-day vacation package. "Why are there Falun Gong practitioners at tourist sites wherever we go?" one of them asked.
"That is because this information is so important for you to know, and you had no chance to hear about it back in China," replied a practitioner. She explained how Jiang and the CCP defame Falun Gong, persecute practitioners, and have made so many Chinese ignore their own conscience.
Both young men agreed to quit the CCP and took flyers. "You've made my day," one of them said as he thanked the practitioner. "I really hope that guy [Jiang] will meet his fate soon."
The Netherlands
A large number of tourists go to Dam Square in Amsterdam every day, a place known for its historic buildings, including the Royal Palace. Dutch practitioners put up banners, laid out posters, and told passersby the facts about Falun Gong in the square.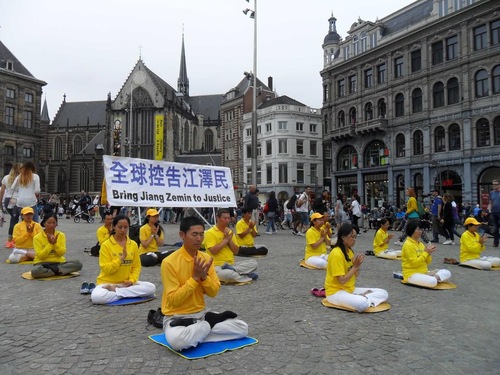 Practitioners doing the exercises in Dam Square in Amsterdam
After learning how practitioners are being tortured for their belief, many passersby signed petitions to support the lawsuits against Jiang and to end the suppression in China.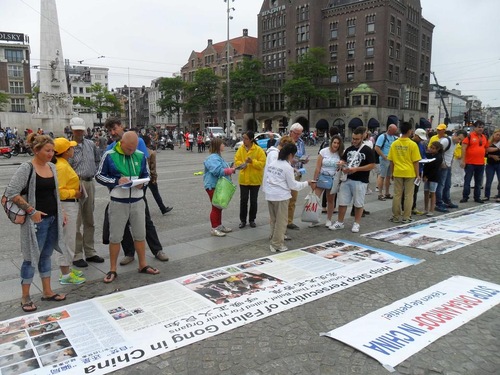 Shocked to learn about China's serious human rights violations, many people signed petitions calling for an end to the suppression.
Ireland
"You have done very well. Thank you. Please keep it up!" "I often go to China. I will tell people that 'Falun Gong is great' when I go there again."
Above are some of the comments Irish practitioners heard when they held activities in Dublin on July 11. They marched, held a rally, demonstrated the exercises, and held an anti-torture reenactment.
The march, in particular, drew the attention of many. Starting at the Garden of Remembrance, it continued down O'Connell Street, Dublin's main thoroughfare, through the Chinatown area of Parnell Street, and ended at the General Post Office.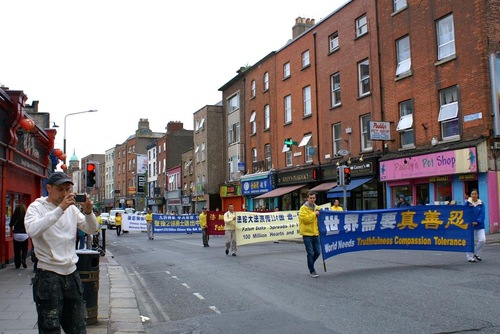 March in Dublin on July 11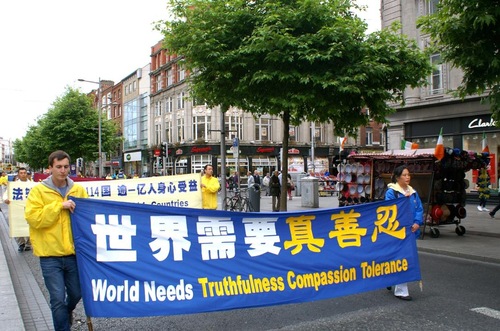 Walking on O'Connell Street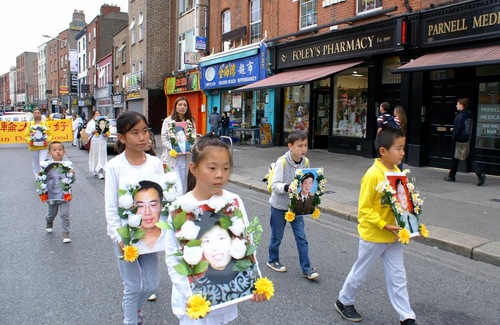 Young practitioners carry photos of those died due to the persecution.
Hundreds of people signed petitions calling for an end to the human rights violations in China. Tadhg from Limerick commented, "I am surprised to hear this, especially the scale of the live organ harvesting. I would call it genocide." He was interested in learning the meditation and joined the group exercises later in the day.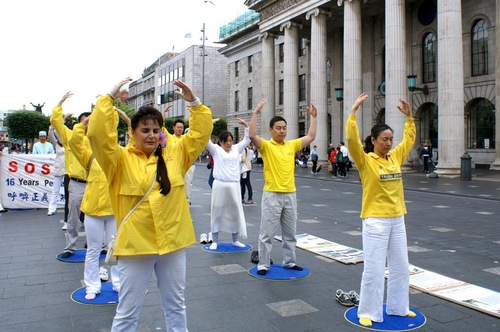 Doing the exercises after the march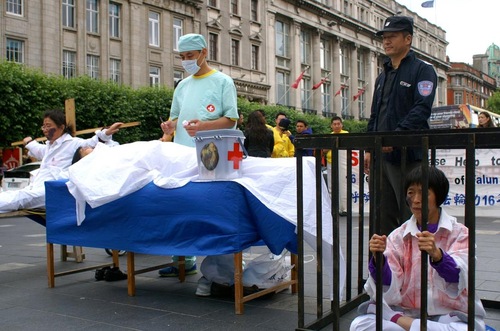 An anti-torture reenactment
Kenneth, a Dublin resident, thanked the practitioners for such a clear message. "I have written about live organ harvesting on my blog, and I will write more about it." He said more people need to be aware of this. He interviewed several practitioners for his blog.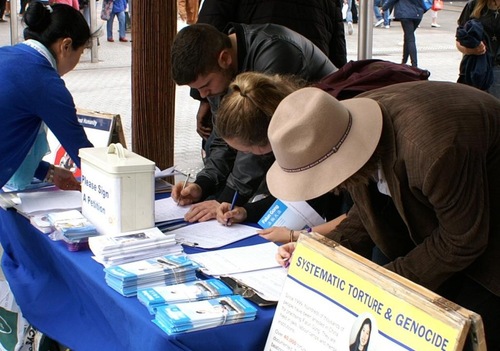 Passersby sign a petition.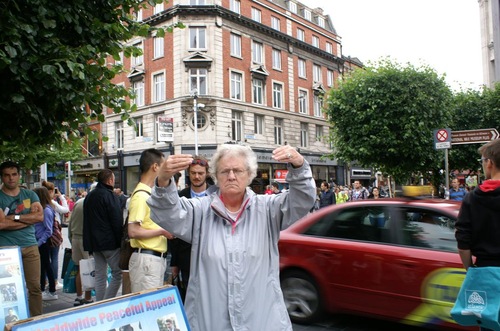 A woman learning the exercises
Sweden
It was drizzling when practitioners gathered in front the Chinese Embassy in Stockholm to call for an end to the persecution. Ms. Hao, a government official from Jilin Province, said she was mistreated for her belief.
"In the Xuanwu Detention Center in Beijing, the guards left me outside at night, with few clothes on, in the cold of winter." Her health quickly deteriorated. "I lost 30 pounds and was emaciated by the time I was released," she said at the rally.
Ms. Zhou, who has lived in Sweden for 26 years, said the Chinese communist suppression has extended outside of China. "Chinese spies followed me, threatened me, and swore at me. This has severely interfered with my life."
As a result, at least 13 practitioners in Sweden have filed criminal complaints against Jiang for persecuting Falun Gong. "By churning out incessant hate propaganda, Jiang has turned a large number of people against Falun Gong and the principles of Truthfulness-Compassion-Forbearance. He must be held responsible for that."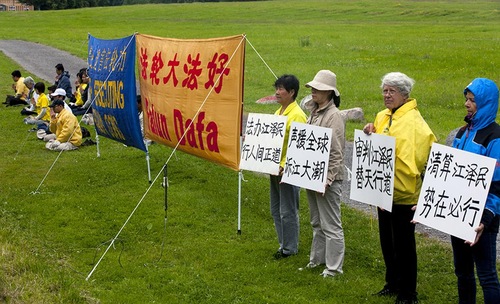 Gathering in front of the Chinese Embassy in Stockholm.
Posters were displayed at Mynttorget, a public square in central Stockholm. Impressed by the music and gentle movements, many pedestrians signed petitions to support practitioners.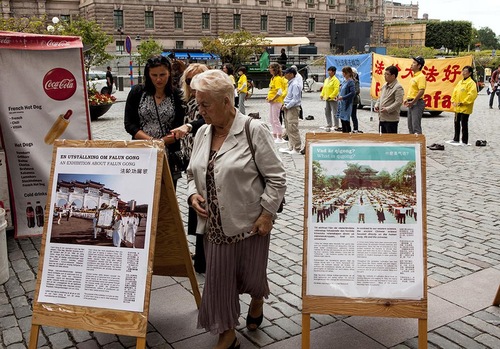 People lear about Falun Gong in Mynttorget.
One Chinese tourist read each poster carefully and took a copy of each publication. He also agreed to quit the CCP organization.
After hearing about the persecution and lawsuits against Jiang, a supermarket owner agreed to quit the CCP's Youth League, which he had joined when he was young.
"I like Falun Gong and I will read more about this," he said.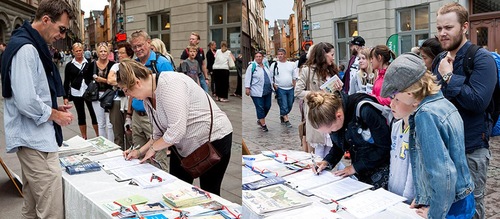 Signing a petition to show their support.