Bulgaria: Citizens in Six Cities Condemn Live Organ Harvesting in China (Photos)
December 07, 2014 | By a Falun Dafa practitioner in Europe
(Minghui.org) During a signature drive held simultaneously in six cities in Bulgaria on November 15, 2014, over a thousand people signed a petition condemning the Chinese regime's state-sanctioned forced organ harvesting from living Falun Gong practitioners. The six cities where the signature drive was held were Veliko Tarnovo, Gabrovo, Yambol, Sevlievo, Shoumen, and Gorna Oryakhovitsa.
Even more people were shocked and angered by this evil crime against humanity after they learned about details of the persecution in China from Falun Gong practitioners. The event also attracted attention from local media.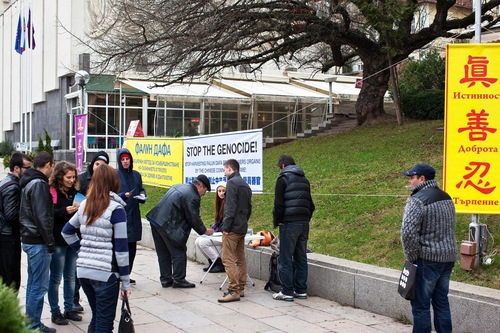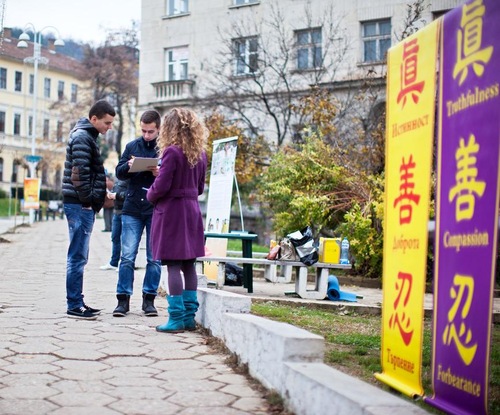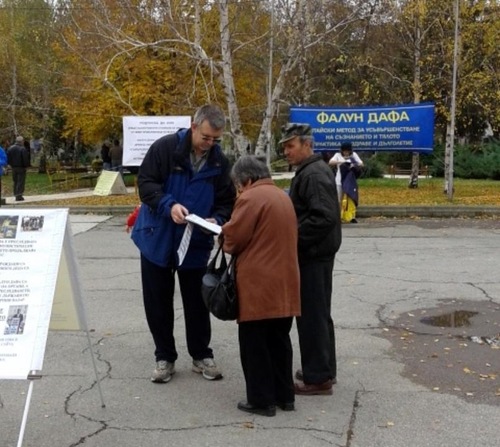 People in Bulgaria listen to the Falun Gong practitioners telling them the facts about the suppression of Falun Gong in China. Many of them signed the petition to condemn the Chinese regime's systematic forced organ harvesting from practitioners.
Many medical doctors in Shoumen signed the petition, and asked to learn more about organ harvesting in China. The practitioners gave them the book Bloody Harvest: Organ Harvesting of Falun Gong Practitioners in China.
The book was based on an investigative report written by David Matas and David Kilgour, renowned human rights lawyer and former Canadian Secretary of State for the Asia Pacific region respectively, who conducted comprehensive independent investigations into the organ harvesting allegations.
A man in Gabrovo, who knows about the current situation in China and much of its culture and language, signed the petition without hesitation.
In Yambol several people were glad to be able to help practitioners stop the crime of organ harvesting, and be part of the global effort launched by Doctors Against Forced Organ Harvesting (DAFOH).
Veliko Tarnovo is a very popular place for the tourists. When a tour group from China passed by the practitioners, the practitioners told them about what has happened to practitioners during the 15-year persecution by the Chinese Communist Party in China.
News media Darik News and 100 Becmu reported on the event, which was held in the six cities that day, and exposed the crimes committed by the Chinese regime against Falun Gong practitioners.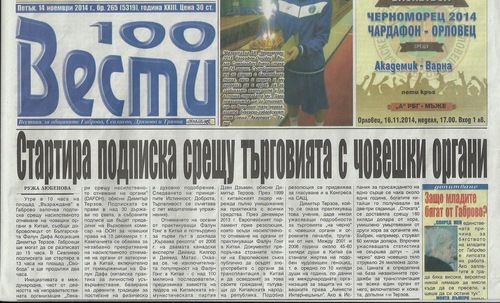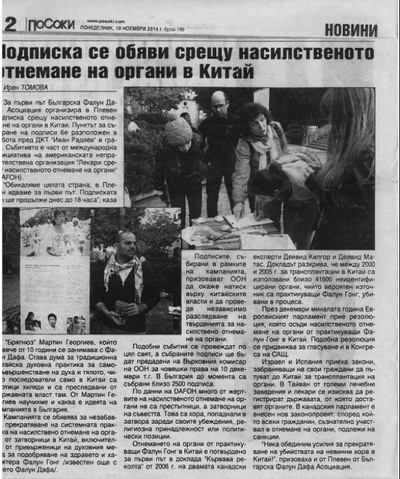 Articles from the local newspapers exposed the persecution of Falun Gong in China and organ harvesting from living practitioners.
That day the practitioners also delivered Falun Gong materials containing information about the persecution and forced organ harvesting to the city halls of the six cities. They wanted to inform the employees there about the ongoing crimes against humanity happening in China.