Minghui Report: 45 Falun Gong Practitioners Die As a Result of Persecution in First Half of 2019 (Graphic Photo)
July 22, 2019 | By a Minghui correspondent
(Minghui.org) As the persecution of Falun Gong enters its 20th year, another 45 practitioners lost their lives in the first half of 2019 after being persecuted for not renouncing their faith.
Falun Gong, also known as Falun Dafa, is a spiritual and meditation discipline based on the principles of Truthfulness, Compassion, Forbearance. The peaceful practice has been brutally persecuted by the Chinese communist regime since July 1999. At the time of writing, 4,326 practitioners are confirmed to have died as a result of the persecution.
Among the 45 newly confirmed death cases, 27 were female and 18 male. Their ages range from 28 to 87, with an average age of 61.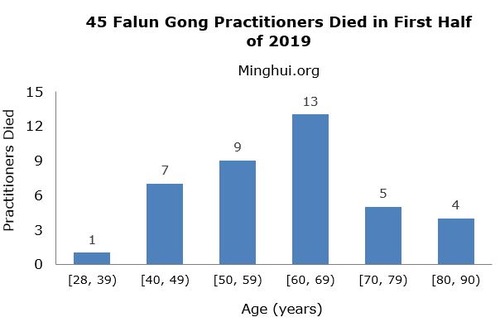 The month of January registered the most cases, with 15 deaths. Deaths confirmed for the other five months were in the single digits.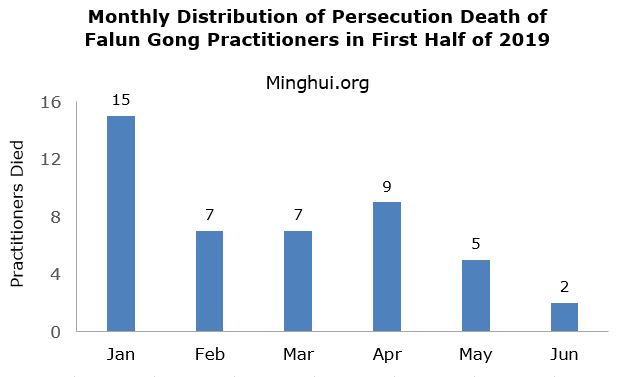 Shandong Province has the most death cases with 8 confirmed, followed by Jilin and Liaoning Province (each registering 5 cases), Beijing and Heilongjiang Provinces (both reporting 4 cases), Inner Mongolia and Hebei (3), and Henan and Hubei (2). The provinces of Yunan, Sichuan, Ningxia, Anhui, Guangdong, Jiangxi, and Guizhou, as well as Tianjin and Chongqing (both centrally-controlled cities) each reported one death.
The 45 deceased practitioners came from all walks of life, including a teacher, doctor, engineer, farmer, scientist, and phone operator.
Some of the practitioners died shortly after being arrested while others passed away from deteriorating health, years after being tortured in the prison.
An 82-year-old woman died a few hours after being arrested for distributing informational materials about Falun Gong. A martial arts champion died five years after he was released from a 13-year prison term.
Details of several of the death cases are provided below.
Deaths During or Shortly After Arrests
28-Year-Old Becomes Third Falun Gong Practitioner Confirmed to Have Died Within Five Days Following Arrests for Their Faith
Ms. Ao Ruiying, from Oroqen Autonomous Banner, Inner Mongolia, was visiting her relatives, Ms. Zhang Qiusha and her husband Mr. Wei Xuejun, at their home in Beijing on June 26, 2018, when a group of police officers suddenly knocked on the door. The police ransacked the place and arrested the three practitioners.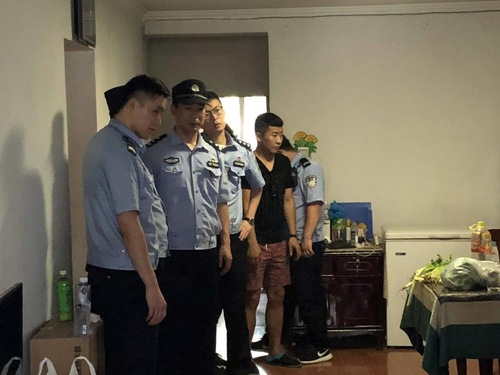 Police at Ms. Zhang's home
Although Ms. Ao's lawyer secured her release on bail, upon returning to her home in Inner Mongolia she had a chronic cough and lost a significant amount of weight. She passed away on January 10, 2019, at the age of 28. Her mother suspects that Ms. Ao had been abused during her brief detention in Beijing, as there is no other explanation for how a once healthy young woman could have died just a few months after her arrest.
82-Year-Old Woman Dies Hours After Being Arrested for Distributing Falun Gong Informational Materials
Ms. Guo Zhenxiang, an 82-year-old resident of Zhaoyuan City, Shandong Province, was seized by the police at a bus station on the early morning of January 11, 2019. At around 10 a.m., her family was summoned to the police station, where they were told that their loved one had died.
The police claimed that Ms. Guo became ill after being taken to the police station, and died in a local hospital despite resuscitation attempts. Her body was then taken to the Zhaoyuan City Funeral Home without her family's consent.
The police initially refused to allow Ms. Guo's family to see her body, but they later relented upon the family's continued demands.
On the way to the funeral home, the police repeatedly questioned her family as to where Ms. Guo had obtained the materials about Falun Gong and what people she had contact with. Officers also pressured her family to sign an interrogation record and threatened them not to publicize her death.
Ms. Guo's body is still at the funeral home as her family seeks justice for her. The police have been monitoring the family since her death.
Woman Dies from Heart Attack After Being Pressured by Police and Family to Renounce Her Faith
A group of officers broke into Ms. Yuan Hairong 's home in Taian City, Shandong Province at 7:30 p.m. on October 25, 2018. They arrested her, ransacked her home and confiscated her Falun Gong books, cellphone and other Falun Gong-related items.
Ms. Yuan was interrogated overnight at the police station. She refused to answer their questions. The officers slapped her in the face and poured water on her. They forced her to stand for six hours and didn't allow her to use the restroom.
After the detention center refused to admit Ms. Yuan due to high blood pressure, she was released on bail on the next day. The police frequently harassed her and pressured her husband and brother to try to make her renounce her faith.
When the officers threatened Ms. Yuan again on January 19, her husband became very anxious and brought her to the police station. Once there, she still refused to sign the case document fabricated by the police against her. Her husband hit and kicked her in front of the police and then signed her name on the document for her.
After they returned home, Ms. Yuan's husband kept pressuring her to give up practicing Falun Gong. The police also harassed her from time to time.
Facing mounting pressure from her loved ones and the police, Ms. Yuan suffered a heart attack and passed away on January 31, 2019. She was 57.
Hebei Woman Falls to Her Death Trying to Escape Arrest for Her Faith
Only a few months before her daughter's wedding, Ms. Yang Xiaohui, a resident of Wen'an County, Hebei Province, fell to her death as she tried to escape police by climbing down from the balcony of her third-floor apartment. She was 55.
Eight officers knocked on Ms. Yang's door around 11:00 p.m. on April 8, 2019. When she refused to let them in, they used tools to pry open the door.
Ms. Yang's husband and daughter were terrified and didn't know what to do.
As the police were about to break in, Ms. Yang rushed to the balcony and tried to escape from there. She tumbled to the ground. Unresponsive, she was sent to the hospital, where she was pronounced dead around 2:00 a.m.
The police closely monitored and videotaped Ms. Yang's family during the emergency rescue attempts.
Li Zhongjie, the head of the Domestic Security Division, denied any responsibility for Ms. Yang's death and said that they were only following orders from above.
Ms. Yang's family was outraged when the police claimed that the family had to obtain approval from the higher-up before being allowed to cremate and bury their loved one.
Beijing Woman with Medical Condition Dies Days After Police Harassment for Her Faith
Ms. Xu Junming, a resident of Beijing, was found dead at home on April 26, 2019, a few days after the police scaled her fence and broke into her house to threaten her not to practice Falun Gong any longer. She was 65.
According to her aunt and nephew who discovered her body, it looked like Ms. Xu had attempted to stand up before collapsing onto her bed. She also had blood coming out of her mouth when her family put a shroud over her. They suspected that she might have died from a stroke or heart problem after being terrified by the police.
Ms. Xu's aunt, who lived next door, recalled that four officers knocked on Ms. Xu's door on the morning of April 22 or 23. She refused to open the door. The officers climbed over her the fence around her yard and got into her home. They pressured her to give up practicing Falun Gong and demanded to know where she obtained the Falun Gong materials. Ms. Xu refused to answer the questions. The police stayed for several hours and left at around 11:00 a.m.
Ms. Xu's tragic death happened while her husband Mr. Sun Fuyi, 71, was still detained in a brainwashing center for upholding his faith in Falun Gong.
Deaths in Custody
Retired Teacher Dies in Custody While Awaiting Verdict of Her Trial
Ms. Song Zhaoheng, a 76-year-old retired teacher in Yushu City, Jilin Province, was arrested on August 27, 2018, while she was talking to people about Falun Gong. She was taken to the Yushu City Detention Center after being interrogated in the local police station.
Ms. Song appeared in court on November 16, 2018. She testified in her own defense and argued that it was her constitutional rights to practice Falun Gong and share information with others.
It was reported that the authorities were planning to sentence Ms. Song to nine years in prison, but she died suddenly in the detention center on January 14, 2019. The authorities refused to disclose the cause of her death.
76-Year-Old Man Imprisoned for Not Renouncing His Faith Dies Two Months Before Term Ends
Mr. Zheng Jucheng, 76, died in Duyun Prison in Guizhou Province, less than two months before finishing a two-year term for not renouncing his faith in Falun Gong.
After he died, the police showed up at Mr. Zheng's home in Anshun City, Guizhou Province in early March 2019 and learned from his neighbors that he lived by himself with no family around. So they informed the neighbors of his death but didn't say exactly when he passed away.
Mr. Zheng's wife and daughter had abandoned him more than twenty years ago after he went bankrupt after his construction business failed.
Introduced by a friend, Mr. Zheng began practicing Falun Gong in 2002, which helped him to gain hope and confidence to start a new life. He quit many bad habits and became more open-minded and considerate.
Because he distributed information about Falun Gong, Mr. Zheng was arrested on April 30, 2017 after being reported to the police. He was secretly sentenced to two years in Duyun Prison several months later.
The prison guards ordered the inmates to torture Mr. Zheng. They poked him in the eyes with their fingers, pinched and stabbed his nose and ears with toothpicks, pinched his nipples, slapped him in the face, punched and kicked him, and hit him in the testicles. He became incontinent and paralyzed on one side of his body.
Liaoning Woman Dies 13 Days after Prison Admission for Not Renouncing Her Faith
While many families were reunited and celebrating the Chinese New Year in February 2019, Ms. Li Yanqiu, a resident of Jinzhou City, Liaoning Province, was sentenced to five years for not renouncing her faith in Falun Gong.
Ms. Li was admitted to Liaoning Women's Prison on February 19, 2019, which was the Lantern Festival and the last day of the Chinese New Year holiday season. She was assigned to the 12th Ward in the prison. Also known as the "Correction Ward," it was set up specifically to persecute Falun Gong practitioners and try to force them to renounce their faith.
Ms. Li was extremely weak the day she arrived. She had been on a hunger strike and force-fed since her arrest on December 14, 2018 for distributing calendars with information about Falun Gong.
She continued her hunger strike in prison, so the guards took her to the prison hospital, where she was force-fed and allowed to see her family for the first time since her arrest. Ms. Li used a walker when she came out to meet them.
Her family applied for medical parole for Ms. Li after the visit, but their request was turned down and they were never allowed to visit her again.
According to inmates who were familiar with Ms. Li's situation, the guards moved her back to the 12th ward after she was force-fed and kept her in solitary confinement in her final days.
The guards stripped off her clothes and made her sit on the cold concrete floor. The temperature was between 25 to 37 °F, and there was no heat in the room. After a few days of this torture, she began to have blood in her urine and was unable to stand on her own, yet the prison officials sought no medical treatment for her. Ms. Li died just days later, on March 4, 2019. She was 52.
Twice Imprisoned Woman Dies during Her 11th Detention for Practicing Falun Gong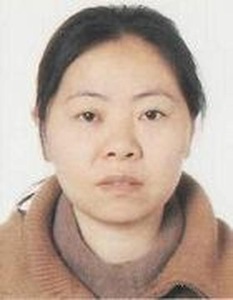 Ms. Kong Hongyun
Ms. Kong Hongyun, a 47-year-old resident of Baoding City, Hebei Province, fell into a coma on March 8, 2019 while being held at the Baoding Detention Center for her faith in Falun Gong.
A tracheotomy was done on her without her family's consent three days later. She never regained consciousness and died on June 12.
Ms. Kong was arrested on January 2, 2019, after being reported for talking to people about Falun Gong. She was held at the Baoding City Detention Center, where she went on a hunger strike to protest the persecution.
Prior to her latest arrest, Ms. Kong served two prison terms, for a total of seven years, for her faith. Her tragic death left her elderly mother and daughter, in her early 20s, in deep despair.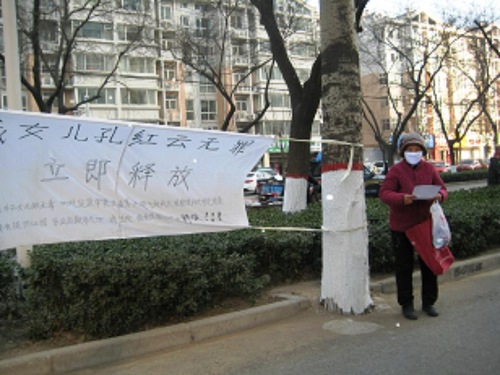 Ms. Kong's mother protesting near the entrance of the Xinshi District Court in 2014
Death on Parole
Mother of Japanese Residents Dies of Uterine Cancer Ten Months Following Arrest for Her Faith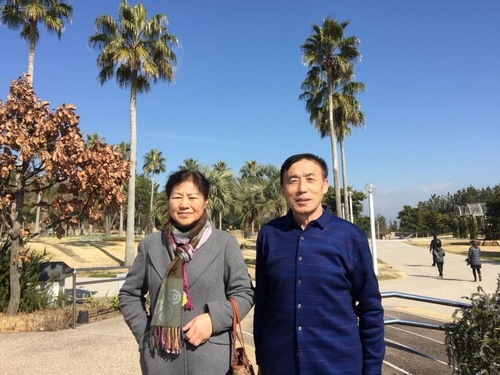 Ms. Hou Lifeng and her husband Mr. Liu Chun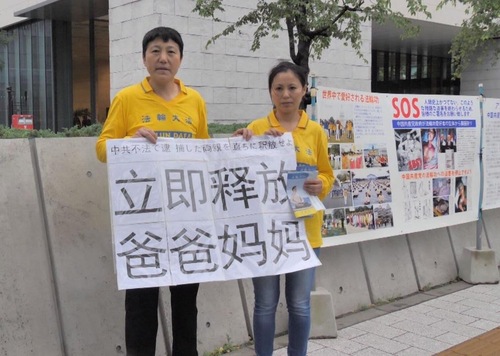 Ms. Hou's son and daughter, Mr. Liu Zhigui and Ms. Liu Zhiyin, call for the release of their parents in front of the National Diet (Japan's bicameral legislature) on June 15, 2018.
Ms. Hou Lifeng, a resident of Fangzheng County, Heilongjiang Province, and mother of two Japanese residents, was arrested on June 12, 2018, while distributing information about Falun Gong.
The police interrogated and beat Ms. Hou before taking her to the Harbin No. 2 Detention Center, where she developed uterine cancer. She fainted several times due to acute pain in her lower abdomen, but was denied proper medical care.
Ms. Hou appeared in court on September 26 and was sentenced to prison on November 27, 2018. The judge said she wasn't allowed to appeal her verdict.
When she was transferred to Harbin Women's Prison in December 2018, Ms. Hou was extremely weak and unable to walk. She was diagnosed with advanced uterine cancer, but the prison hospital officials said they couldn't provide medical treatment.
Fearing her possible death in prison, the authorities approved Ms. Hou's medical parole. By the time she returned home on March 1, she had completely lost the ability to take care of herself, and yet the police still threatened to send her back to prison if she continued to practice Falun Gong.
The police and residential committee members continued to harass and monitor Ms. Hou in her final days. In late March, they returned again and demanded that she write "thought reports" renouncing Falun Gong.
Ms. Hou passed away around 1:00 a.m. on April 29, 2019. She was 67.
The day after Ms. Hou Lifeng died, her husband received a bill from the local court demanding that he pay the 10,000-yuan fine. They threatened to arrest and detain him if he refused to pay.
Henan Man Becomes Third Person in His Family to Die in the Persecution of Falun Gong
Mr. Chen Shaomin from Sanmenxia City, Henan Province, died on May 14, 2019, less than a year after he was released from prison on medical parole. According to the coroner, both of his lungs were completely deteriorated.
Mr. Chen became the third person in his family, after his father and older brother, to lose his life as a result of the persecution.
Mr. Chen Shaomin and his younger brother Mr. Chen Xiaomin were arrested in June 2016. The two were sentenced in July 2017 and taken to Xinmi Prison. According to a Falun Gong practitioner who served time in the same prison, the brothers were severely tortured in prison for not renouncing their faith.
By the time Mr. Chen Shaomin was released on medical parole in 2018, the once-healthy man in his prime had multiple health issues and had completely lost the ability to take care of himself.
Sentenced to Six Years for His Faith, Liaoning Man Dies 9 Months after Being Released on Medical Parole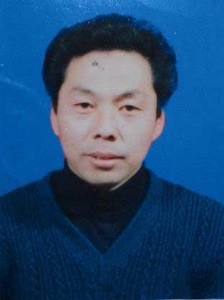 Mr. Shao Minggang
Mr. Shao Minggang, a 62-year-old resident of Jinzhou City, Liaoning Province, died on February 27, 2019, nine months after he was released on medical parole.
Mr. Shao had been sentenced to 6 years for his faith in Falun Gong following his latest arrest in March 2016. He was abused in Dongling Prison and his health quickly declined. He vomited blood and fainted on multiple occasions. The prison authorities only had his blood pressure and electrocardiogram taken, but refused to provide him with any medical care and still forced him to do hard labor when he came to.
Mr. Shao returned home on medical parole on May 2, 2018. Between late 2018 and the first two weeks of 2019, police and local officials came to Mr. Shao's home many times to harass him. They claimed that he was faking illness and forced his family to take him to a hospital for medical examination, threatening that if he turned out to be healthy, they would take him back to prison. The constant harassment and threats caused great mental pressure for Mr. Shao and his family, which eventually led to his tragic death.
Deaths After Release
Imprisoned Woman Forced to Take 1,200 Pills to Treat Condition She Didn't Have, Dies 14 Months After Being Released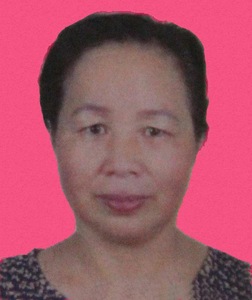 Ms. Luo Chunrong
Ms. Luo Chunrong, a resident of Nanchang City, Jiangxi Province, was arrested on March 31, 2016 while distributing informational materials about Falun Gong. She was sentenced to two years in Jiangxi Women's Prison in early April 2017.
In order to force Ms. Luo to give up her faith, the prison guards placed a big speaker in her room and played audio recordings at very high volume for 12 to 24 hours each day. She fainted as a result of the torment.
When Ms. Luo protested the torture, the guards forced her to stand more than 12 hours without a break. Her legs became severely swollen. At night, they locked her in a small room with slogans attacking Falun Gong and Falun Gong's founder Master Li Hongzhi plastered on the walls.
After both physical and mental abuse failed to force Ms. Luo to give up Falun Gong, the guards sent her to the prison hospital and forced her to take drugs for hypertension, even though she didn't have high blood pressure. She said she was forced to take 1,200 pills during her imprisonment.
Three months after she was finally released in March 2018, Ms. Luo began to experience intense back pain. Eventually, the bones throughout her body ached. The condition progressed until she was unable to move and was screaming because of the pain. She was reduced to skin and bones and died on May 24, 2019. She was 70.
Driven Insane at 22, Deceased at 40 – Tianjin Man Becomes Latest Victim of Forced Labor Camp Brutality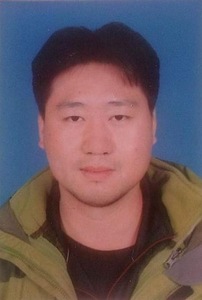 Mr. Wang Jian
Mr. Wang Jian, a resident of Tianjin, suffered a mental collapse at the age of 22 after seven months of torture in a forced labor camp for practicing Falun Gong. He spent the next 18 years fighting mental instability and declining physical health, while being constantly harassed by the police.
Ten days before the 2019 Chinese New Year, Mr. Wang passed away on January 26, 2019. He was 40.
One of the tortures Mr. Wang, who stood at 6 feet tall, suffered was being stuffed under a bed that was just 16 inches high. He was in excruciating pain after he was pulled out.
The guards shouted at him, "It's fine if you become a criminal; you just can't practice Falun Gong."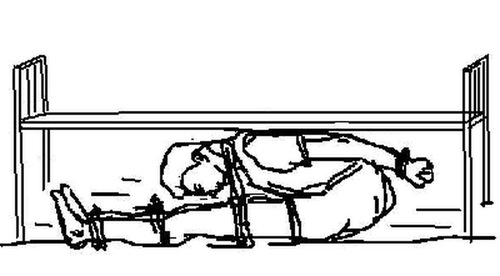 Torture illustration: stuffed under a bed
Heilongjiang Woman Dies from Tuberculosis after Years of Torture for Not Renouncing Her Faith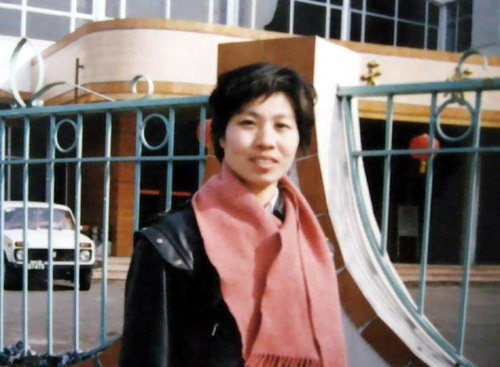 Ms. Sun Libin
Ms. Sun Libin's tuberculosis, cured by practicing Falun Gong, recurred in 2011 while she was serving a 3.5-year term at Heilongjiang Women's Prison for not renouncing her faith.
She coughed continuously and was quarantined several days later after the doctor discovered that she had tuberculosis. Her family demanded that Ms. Sun be released on medical parole several times, but they were turned down with the excuse that she refused to give up her faith.
After seven months in the prison hospital, Ms. Sun was released on December 21, 2013, at the end of her term.
With her pension having been suspended during her imprisonment, and her annual pension increase stopped, she couldn't afford medical care and her health continued to deteriorate after her release.
When Ms. Sun's family took her to the hospital on March 3, 2019, the doctor said that her lungs were nearly non-functioning and nothing could be done. Ms. Sun passed away around 3:00 a.m. the following day, having turned 65 just a week before.
According to those who saw Ms. Sun for the last time, she was emaciated, her complexion was ashen, and her voice was weak and hoarse. Her feet were swollen and she couldn't walk by herself. She had bedsores on her buttocks from being bedridden for such a long time.
Because she couldn't afford heat, she had to wear winter jackets and padded pants in bed. Her family put a small portable heater by her bed, but all the other rooms were as cold as outside, as Heilongjiang was usually -20° F in the coldest province in China.
Martial Arts Champion Tortured in Prison for 13 Years, Dies Five Years Later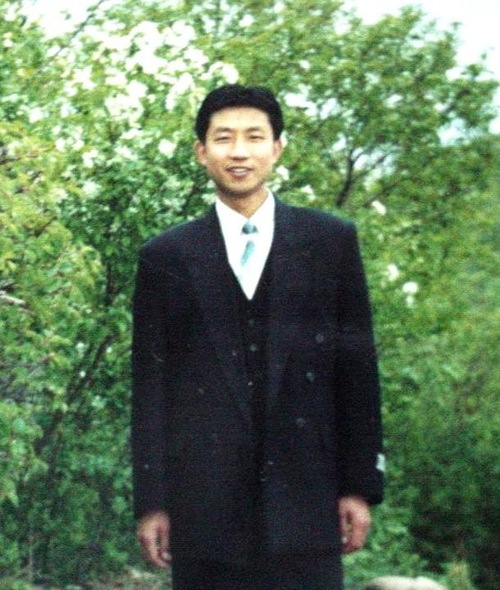 Mr. Zhang Hongwei, before the persecution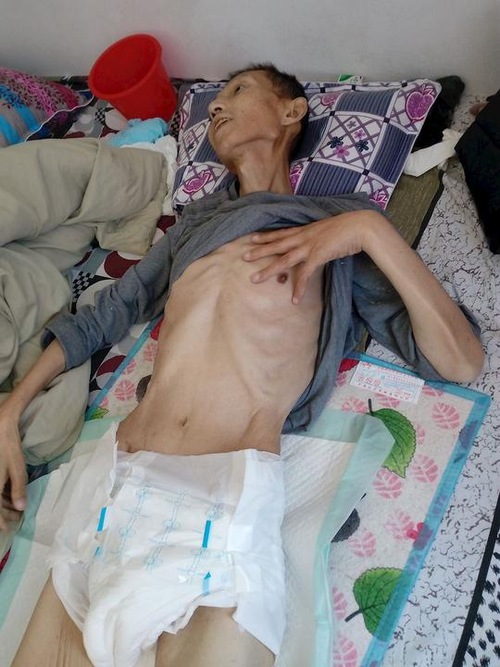 Mr. Zhang Hongwei, in his final days
By the time Mr. Zhang Hongwei was released from a 13-year prison term in 2014 for not renouncing his faith in Falun Gong, the once-energetic martial arts champion had completely lost his physical strength. He was emaciated and weak. His was almost blind, and he couldn't see things beyond one foot away. His back was hunched, and his knees were injured. When he walked, he had to lean against the wall and take tiny steps.
During Mr. Zhang's imprisonment, his father-in-law, Mr. Song Wenhua, was tortured to death while detained at Chaoyanggou Forced Labor Camp, also for practicing Falun Gong. Mr. Zhang's wife struggled to make ends meet and raise their son, who was less than one year old when his father was given the lengthy prison sentence.
Despite his condition, the police still harassed Mr. Zhang frequently because he remained firm in his faith even after all the years of persecution.
Mr. Zhang was arrested again in 2015 for filing a criminal complaint against Jiang Zemin, the former head of the Chinese communist regime who ordered the persecution of Falun Gong in 1999. He was later released after the detention center refused to accept him because of his physical condition.
In July and November 2017, Mr. Zhang and his family were harassed while traveling from Tonghua City to Dalian City (in Liaoning Province). The first time, they were taken to a police station and body searched before they could board the train. The second time, they boarded the train but were searched by railroad security.
With his health completely destroyed during the imprisonment, Mr. Zhang's condition continued to deteriorate. After years of suffering, he passed away on May 3, 2019. He was 52.
Sentenced to Five Years at 76 and Pension Suspended, Shandong Engineer Dies After Years of Living in Poverty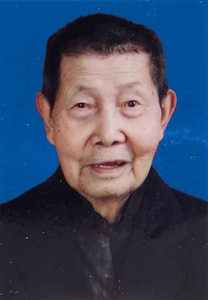 Mr. Wang Hongzhang
Mr. Wang Hongzhang, a resident of Jinan City, Shandong Province, was sentenced to five years for his faith in 2008, when he was 76. The prison authorities released him on parole in 2012 after he developed heart palpitations and was in critical condition. Citing his imprisonment, his company suspended his pension from 2014 to 2016 and only gave him minimal income subsidies in the last two years of his life.
Having to take care of his mentally ill adult daughter by himself and struggling to make ends meet, Mr. Wang lived in poverty and despair after his release from prison. He died on January 21, 2019, at the age of 87.
Download list of Falun Gong practitioners who died from persecution in first half of 2019.
More Reports on Death Cases in First Half of 2019:
Shandong Woman Dies from Cancer Developed in Prison for Speaking Out for Her Persecuted Faith
Heilongjiang Woman Suffered a Stroke While Detained for Her Faith, Died After Being Bedridden for 11 Years
Feet Amputated As a Result of Persecution of His Faith, Heilongjiang Man Dies After Two Decades of Suffering
Imprisonment and Brainwashing Claim Life of 46-Year-Old Man in Shandong Province
Cancer Patient Healed by Practicing Falun Gong, Persecuted to Death for Not Giving It Up
Elderly Doctor Dies after 20 Years of Police Harassment for His Faith in Falun Gong
Beijing Man Dies Eight Months After Prison Release
Cancer-Stricken Woman Sentenced to Prison for Her Faith, Dies Nine Months Later
Jilin Man Abused in Custody, Dies One Year Following Arrest for His Faith
Researcher Dies after Ongoing Police Harassment Following Imprisonment for His Faith in Falun Gong
Guangdong Man Dies One Year After Release from Prison for Practicing Falun Gong
Henan Man Dies Four Months after Being Released from Detention for His Faith
Former Business Owner Dies at 50 After Repeated Detention and Harassment
Woman Suffers Stroke While Being Pursued for Her Faith—Dies Less than Two Years after Returning Home
Other Related Reports:
69 Falun Gong Practitioners Confirmed to Have Died in 2018 as a Result of Arrests and Torture (Graphic Photos)
New Minghui Website: "Cases of Persecution Deaths of Falun Gong Practitioners"