Twice Imprisoned Woman Dies during Her 11th Detention for Practicing Falun Gong
June 21, 2019 | By a Minghui correspondent in Hebei Province, China
(Minghui.org) Ms. Kong Hongyun, a 47-year-old resident in Baoding City, Hebei Province, fell into a coma on March 8, 2019, while being held at Baoding Detention Center for her faith in Falun Gong.
A tracheotomy was done on her without her family's consent three days later. She never regained consciousness and died on June 12.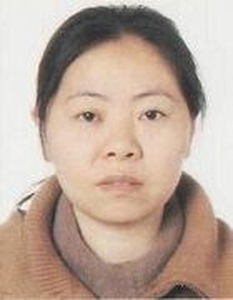 Ms. Kong Hongyun died on June 12, 2019, during her 11th detention for her belief in Falun Gong.
Falun Gong, also known as Falun Dafa, is a meditation system that consists of five sets of gentle exercises and the principles of Truthfulness-Compassion-Forbearance. Since the Chinese Communist Party (CCP) began to persecute the practice in July 1999, a large number of practitioners have been detained, tortured, and imprisoned.
Premature Death after 11th Arrest for Her Faith
The most recent and 11th arrest of Ms. Kong took place on January 2, 2019, after she was reported for telling a young woman about Falun Gong. Agents from Hepingli Police Station arrested her and kept her at the Baoding Detention Center.
The Lianchi Procuratorate contacted her lawyer on Friday, March 8, asking him to come with her family members on the following Monday to process paperwork for her bail on medical grounds. When the lawyer and Ms. Kong's mother arrived on Monday, March 11, they were told that there would no longer be bail for Ms. Kong.
The lawyer questioned why the procuratorate suddenly reversed its decision, one official said they could no longer make the bail decision in Ms. Kong's case.
The lawyer next went to the detention center, but he was told she had been hospitalized.
It was said that Ms. Kong was taken to Baoding First Hospital on March 8. The doctor recommended hospitalization based on her condition, but the detention center officials brought her back after the exam. As Ms. Kong remained unconscious, the officials took her back to the hospital on March 10. After the doctor declared her to be in a life-threatening condition, the deputy director of the detention center signed a consent form authorizing a tracheotomy without notifying her family.
Ms. Kong needed a ventilator to breathe after that. After repeated requests from the doctor, the detention center officials notified her family. When Ms. Kong's family asked what had happened, an officer claimed that Ms. Kong had fallen twice. Plainclothes police officers were seen near the ICU unit where she stayed in her final months.
After Ms. Kong's family received another phone call in the morning on June 12, they arrived at the hospital at 8 a.m. and found that Ms. Kong had already stopped breathing.
The death of Ms. Kong was a heavy blow to her family. Her mother, already in her 80s, was grief-stricken and aged quickly overnight.
Family Suspects Foul Play
Ms. Kong was very healthy before her last arrest. She ran a small business and could carry 30 pounds of goods up and down the stairs with no problem. But her health quickly deteriorated while she was in detention.
When her family members asked about the tracheotomy, the doctor said it was due to her breathing difficulties. They asked to review surveillance videos at the detention center, but they were turned down.
When the lawyer met with Ms. Kong in early February 2019, she was on a hunger strike but looked fine and called aloud "Falun Dafa is good." During the next visit on February 26, she was carried out by two inmates and said that she had started to eat two days earlier. Within two weeks, however, she fell into a coma on March 8 and never regained consciousness.
Multiple Prior Arrests
Ms. Kong began to practice Falun Gong in 2007 and had since been detained 10 times prior to her latest arrest.
The first arrest occurred on March 13, 2008, when she told someone about Falun Gong. Agents from Yimian Police Station arrested her, and she was sentenced to three years in prison.
Six officers from Xiantai Police Station arrested her at home on September 19, 2011, and detained her for 15 days.
In March 2012, Ms. Kong was kept at the Hancun Police Station for 7 days.
The fourth detention occurred on May 17, 2012, and she wasn't released until five days later.
On September 8, 2012, she was arrested a fifth time by Xiantai Police Station. The police had planned to send her to a detention center, but they had to release her after she was rejected due to her poor health.
The 6th detention of Ms. Kong happened in the evening on October 29, 2012. Police first took her to Xiantai Police Station and then Hanbei Police Station, where she was kept for one night. After that she was held for two days at the Kangzhuang Brainwashing Center, where she was shocked with electric batons.
Ms. Kong was arrested a seventh time on May 17, 2013. Without notifying her family members, the police kept her at the Baoding Detention Center for five days.
The 8th arrest of Ms. Kong occurred on December 15, 2013, as Ms. Kong told one person about Falun Gong. Huang Jianliang, director of Tanghu Police Station, shocked her hands and face with electric batons, and kicked her. After being sent to a detention center, Ms. Kong went on a hunger strike in protest. After her family came on December 20 requesting her release, Ms. Kong returned home.
Drugged During Her Second Imprisonment
Ms. Kong was arrested a ninth time while she was telling someone in a park about the persecution of Falun Gong on January 4, 2014.
When her lawyer met her 20 days later at the Baoding Detention Center, he found Ms. Kong was in good spirits despite her being on a hunger strike. When the lawyer visited her again one month later, he said she had changed a lot: she seemed to be in a daze and had memory loss.
This was consistent with Ms. Kong's' personal account of being drugged. In an article submitted to Minghui in October 2018, she described the abuse she suffered in the detention center. Because of refusing to do manual labor, she was beaten by inmates and she went on a hunger strike to protest. Guards ordered inmates to force-feed her and torture her.
"Later on, I found that my legs stopped functioning accompanied by memory loss," wrote Ms. Kong in the article. She suspected that guards had force-fed her nerve-damaging drugs. Even after resuming eating, she found her memory loss had worsened. "This is something that had never happened before, even during my first imprisonment," she added.
Ms. Kong was later sentenced to four years in Shijiazhuang Prison.
Not long after she was released from prison, Ms. Kong was arrested again in 2018, followed by a three-day detention. This was her 10th detention.
Key Responsible Personnel:Liu Xian, head of Baoding Detention Center, +86-18633623999
Related Report:Ms. Kong Hongyun Remains in Coma and on Life Support
Hebei Woman Hospitalized after Nearly Three Months on Hunger Strike Following Arrest for Her Faith
Daughter Faces Third Trial; Elderly Mother Appeals for Her Release
Authorities Refuse to Release Falun Gong Practitioner Despite Three Failed Trial Attempts
Lack of Evidence Postpones Medical Worker's Trial Three Times
Prosecutor Unable to Disprove Defense Arguments, Lawyer Requests Client's Release
Lawyer Demands Ms. Kong Hongyun's Release
Family Suspects Disoriented Practitioner Was Drugged After Fifth Arrest
Baoding Court Tries But Fails to Frame Ms. Kong Hongyun
Ms. Kong Hongyun from Baoding, Hebei Province Arrested Again
Ms. Kong Hongyun from Hebei Province, Baoding City Arrested; Her Family Requests Her Release