Ms. Kong Hongyun from Baoding, Hebei Province Arrested Again (Photo)
June 10, 2013 | By a Minghui correspondent from Hebei Province, China
(Minghui.org) Ms. Kong Hongyun, 42, from Mancheng County in Baoding City, Hebei Province was arrested by officers from the Nanguandajie Police Station on May 17, 2013. She was taken to the Baoding Detention Center at 9 p.m. that night. Her daughter, who is currently in the 9th grade and will take her high school entrance exams in one month, was left at home alone.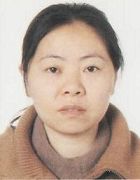 Kong Hongyun
The police did not inform Ms. Kong's family when they arrested her. Her daughter only found out that her mom had been arrested and taken to Baoding Detention Center after she reported that her mother was missing to the police.
Ms. Kong is a nurse and began to practice Falun Dafa in 2006. She was arrested by officers from Yimian Police Station in March 2008 at the Baoding Cotton Mill clinic, where she worked. She was given a three-year sentence and detained at the Hebei Provincial Women's Prison. Six months after her release, on the morning of September 19, 2011, Ms. Kong was arrested at her home by six officers from Xiantai Township Police Station in Gaokai District, Baoding. Her house was the locked by the police and her 13-year-old daughter could not enter the home when she returned from school. Ms. Kong was held in Baoding Detention Center for two weeks.
Those responsible for the persecution of Ms. Kong include:
Nanguandajie Police Station: +86-312-2123972
Li Qiang, head of Nanguandajie Police Station
Baoding City Detention Center: +86-312-5800883
Related article:
"Ms. Kong Hongyun from Hebei Province, Baoding City Arrested; Her Family Requests Her Release"
http://en.minghui.org/html/articles/2011/10/17/128826.html