Family Suspects Disoriented Practitioner Was Drugged After Fifth Arrest
August 13, 2014 | By a Minghui correspondent in Hebei Province
(Minghui.org) Ms. Kong Hongyun, 43, was illegally arrested five times with the same charges. The latest was on January 4, 2014, when she was placed in detention. Although her lawyer visited her several times, he was taken aback by what he saw during a recent visit in June.
Ms. Kong appeared disoriented and delirious. He learned that she had recently held a hunger strike to protest her wrongful imprisonment, and was punitively force-fed as a result.
Ms. Kong's family now suspects possible drugging behind the sudden disorientation. They learned that at least two practitioners were forced to take unknown drugs at the same detention center. One of them, Ms. Wang Huilan, 53, died in 2009, six days after her arrest. Ms. Kong's family now wonders what kind of ordeal their loved one had been made to go through.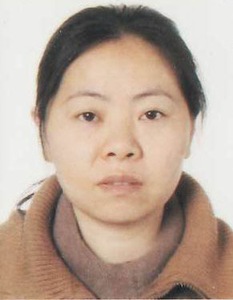 Ms. Kong Hongyun
Ms. Kong's Latest Arrest and Abuse
After Ms. Kong was arrested the fifth time, her 15-year-old daughter went with a classmate to the police station on a cold January afternoon, and requested Ms. Kong's release. They were not allowed into the station, so the two young women waited outside.
At around 8:30 that evening, they were still waiting and asked to enter, but were refused. They continued to stand outside in the cold until almost midnight, when they asked the officer on duty if they could come in to see Ms. Kong. He then informed them that Ms. Kong had been taken to the Baoding Detention Center.
To protest her illegal detention, Ms. Kong went on a hunger strike. Guards force-fed her and kept the feeding tube inserted between feedings. The rubber tubing has been known to degrade when left in the stomach, causing toxicity, fever, and even death. Ms. Kong's guards handcuffed her arms around the back of a chair to prevent her from removing the tubing herself.
Forced labor was also regularly practiced at the Baoding Detention Center. Detainees had to work from 6:00 a.m. to 8:00 p.m. every day, packaging and examining surgical gloves. They had to blow into the gloves one by one to check if the gloves were leaking. The gloves were filled with talcum powder and the blowing sent the talc into the air. Long-term exposure is known to cause health problems, and many of the detainees appeared to be sickly and had a wan complexion.
Four Previous Illegal Detentions
Ms. Kong started practicing Falun Gong in 2006. She was arrested in early 2008, and sentenced to three years of imprisonment. After severe physical and mental abuse, her head often felt numb, even after her release in March 2011.
Ms. Kong was a medical professional at Xiantai Town Hospital. The hospital laid her off after it was forced to close, so to support herself and her daughter, Ms. Kong made pancakes, which she sold from a street cart.
Then in September of that year, Xiantai Town police arrested her again at home. When her daughter, 13 at the time, came home from school, she could not get inside her house. An elderly neighbor lady took pity on her and offered to help her find her mother.
The two visited several local police stations. They went from one to another until midnight, but still could not find Ms. Kong. The search continued the next day. Local police told them that Ms. Kong had been sent to a detention center, but refused to tell them which one.
Ms. Kong's mother, who was in her seventies and lived in another city, arrived to search for Ms. Kong with her granddaughter. They went first to various local government departments and then to the Xiantai Police Station. But they did not receive any help.
(Addition information: http://www.clearwisdom.net/html/articles/2011/10/17/128826.html)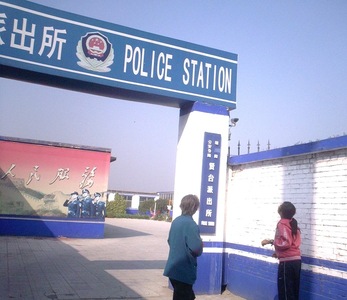 Ms. Kong's elderly mother, in her seventies, and 13-year-old daughter looking for Ms. Kong at a local police station.
Ms. Kong was released after two weeks, but the harassment continued. Police threatened her landlord not to rent to Ms. Kong, and her pancake cart and gas tank were confiscated, essentially taking away her livelihood.
The hardship did not weaken Ms. Kong's determination to cultivate, nor did she feel any hatred in her heart towards the police. Instead, she continued to tell them the facts about Falun Gong, hoping that they could accept the truth and stop doing bad deeds.
Officers from the Nanguan Police Station arrested her for the third time on May 17, 2013. They presented no arrest warrant, nor did they notify her family. When her daughter could not find Ms. Kong, she reported this to police. She then learned that Ms. Kong had been arrested again and was being held in the Baoding Detention Center for five days.
As Ms. Kong was telling people about Falun Gong on December 15, 2013, officers from the Tanghu Police Station arrested her for the fourth time. At the police station, they beat her and shocked her face with an electric baton. To protest this, she went on a hunger strike to appeal, and was released after five days.
The Xinshi District Court in Baoding City tried Ms. Kong on February 12, 2014. Her Beijing attorney refuted the charges against her one by one. He delivered a convincing argument in defense of her right to practice and spread information about Falun Gong, and concluded that the charges were invalid. In the end, the judge announced that the evidence used to charge Ms. Kong was insufficient, and adjourned the trial. However, she was returned to the detention center.
She remains incarcerated at Baoding Detention Center.
Key responsible personnel:Liu Xiang (刘翔), director of the Baoding Detention Center: 18633623999 (cell)