Germany: Tian Guo Marching Band Receives Warm Welcome at Cultural Carnival
June 21, 2019 | By a Falun Dafa practitioner in Germany
(Minghui.org) The Tian Guo Marching Band took part in the cultural carnival (Carnival der Kulturen) held in the city of Bielefeld on June 15, 2019.
A group of practitioners set up displays in front of the city hall as well as in the park where the carnival was held. Practitioners demonstrated the exercises and told people about Falun Dafa and the persecution happening in China. Many signed the petition calling for an end to the persecution.
Spectators Interested to Learn More about Falun Dafa
The event was held on a Saturday. The parade route passed through pedestrian streets in the old part of the city.
Quite a few tourists stood on benches on the street to get a good view of the parade. People cheered and applauded the performance by the marching band. Practitioners holding banners walked behind the band.
Several practitioners stood on the side handing paper lotus flowers to onlookers. Some visitors who received the flowers recognized the words "Truthfulness-Compassion-Forbearance" on the flowers. The same words were on the banners.
Many said they would go back and search the internet for additional information after listening to a brief introduction on Falun Dafa.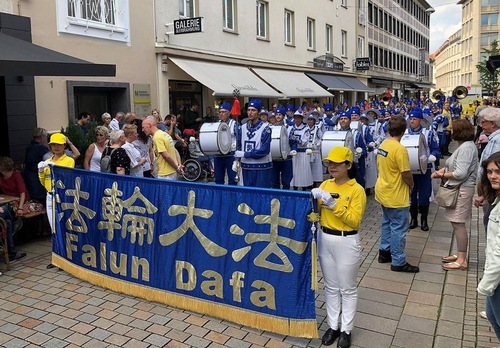 Tian Guo Marching Band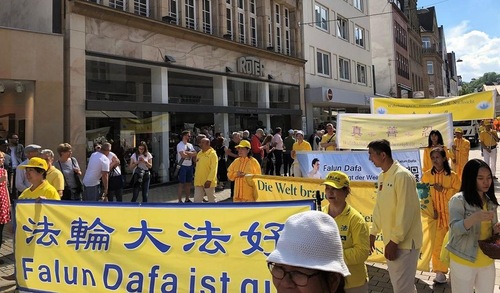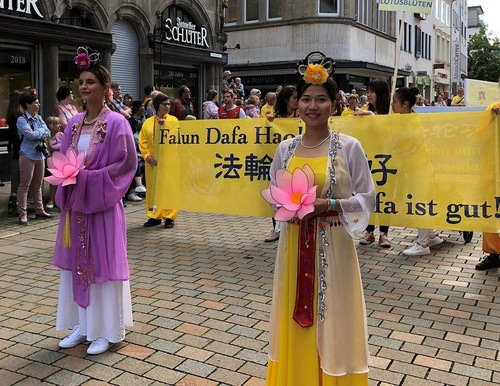 Practitioners hold banners in the parade
Many tourists came to the carnival to listen to the music and watch the dance performances outside the city hall. They were drawn to the peaceful exercises. Many tourists took photos of practitioners doing the sitting meditation.
As local practitioners often hold activities to promote the practice, many people said that they knew what Falun Dafa is. Often people would sign the petition after they were told about the persecution in China.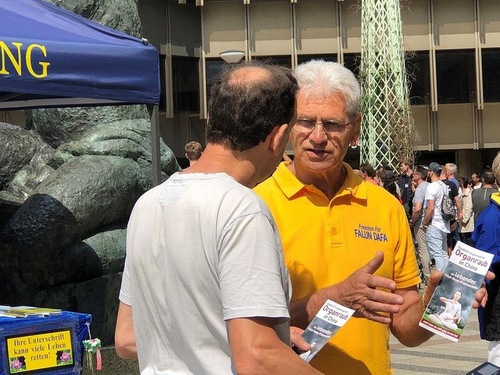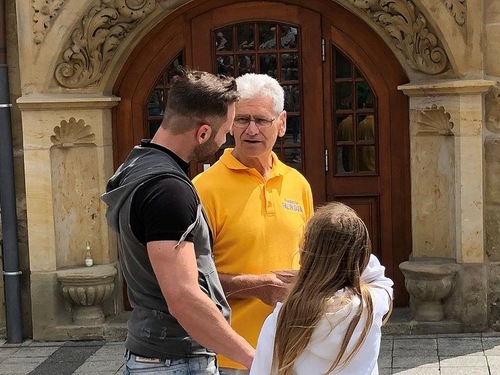 Practitioners talk to people about Falun Dafa
Visitors sign the petition to stop the persecution
Visitors Eager to Learn the Exercises
A couple in their 60s looked at the Falun Dafa display. When told that Falun Dafa follows the principles of "Truthfulness-Compassion-Forbearance", the man said: "These are excellent values. Just what young people need. The world will be a much better place if everyone is a little less selfish."
Two women from Turkey in their 40s wanted to know more about Falun Dafa. When told that there are no fees for learning the exercises, they asked for more information and said that they will go to the practice site to learn the exercises.
A young man who was born in Venezuela talked to a practitioner and asked questions. He told practitioners that his grandfather was Chinese. Therefore, he recognized the character "Dafa". He had been thinking of learning meditation when he was in Venezuela. He was very keen to learn Falun Dafa after finding out more about it. He asked to learn the exercise movements. He took many brochures before leaving, as he wanted to read and understand more about Falun Dafa.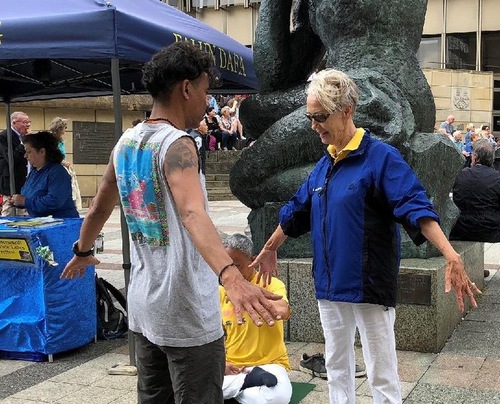 Practitioner teaches the exercise movements