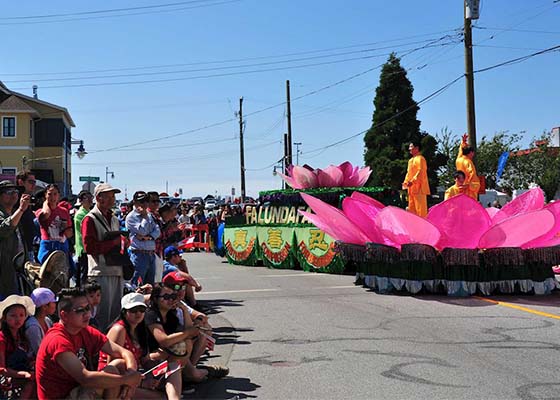 The practitioners formed a marching band, a waist drummer team, and a lotus flower float in the Salmon Festival parade in Richmond on July 1 and the Canada Day parade in downtown Vancouver on July 2. Their public appearance impressed many spectators, especially tourists from China. One of them remarked, "It is impossible to see in China. They have freedom here!"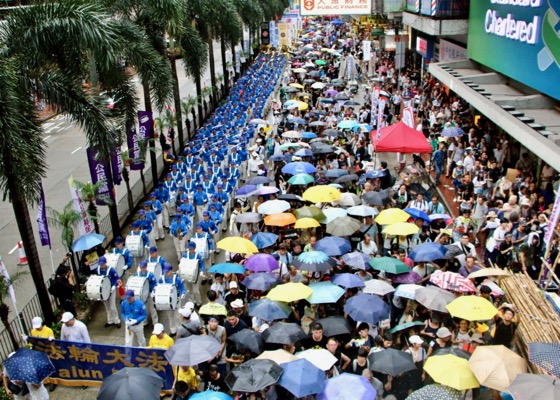 The Tian Guo Marching Band led a procession marking the 20th anniversary of Hong Kong's return to China. About 60,000 people attended the parade, which opposed the Chinese regime's suppression of Falun Gong in China. Practitioners were highly praised by tourists and Hong Kong residents for their courage in persevering with their righteous belief during the past 18 years.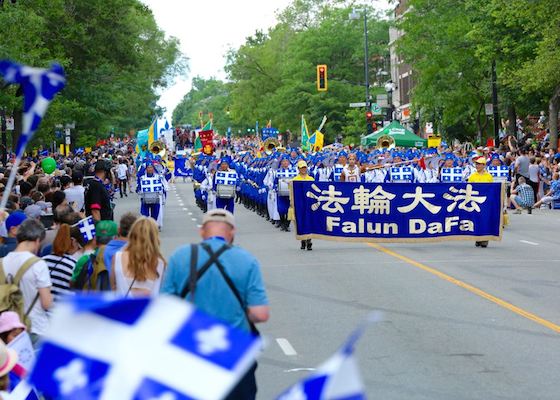 The Falun Gong group and their Tian Guo Marching band were welcomed back to the Quebec National Day Parade on June 24. The cover of a local newspaper announcing the parade featured a photo the band, whose blue and white uniforms match Quebec's flag. One of the event organizers said, "Their performance was spectacular!"
These examples offer a small glimpse into the many torture methods Chinese authorities use against Falun Gong practitioners to force them to renounce their belief.
Officers from eight police stations in Liaoning Province were instructed to harass over 40 families of Falun Gong practitioners because of the forthcoming 19th National Congress. The officers stated, "We don't want to do this, but orders have been given by higher ups."
A young man shares how different his school is and how it taught him to think of others first and have high morals. It also showed him that when encountering conflicts we should look inside ourselves and learn the reason why so we don't make the same mistake again.
~ Health Benefits ~
~ Accounts of Persecution ~
~ Personal Accounts of Early Days ~
~ Podcasts ~
~ Improving Oneself ~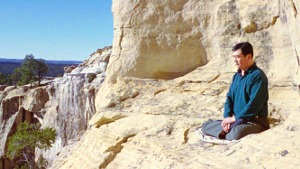 Master Li quietly watching the world from amidst the mountains after leaving New York following July 20th, 1999. (Published January 19, 2000)