Residents of Palanga, Lithuania Eager for More Opportunities to Learn Falun Dafa
(Minghui.org) On June 17, 2017, practitioners of Falun Dafa from Latvia visited the neighboring resort town of Palanga, in Lithuania, to raise awareness about the practice, which is also known as Falun Gong.
The day was warm and sunny. Near the central pedestrian street leading to the sea, practitioners set up a tent with multilingual handouts and Lithuanian booklets created specifically for this event.
Prior to the event, practitioners explained Falun Dafa and the persecution of this spiritual discipline in China to the priest in the church across the street. He welcomed the practitioners' efforts and said that he could discuss this topic during the church service.
As soon as the practitioners began to demonstrate the Falun Dafa exercises, many people stopped to watch, including both residents of Palanga and foreign tourists.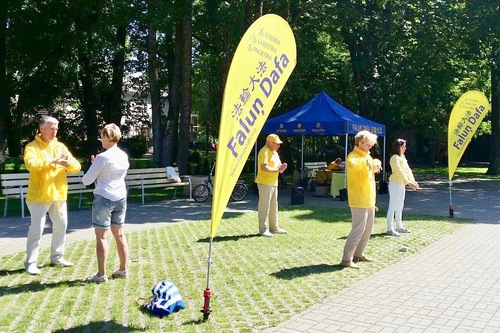 The practitioners told them that Falun Dafa is a self-cultivation practice of improving one's character based on the principles of Truthfulness, Compassion, and Forbearance and that the five exercises help both the physical body and one's spiritual wellbeing.
In a conversation with a 60-year-old gentleman, a practitioner said, "If there is a conflict, then it is important to think about what I did wrong and what I can change in myself. When we change ourselves rather than trying to change and blame others, then miraculous things happen."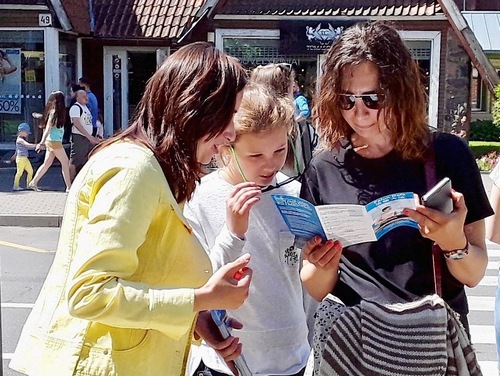 During the event, people also had the opportunity to learn about the unlawful persecution of Falun Gong by the communist regime in China. Many were outraged when they learned of the state-sanctioned killing of Falun Dafa practitioners for their organs. They also signed a petition in support of prosecuting Jiang Zemin, the former head of the Chinese Communist Party who launched the persecution of Falun Gong.
One woman asked to learn the exercises there at the event. She stayed for half an hour and learned all five of the Falun Dafa exercises.
Several people asked whether the practitioners would return to Palanga. Since many people in Lithuania have not heard of Falun Dafa, practitioners decided to continue holding events in various cities there.