Raising Awareness about Falun Gong in Sweden and Germany
(Minghui.org) This report covers events that Falun Gong practitioners held in Germany and Sweden in the last few weeks.
Stockholm, Sweden
Falun Gong practitioners have been regularly holding activities in front of the Stockholm city hall this summer, telling the tourists all over the world about this Chinese self-improvement practice and the 18-year long persecution in its home country.
Demonstrating the exercises in front of the city hall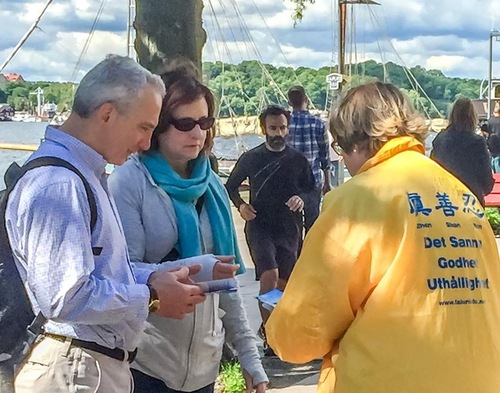 Talking to tourists about Falun Gong
Many tour guides have become familiar with Falun Gong and will often tell their clients that it is a peaceful meditation that is brutally persecuted in China.
Many tourists take photos of the exercise demonstration; some of them also take flyers or stop to learn the exercises.
Years ago, most Chinese people would avoid anything related to Falun Gong due to the regime's vicious propaganda. But nowadays, it's apparent that more and more of them have seen the real situation, with many Chinese visitors approaching the Falun Gong group and making comments like, "The persecution is evil;" "The party is declining, but Falun Gong is rising;" "I admire Falun Gong. Keep up the good work!"
Rheinland-Pfalz, Germany
Practitioners from Rheinland-Pfalz, Germany, held two events in Landau and Neustadt an der Weinstrasse on May 20 and June 3, respectively. Besides demonstrating the exercises and passing out materials, they also collected signatures on a petition that condemns China's forced organ harvesting from imprisoned Falun Gong practitioners.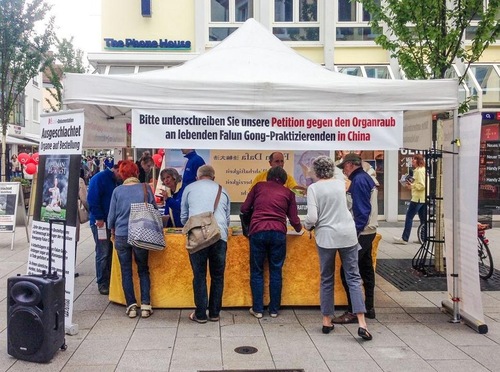 People in Landau sign petition to support Falun Gong.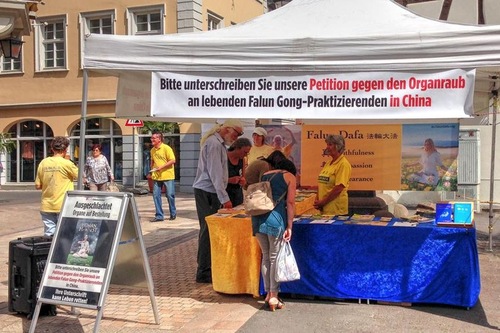 Signature collection in Neustadt an der Weinstrass
Many people not only signed the petition themselves, but also urged their friends and families to sign as well. Some people took stacks of flyers about the persecution for their co-workers, and some thanked practitioners for their efforts to raise awareness.
Several local residents asked about practice sites that they could attend to learn the exercises.