Falun Gong Procession a Highlight in Quebec's National Day Parade
July 03, 2017 | By a Falun Dafa practitioner in Canada
(Minghui.org) The Falun Gong group and its Tian Guo Marching band were welcomed back to perform in the annual Quebec National Day Parade on June 24.
The cover of a local newspaper announcing the parade featured a photo the band from last year's celebration.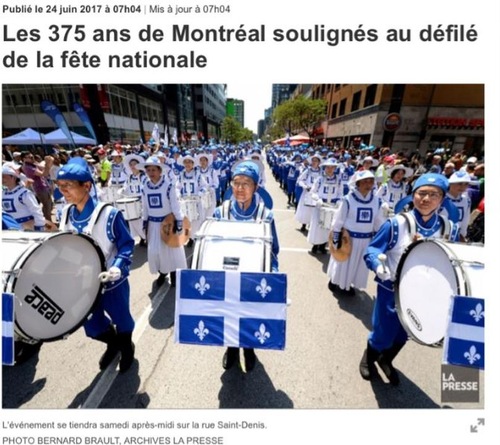 French language newspaper La-Presse published a photo of Tian Guo Marching Band on its front page to announce this year's National Day parade.
With more than 200 performers in its procession, the Tian Guo Marching Band stood out again in the parade.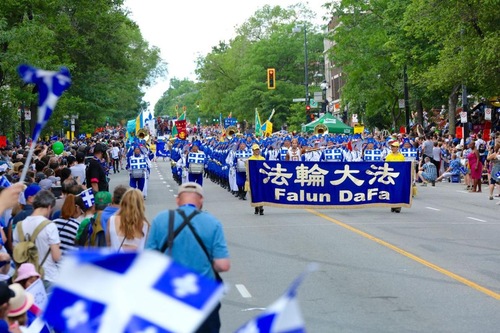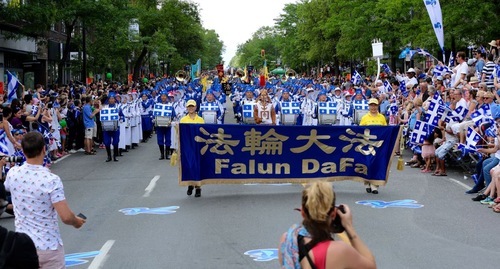 The Tian Guo Marching Band performs in Quebec National Day Parade in Montreal on June 24, 2017.
"I like the band very much!" exclaimed Suzanne Parent-Lafreniere who works for the celebration organizers. She said that the band carried the tradition of Chinese culture and its uniform of blue and white also happens to match the traditional colors of Quebec.
"The coat of arms and flag of Quebec both have blue and white in them. Besides, their performance was spectacular!" said Parent-Lafreniere.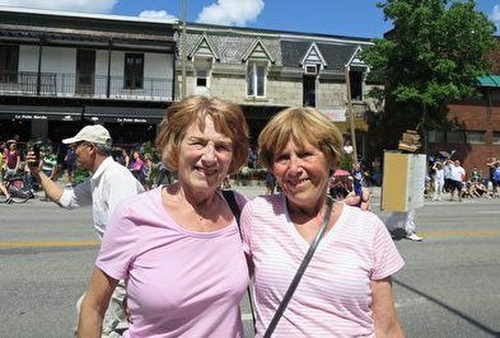 Two sisters from Quebec said the Tian Guo Marching Band was the best in the parade.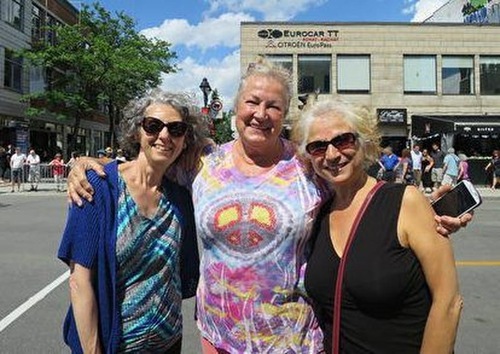 Françoise (middle), a French immigrant, and her two friends said the Tian Guo Marching Band was "awesome." She said the band represented the diverse culture of Quebec, as the musicians are Chinese and various other races, a very diverse group.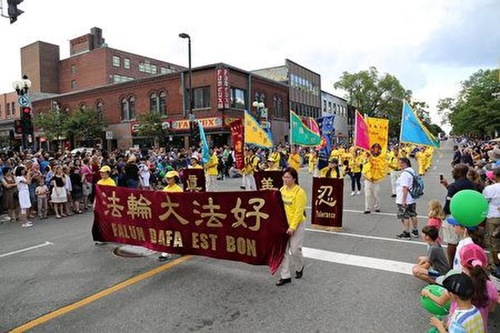 Falun Gong flag team in the parade
A couple who had immigrated from Fujian Province, China, many years ago said they really liked the Falun Gong band very much. Sally said that she noticed Falun Gong's procession was growing year after year. Her husband Tony added that he was glad to see them doing so well. "This is real traditional Chinese culture!" he said with pride.
Anne Chapedelaine, a Falun Gong practitioner who participated in the parade said, "The celebration today is important to me. I am honored to present Falun Gong to people of Quebec," she said.
According to Chapedelaine, all the practitioners demonstrating Falun Gong exercises in the parade were westerners, demonstrating the fact that this practice is not just for Chinese. She explained, "We all benefited from the practice in many ways."