61 Falun Gong Practitioners Sentenced for Their Faith in July 2017
Nov. 5, 2017 | By a Minghui correspondent in China
(Minghui.org) Mr. Ren Shenglin and Mr. Shen Bin, both from Sichuan Province, were tried and sentenced on July 17, 2017, to 7 years and 4 years, respectively, for producing materials that exposed the persecution of their spiritual belief – Falun Gong (also known as Falun Dafa).
The judge dismissed their defense (that no law in China criminalizes Falun Gong) and announced the verdict soon after the hearing started. Mr. Shen has filed an appeal with the intermediate court.
The two Sichuan men were among 61 Falun Gong practitioners who were sentenced by the Chinese communist regime in July 2017 for refusing to renounce their faith. Their sentences ranged from one year of probation to seven years of imprisonment. The average prison term was 3.5 years. Twenty of the sentenced practitioners were fined a total of 218,000 yuan ($32,800 USD); individual fines ranged from 1,000 to 30,000 yuan.
The 61 practitioners were from 15 provinces and municipalities. Jilin Province topped the list with 18 sentences, followed by Liaoning and Sichuan with 9 and 6 sentences each.
The full list of 81 practitioners who were reported as having been sentenced (including those sentenced earlier in the year) can be found at the end of this report.
In addition, Minghui.org confirmed another 20 cases of illegal sentencing that occurred between February and June 2017, bringing the total known number of practitioners sentenced in 2017 so far to 511.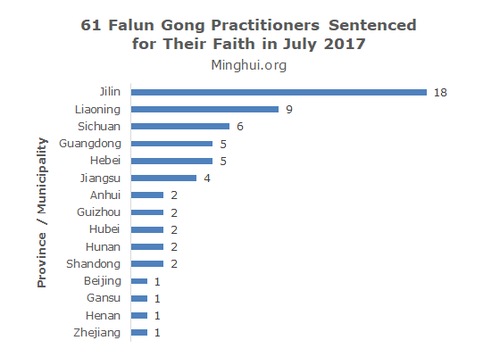 No Legal Basis
During the communist regime's 18-year campaign to eradicate Falun Gong from China, the court system has been sentencing practitioners under Article 300 of the Criminal Law, with the fabricated accusation of "using a cult organization to undermine enforcement of the law."
Since the People's Congress (China's legislative body) has never enacted a law deeming Falun Gong a "cult," former Communist Party leader Jiang Zemin directed the Supreme People's Court and the Supreme People's Procuratorate to issue a statutory interpretation of Article 300 in November 1999, which required that anyone practicing or promoting Falun Gong be prosecuted to the fullest extent possible.
However, a new statutory interpretation that replaced the 1999 version took effect on February 1, 2017. The new interpretation made no mention of Falun Gong and emphasized that any indictment against a person engaging in a cult must be based on solid legal grounds. Thus, the indictment against Falun Gong practitioners lacks legal basis.
Prosecution Evidence Groundless
The main evidence used to charge the practitioners was their possession, reading, and dissemination of Falun Gong books or related materials. The police and prosecutors also cited two notices issued by China's Administration of Press and Publications in July 1999 to ban the publication of Falun Gong books. But the Administration issued a repeal of the ban in 2011, making it fully legal for practitioners to own Falun Gong books.
In some cases, the police fabricated evidence or exaggerated the amount of materials confiscated from the practitioners in order to press charges against them.
Highlighted Sentencing Cases in July 2017
Mr. Zhai Yongchi Sentenced to Seven Years in Prison
Mr. Zhai Yongchi, 64, from Liaoning Province, was sentenced to seven years on July 4, 2017 for practicing Falun Gong. The "evidence" used to charge him included Falun Gong-related materials, a computer, and a printer confiscated from his home.
Before Mr. Zhai's trial on June 26, 2017, Judge Guan Shusen told his two lawyers that they were "not allowed to defend Falun Gong." The lawyers refused to comply and reiterated that it was their right and responsibility to defend their clients.
Plainclothes officers had pretended to be property management staff, and tricked Mr. Zhai into opening the door for them on May 14, 2017. They raided Mr. Zhai's apartment and arrested him.
After Four Years in Prison, Mr. Liang Jianguo Sentenced Again to Five Years
Only 38 days after Mr. Liang Jianguo was arrested at his home in Yiyang City, Hunan Province, he was tried and sentenced to five years of imprisonment on July 28, 2017.
The court did not allow anyone to attend his hearing. The bailiffs took video footage outside the courthouse and asked for detailed information on people who wanted to attend.
Mr. Liang was brought to the court with a black cover over his head, with only his eyes visible. It was reported that Mr. Liang had started a hunger strike after he was arrested, and was in critical condition in detention.
The judge ignored his lawyer's argument that the persecution of Falun Gong was illegal and that legal procedures had been violated during his arrest and detention. The judge hastily announced the sentence at the end of the trial.
Mr. Liang is currently being detained at the Yiyang No. 2 Detention Center. He weighs less than 110 pounds and often vomits blood.
This is not the first time that Mr. Liang has been targeted for his faith. He was sentenced to four years in prison in 2008. Upon his release, police repeatedly harassed him at his home. He was forced to live away from home to avoid continued harassment, only to be captured and sentenced again.
Ms. Liu Yanmei Sentenced to Four Years for Inviting Public to Attend Trial of Falun Gong Practitioners
Beijing resident Ms. Liu Yanmei was sentenced to four years in prison on July 27, 2017, for distributing announcements and asking people to attend a public trial of Falun Gong practitioners.
After Ms. Liu's lawyer argued that inviting people to attend a public hearing was not a crime during her trial on July 6, 2017, her family was dismayed to hear that the prosecutors began accusing Ms. Liu of distributing Falun Gong materials to the public in 2014 and 2015. The Procuratorate had not approved arrests for those indictments in the past.
According to her lawyer, Ms. Liu was brutally tortured during detention. She was beaten by guards and inmates. She was covered with wounds and bruises. A lot of her hair had been pulled out, and her scalp was injured.
Ten Practitioners Sentenced for Exposing Persecution of Falun Gong
Ten Falun Gong practitioners in Jilin Province were sentenced on July 18, 2017 for talking to people about the persecution of Falun Gong. Their sentences ranged from one year to seven years. Nine of the practitioners were fined 10,000 yuan each, and the other one was fined 50,000 yuan.
The practitioners were first tried on March 24, 2017. The court did not allow the practitioners to hire their own lawyers; instead, the court appointed lawyers who entered guilty pleas as instructed by the authorities.
The police monitored the ten practitioners for months before arresting them within a 12-hour period on September 21-22, 2016.
Full name list of sentenced practitioners (PDF)
Previous reports:575 Cases of Falun Gong Practitioners Sentenced for Their Faith Reported in the First Half of 201778 Cases of Falun Gong Practitioners Sentenced for Their Faith Reported in May 2017117 Cases of Falun Gong Practitioners Sentenced for Their Faith Reported in April 2017110 Cases of Falun Gong Practitioners Sentenced for Their Faith Reported in March 201772 Falun Gong Practitioners Sentenced for Their Faith in February 2017137 Cases of Falun Gong Practitioners Sentenced for Their Faith Reported in January 2017