575 Cases of Falun Gong Practitioners Sentenced for Their Faith Reported in the First Half of 2017
September 04, 2017 | By a Minghui correspondent
(Minghui.org) According to information compiled by Minghui.org, 74 cases of Falun Gong practitioners sentenced to prison for their faith were reported in June 2017. This brings the total tally of practitioners sentenced by the Chinese Communist Party's (CCP) court system to 575 in the first half of 2017. Among them, 29 were arrested in retaliation for filing criminal complaints against former Chinese dictator Jiang Zemin for launching the persecution of Falun Gong in 1999.
The sentencing of practitioners often follows prosecution processes laden with violations of legal procedures by law enforcement, procuratorates, and courts. While some practitioners' lawyers attempted to defend their constitutional rights to freedom of belief, the lawyers were often barred from entering the courtroom or constantly interrupted by court officers as they presented their defense arguments.
There were also practitioners who either had no legal representation or were forced to use court-appointed lawyers who were instructed to enter guilty pleas for them. Some practitioners were even tried or sentenced without the knowledge of their lawyers or families.
Among the 575 cases, 450 practitioners were sentenced in 2017, and 125 were sentenced in 2016. Due to the CCP's information blockade, the number of practitioners who were sentenced and the exact time of their sentencing cannot always be reported in a timely manner, nor is all the information readily available.
The lengths of sentences ranged from 6 months to 15 years, with an average term of 3.4 years. Of the sentenced practitioners, 91 were fined a total of 767,000 yuan ($112,800 USD); individual fines ranged from 1,000 to 50,000 yuan.
The sentenced practitioners hail from 22 provinces and centrally-controlled municipalities, and they come from all walks of life. Some of them have been repeatedly arrested or sentenced for their faith.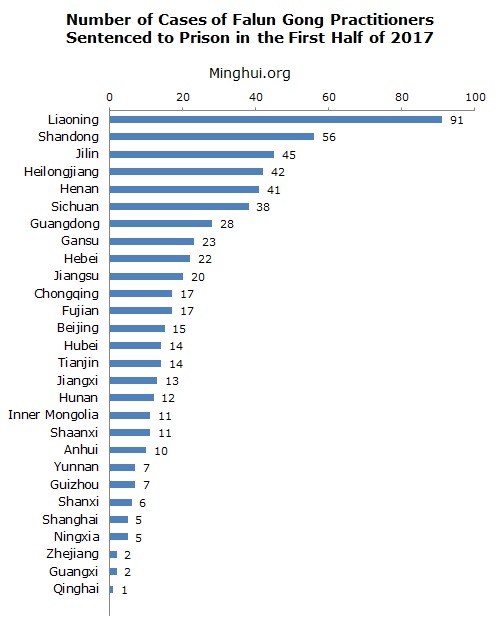 The following are cases of practitioners whose right to legal representation was violated by the Chinese authorities.
A. Practitioners tried without legal representation
I. Authorities not processing lawyers' paperwork
Police in Baishan City, Jilin Province arrested Mr. Liu Guanghai and his wife, Ms. Li Yan, at their home in September 2016. Ms. Li was released later, but Mr. Liu continued to be held at Heigou Detention Center. The prosecution indicted both of them on Jan 16, 2017.
Mr. Liu's lawyer came all the way from Tianjin to Hunjiang District Court in Baishan to get the paperwork set up in order to represent Mr. Liu. The judge wouldn't see him and sent him back to Tianjin to get the paperwork done, which was against the law.
The lawyer returned and tried to get the paperwork done at the local justice bureaus but was given the runaround. He later told Mr. Liu that it was impossible to represent him.
Mr. Liu and Ms. Li were tried without a legal representation on June 29, and only two of their family members were allowed to attend.
II. Practitioners forced to drop their lawyers
1. Mr. Li Qingqiang and Ms. Zhou Yuqin from Heyuan City, Guangdong Province were tried in January 2017. A month prior to the trial, domestic security officers went to Mr. Li's parents' house at night to threaten them. The parents were told that, once a lawyer was involved, they would never see their son. They had no choice but to dismiss the lawyer.
2. Officers in Anping County, Hebei Province broke into Ms. Guo Xiaopin's home on December 19, 2016 and arrested her. Officers at the county court called Ms. Guo's ex-husband and told him to have Ms. Guo's mother drop the lawyer or he would face a large fine. Fearing retaliation, Ms. Guo's mother went to the court and completed the paperwork to dismiss the lawyer on March 8, 2017. Ms. Guo was tried on March 22 and found guilty.
B. Practitioners deceived or forced to use court-appointed lawyers and enter guilty pleas
The authorities in Linmu County, Shandong Province arrested Ms. Wang Songyan and Ms. Chen Suxia when they put up a poster publicizing the filing of criminal complaints against former Chinese leader Jiang Zemin, who started the persecution of Falun Gong.
Agent Li from the 610 Office told Ms. Chen's family that she might be sentenced to prison because her parents' family had hired a lawyer for her. This led to the dismissal of her lawyer, who had met with Ms. Chen only once.
The family felt they had to follow the instructions of the 610 Office to get the practitioners released. They hired lawyers who had been approved by the 610 Office.
Li got the two practitioners to provide statements that favored his agenda. They were tried in February 2017 and each sentenced to three and a half years in prison in late March.
For more information: Families of Two Shandong Practitioners Deceived by 610 Office Directive
C. Authorities interfere with lawyers who enter not-guilty pleas for practitioners, rendering them unable to properly defend practitioners in court
I. Lawyers never informed of trial
1. Police in Jiaozhou City, Shandong Province arrested Mr. Qiu Yuanjin, Ms. Ge Jianzhen, and Ms. Wu Xiaocui when they were telling people about Falun Gong and its persecution by the communist regime. They were first scheduled to be tried on April 11, 2017. On the day of the trial, the court suddenly decided to reschedule it to April 15 but later decided to still hold the hearing that day. After the hearing, the judge didn't issue a sentence.
On June 1, the court tried the three practitioners without notifying the families and lawyers. Mr. Qiu was given three years, and the other two practitioners were each sentenced to two years.
2. Ms. Zhu Zhanfeng from Changling County, Jilin Province was resting at home on October 31, 2016 when police officers broke in and arrested her.
The Changling County Court held a hearing on February 13, 2017 without informing Ms. Zhu's family or lawyer. When questioned by the family afterwards, a court official said that the court didn't have the family's phone number to notify them of the trial.
Ms. Zhu was sentenced to four and a half years and fined 10,000 yuan on March 28.
For more details: Teacher from Jilin Province Appeals Prison Sentence for Practicing Falun Gong
3. Ms. Xiong Wenfang from Shenzhen, Guangdong Province was home on the night of October 30, 2016 when a dozen policemen forced their way in and arrested her.
Ms. Xiong's lawyer, Mr. Fan Biaowen, traveled hundreds of miles to visit her in the detention center in late January 2017. He was not allowed to talk about Falun Gong with his client. The Luohu Procuratorate interrogated Ms. Xiong hours after Mr. Fan left and soon forwarded her case to the local court.
Ms. Xiong's trial date was set for February 13, and the court officials informed only her daughter of the hearing. They threatened her not to tell her family or Mr. Fan about the hearing.
Ms. Xiong testified in her own defense during the trial. The judge found her guilty on June 15.
Shenzhen Woman Sentenced to Prison, Her Mother Sues Perpetrators for Dereliction of Duty
II. Lawyers not receiving notice of court date until the last minute and unable make it to trial
Mr. Huang Licheng and seven other practitioners from Suihua City, Heilongjiang Province were arrested on January 5, 2017 while they were giving out Falun Gong literature. The Lanxi County Court notified the practitioners on June 13 that their trial would be held at 2 p.m. on the same day. Mr. Huang's lawyer was in Shanghai at the time and could not make it to the hearing.
III. Lawyers barred from entering the courtroom
1. Ms. Yan Shufang and four other practitioners from Tonghua City, Jilin Province were tried on June 13, 2017. Security guards at Antu County Court in Yan'an City searched the practitioners and their families before letting them in. Ms. Yan's lawyer refused to be illegally searched and was barred from entering the courtroom. As a result, all five practitioners were tried without legal counsel.
2. The police in Beiyin City, Gansu Province arrested Ms. Si Liping on September 12, 2016. She was tried on February 7, 2017, and the judge at Beiyin District Court refused to let her lawyer into the courtroom without giving a reason. Ms. Si was later sentenced to three years in prison and lost her job.
IV. Lawyers quit in protest midway through trial
Ms. Sun Min from Anshan City, Liaoning Province was arrested on June 28, 2016 for refusing to renounce Falun Gong.
When she first appeared in court on February 17, 2017, her lawyer at the time argued that the case should be heard in a different jurisdiction based on the location of her arrest. Judge Wang Lihan of Lishan District Court ignored the lawyer and tried to proceed with the hearing. The lawyer terminated his legal representation of Ms. Sun in protest and left the courtroom.
The judge then postponed the trial to April 6. He asked Ms. Sun's newly hired lawyer to persuade his client to agree to appear in court later that day. The lawyer declined because of the short notice.
While the lawyer was meeting with Ms. Sun in the detention center later that day, the judge rushed in with the prosecutor and clerks and attempted to try Ms. Sun on the spot. To halt the hearing, Ms. Sun dismissed her new lawyer moments later. The lawyer then proceeded to file a complaint against the judge.
For more details: Lawyer Sues Liaoning Judge for Violating Legal Procedures in Trial of Falun Gong Practitioner
V. Practitioners terminate representation during trial in effort to halt proceedings
1. On June 15, 2017, Ms. Zhang Guangyuan, Ms. Zhang Weihua, and Mr. Gao Hongbo were scheduled to be tried in Anshan City, Liaoning Province for practicing Falun Gong. They refused to appear in protest of the illegal trial, and the court officers dragged them to the courtroom.
When the judge interfered with the lawyers' defense of the practitioners, Ms. Zhang Guangyuan dismissed her lawyer to stop the hearing from continuing. Mr. Gao's lawyer pointed out that the hearing should be rescheduled because it would be illegal to proceed without Ms. Zhang's lawyer. The judge attempted to continue the hearing for the other two practitioners. Mr. Gao's lawyer argued that there needed to be a legal document to hold separate trials instead of an oral statement. As the judge insisted on continuing the hearing, Mr. Gao dismissed his lawyer, not believing that he would get a fair trial. Ms. Zhang Weihua dismissed her lawyer in court as well.
2. Ms. Wang Shuying was arrested in April 2016 and detained in Jiamusi City, Heilongjiang Province. She was tried in the detention center on March 7, 2017. To stop the illegal trial, both of her lawyers left the detention center in protest. Ms. Wang protested a few times that she could not be tried without legal representation. It was learned that she was later found guilty and sentenced to three years in prison.
VI. Lawyers barred by judges from entering courtroom
Ms. Deng Shi'e was arrested at home on September 24, 2016 when about two dozen agents pried open her door and broke in.
The January trial took place in a courtroom within Dongyuan Detention Center in Guangdong Province, where Ms. Deng remains captive.
Ms. Deng's lawyer was stopped at the entrance of the detention center when he refused to go through the security check. By law, defense lawyers are exempt from such security checks.
The lawyer waited outside, but the police still refused to allow him inside. He had no choice but to drive away. Ms. Deng's family was also barred outside. The police claimed that there were no more seats available in the courtroom.
The trial went on without the presence of the lawyer or any family member. It is unclear whether a verdict has been reached.
For more details: Lawyer and Family Barred from Attending Trial of Falun Gong Practitioner