78 Cases of Falun Gong Practitioners Sentenced for Their Faith Reported in May 2017
July 13, 2017 | By a Minghui correspondent in China
(Minghui.org) Another 78 cases of Falun Gong practitioners sentenced to prison by Chinese courts have been confirmed by Minghui.org.
Among the 78 cases, 6 practitioners were sentenced in 2016, and 72 were in 2017 (including 18 between January and April 2017, as well as 54 in May 2017). Due to the Chinese regime's information blockade, the number of practitioners who were sentenced and the exact time of their sentencing cannot always be reported in a timely manner, nor is all the information readily available.
So far in 2017, it has been confirmed that 514 Falun Gong practitioners have been sentenced to prison for their faith. They include 122 cases from 2016 and 392 cases in 2017.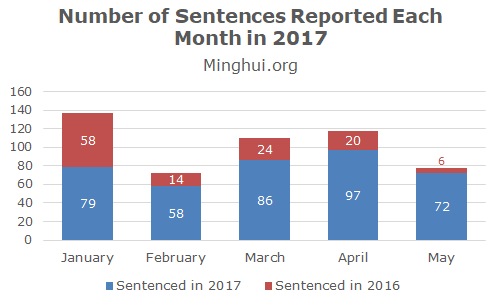 The lengths of sentences reported in May 2017 range from 5 months to 12 years, with an average term of 3.44 years. In particular, nine practitioners from Fujian Province were sentenced for making informational materials about the persecution of Falun Gong. Three of them received sentences of ten years or more.
Twenty-seven of the sentenced practitioners were fined by the courts a total of 265,000 yuan and extorted by the police for 160,000 yuan. In particular, Ms. Zeng Jinlian from Yueyang, Hunan Province had 100,000 yuan in cash confiscated by police officers who were ransacking her home.
These sentenced practitioners come from 19 provinces and centrally-controlled municipalities. Liaoning Province tops the list with 13 sentences, Henan and Fujian Provinces both had 11 sentences, and Shandong Province had 7 sentences.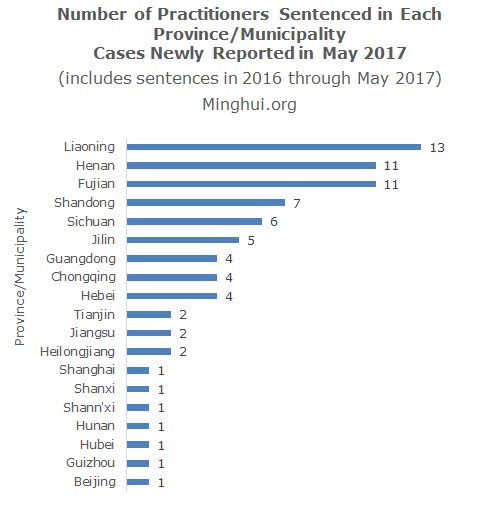 Most of the practitioners were sentenced for producing or distributing informational materials about Falun Gong and the persecution. Five were sentenced for filing criminal complaints against former Chinese Communist Party leader Jiang Zemin, who directed the persecution of Falun Gong in 1999.
Heavy Sentences and Extortion for Producing Informational Materials
Nine residents from Ningde, Fujian Province were sentenced by the Jiaocheng District Court on May 18, 2017, for producing materials about the persecution of Falun Gong.
In particular, 62-year-old Mr. Xiao Chuangxiong was sentenced to 12 years in prison and fined 50,000 yuan. Two other practitioners, Mr. Yang Xiong and Mr. Zhuang Youbu, both in their 40s, were sentenced to 10 years with a 30,000-yuan fine.
Ms. Jin Liyan, 74, was sentenced to 8 years and Mr. Chen Kaiqi, 41, received 7 years.
The other four practitioners, Mr. Wang Tian, 39; Ms. Lin Lifang, 52; Ms. Cheng Xingguang, 69; and Ms. Yang Guimei, 54, were sentenced to prison terms of between 3 and 4.5 years.
The nine practitioners were fined a combined 170,000 yuan.
Ms. Zeng Jinlin Sentenced to Five Years; Police Confiscate 100,000 Yuan
Ms. Zeng Jinlian, from Yueyang, Hunan Province, was sentenced to five years of imprisonment on May 10, 2017. She has appealed the verdict.
Ms. Zeng was arrested on November 23, 2016, when more than 20 officers broke into her home and confiscated her Falun Gong books, computer, cell phone, and 100,000 yuan in cash. Her husband, who did not practice Falun Gong, was also taken to the police station for interrogation.
Although Ms. Zeng's husband was released later that evening, she has been held at Yunxi Detention Center since her arrest. She was tried on April 28 and sentenced on May 10 by the Yueyanglou District Court.
Mr. Song Xingwei and Mr. Bo Changhe from Hebei Province were both sentenced to 4-year prison terms on May 21, 2017. They were arrested for spraying a message reading "Falun Dafa is good" in Shanghai, and then charged with "using a cult to undermine law enforcement," a standard pretext used by the Chinese communist regime to sentence Falun Gong practitioners.
During their first court hearing on March 21, 2017, the judge repeatedly interrupted their lawyer's defense statements. When the lawyer continued to argue that his clients had not violated any laws or harmed society, the judge ordered bailiffs to remove him from the hearing.
Mr. Song began a hunger strike after the hearing. As a result, he was force-fed and beaten by inmates at the detention center. As his health quickly declined, he was taken to Shanghai Prison Hospital, where he was restrained to a bed and had a feeding tube inserted into his nostril at all times. His weight dropped by more than 50 pounds in just a few weeks.
Mr. Song was wheeled into his sentencing hearing on May 21, 2017.
610 Office Agent Tricked Practitioners' Family Members into Dropping Their Lawyer
Two other practitioners from Shandong Province, Ms. Wang Songyan and Ms. Chen Suxia, were each sentenced to 3.5 years in prison and fined 20,000 yuan for putting up a poster encouraging the public to file criminal complaints against Jiang Zemin, former head of the communist regime who ordered the persecution of Falun Gong.
While Ms. Chen's family worked hard to rescue her, an agent from the 610 Office told them that she might be sentenced to prison because her parents hired a lawyer for her. This caused conflict between her in-laws and her parents, which led to the lawyer's dismissal.
The agent then said that the two practitioners would not be released because other Falun Gong practitioners were making phone calls and putting up posters to rescue them. The two practitioners' families became upset with the practitioners involved in these efforts.
Both practitioners' families believed that they had to follow the instructions of the 610 Office to get the practitioners released. They cooperated with Li and hired lawyers who were approved by the 610 Office.
Meanwhile, Li also deceived the two practitioners and obtained information from them. However, instead of releasing the practitioners as he promised, Li submitted their cases to the Procuratorate and court. Both practitioners were tried in February 2017 and sentenced to 3.5 years in prison in late March.
Violation of Court Procedure
Mr. Li Baohua, a computer shop owner in Heilongjiang Province, was sentenced to 3.5 years in prison and fined 3,000 yuan on April 20, by the Taoshan District Court.
Before Mr. Li's trial on March 27, 2017, Judge Liu Xiaoyan threatened his family several times to dismiss his lawyer, promising a lighter sentence in exchange. Mr. Li's family refused to do so.
Judge Liu scheduled the trial for the day when the lawyer was traveling to Inner Mongolia for another case, and the judge also did not inform Mr. Li or his lawyer of the trial date at least three days in advance, as required by the law.
As a result, Mr. Li was tried without any legal representation. The trial lasted only 20 minutes.
Upon receiving his verdict in April, Mr. Li began a hunger strike to protest the sentence and has also appealed to the higher court.
His family hired another lawyer to represent him for the appeal. When the new lawyer and his family met with Judge Li Huan from the higher court to discuss his case, Judge Li expressed his intent to close the case without holding a hearing.
Mr. Li's appeal is still pending at the time of writing.
Previous reports:117 Cases of Falun Gong Practitioners Sentenced for Their Faith Reported in April 2017110 Cases of Falun Gong Practitioners Sentenced for Their Faith Reported in March 201772 Falun Gong Practitioners Sentenced for Their Faith in February 2017137 Cases of Falun Gong Practitioners Sentenced for Their Faith Reported in January 2017