117 Cases of Falun Gong Practitioners Sentenced for Their Faith Reported in April 2017
June 15, 2017 | By a Minghui correspondent
(Minghui.org) According to information compiled by Minghui.org, the month of April 2017 recorded 117 new cases of Falun Gong practitioners being sentenced to prison for their beliefs by the Chinese Communist Party's (CCP) court system.
Among the 117 new cases, 97 practitioners were sentenced in 2017, and 20 were sentenced in 2016. Due to the CCP's information blockade, the number of practitioners who were sentenced and the exact time of their sentencing cannot always be reported in a timely manner, nor is all the information readily available.
The sentencing of the practitioners often resulted from unfair trials. While some practitioners had lawyers who were willing to defend their constitutional rights to freedom of belief, the lawyers were often barred from entering the courtroom or constantly interrupted by court officers as they presented their defense arguments.
There were also practitioners who either had no legal representation or were forced to use court-appointed lawyers who were instructed to enter guilty pleas for them. Some practitioners were even tried or sentenced without knowledge of their families or lawyers.
The lengths of sentences ranged from 6 months to 7 years, with an average term of 2.8 years. One of the sentenced practitioners was fined a total of 20,000 yuan; another four were fined 10,000 yuan. One practitioner had a total of 20,000 yuan extorted by police.
The sentenced practitioners hail from 21 provinces and centrally-controlled municipalities, and they come from all walks of life. Some of them have been repeatedly arrested or sentenced for their faith.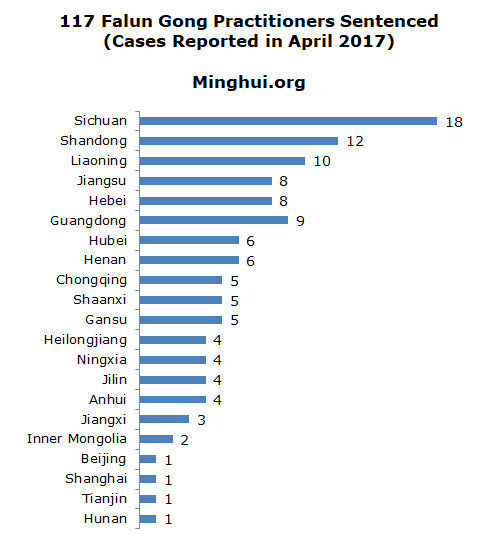 Court-Appointed Lawyers Instructed to Enter Guilty Pleas
Jiulongpo District Court in Chongqing tried five Falun Gong practitioners on October 28, 2016. The defendants were Ms. Zhou Hong, Mr. Yu Guanghe, Ms. Chen Changying, Mr. Liu Jianping, and Ms. Yang Changqin.
Ms. Chen and Mr. Liu were arrested on November 24, 2015 while distributing information about the communist regime's persecution of Falun Gong. On the same day, officers broke into Ms. Zhou's home and arrested her. They also arrested Mr. Yu and Ms. Yang on November 28, 2015.
The families of Ms. Chen, Mr. Liu, and Ms. Yang hired attorneys to defend them. All three of them pleaded not guilty. The other two (Ms. Zhou and Mr. Yu) were given court-appointed attorneys, who were instructed to enter guilty pleas for their clients.
Ms. Zhou and Mr. Yu, however, demanded an acquittal on the grounds that they broke no law by exercising their constitutional right to freedom of belief. The judge asked for the opinions of the two court-appointed attorneys, who both replied, "I agree with the defendant."
The judge later sentenced all five practitioners to prison, giving Mr. Yu 9 years, Ms. Zhou 4 years, Ms. Yang 3.5 years, Ms. Chen 2.5 years, and Mr. Liu 2 years.
Practitioners Tried and Sentenced Without Their Families Notified
The authorities tried and sentenced three practitioners from Xinzhou City, Shanxi Province in April 2017 without notifying their families. Ms. Wang Meiyun was sentenced to three years, Mr. Yang Junjun to three and a half, and Mr. Liang Tiancai to three and a half. Their families learned of the sentences through informal channels and have filed appeals on their behalf.
Ms. Wang and Mr. Yang were reading Falun Gong books at their homes when the police broke in and arrested them on January 13, 2016. Mr. Liang was arrested the next day at his home as well.
The police arrested two sisters from Linyi County, Shandong Province for distributing Falun Dafa literature on October 8, 2016. Ms. Meng Xianglan and Ms. Meng Xiangling were put in Linyi Detention Center on October 19. They were secretly tried by Mengyang County Court in April 2017, when Ms. Meng Xianglan was sentenced to a year in prison and Ms. Meng Xiangling to a year and a half.
Judge and Police Interfere with Defense Lawyer in Court
Mr. Zeng Liuming from Heyuan City, Guangdong Province was arrested at his home on September 24, 2016. After almost four months of illegal detention, Mr. Zeng was tried by Zijin County Court on January 19, 2017. Only two of his family members were allowed in court.
During the trial, the judge and police officers frequently interfered with and interrupted Mr. Zeng and his lawyer during their defense arguments. The session was adjourned without a sentence due to insufficient evidence. Later, the court secretly sentenced Mr. Zeng to two and a half years without notifying Mr. Zeng's lawyer or family. His family is now filing an appeal.
Sichuan Woman Tried with Lawyer Blocked Outside
A practitioner in Luzhou City, Sichuan Province was tried on September 20, 2016 while her lawyer was blocked outside for protesting the court's unlawful practices. Ms. Luo Shuizhen was arrested on December 25, 2015 for talking to people about the communist regime's persecution of Falun Gong.
Sudden Change of Venue
When the lawyer received the trial notice on September 6, it stated that the hearing would be held on September 13 in Room 9 of Luzhou City Intermediate Court. He was also expecting a copy of the indictment, but the court never delivered the document to him as required by law.
The lawyer was notified a few days later that the hearing had been rescheduled for September 20, but the location remained the same.
The lawyer arrived at the courthouse at 8:00 a.m. on September 20. He did not see any signs of an imminent trial. A court clerk called him at around 8:30 a.m., saying that the venue had been changed to a courtroom inside Naxi Detention Center, where his client remained captive.
The lawyer protested the sudden change of venue without advance notice, but could not change the outcome.
Unlawful Security Check and Ban of Personal Computer
The lawyer rushed to the detention center but was stopped outside by bailiffs, who demanded that he go through a security check. He protested the unlawful practice, as Chinese law exempts defense lawyers from such security checks.
The judge came out, saying that the lawyer must leave behind his laptop and use a court-owned computer instead. The lawyer argued that no law forbids the use of personal computers in trials. He also challenged the judge to present a legal basis for such a restriction.
The judge ignored the lawyer and went inside to start the hearing, which concluded in less than 30 minutes.
Ms. Luo was later sentenced to 4 years in prison and fined 10,000 yuan.
Woman Tried Without Legal Representation
Ms. Li Liming, an assistant principal of an agriculture technology school in Shenyang City, Liaoning Province was arrested in November 2016 after police found Falun Gong literature in her bag. After she was detained for almost five months, the Sujiatun Court tried her. She defended herself and pleaded not guilty. The court later secretly sentenced her to six months. In May 2017, six months after her arrest, she was treated as having served her term and released.
Defense Lawyers Plead Not Guilty for Practitioners
The prosecutor in the trial of four Falun Gong practitioners in Hanchuan City, Hubei Province recommended lighter sentences after listening to the defense arguments.
Peng Lumei, Wang Sheng, Wang Guilan, and Li Xianqi were tried on January 17, 2016 for hanging up banners bearing information about Falun Gong.
The defense lawyers argued that no law in China criminalizes Falun Gong and that their clients had every right to publicize their faith, which is based on the principles of Truthfulness-Compassion-Forbearance. They asked for their clients to be released without charges.
Prosecutor Chen Shunxiang did not refute the defense arguments. Instead, he suggested that the judge give lighter sentences to the practitioners.
The judge later issued the following prison sentences against the practitioners:Peng: 2 years;Wang Sheng: 1 year and 2 months;Wang Guilan: 2 years and 5 months;Li: 1 year and 5 months.