Falun Gong Practitioners Protest Visit by CCP Provincial Secretary in Ireland
June 15, 2017 | By a Falun Gong practitioner in Ireland
(Minghui.org) The Chinese delegation led by Hu Chunhua, the Chinese Communist Party (CCP) Secretary of Guangdong Province, arrived in Dublin on June 8, 2017. The next day Falun Gong practitioners organized a peaceful protest across the street from the InterContinental Dublin Hotel where the delegates stayed.
The practitioners held banners demanding that the CCP stop the 18-year-long persecution of the spiritual discipline and harvesting organs from living practitioners imprisoned for their belief. Several practitioners meditated in front of the banners. The protest attracted passersby and passengers in cars, many of whom stopped to learn more about the persecution.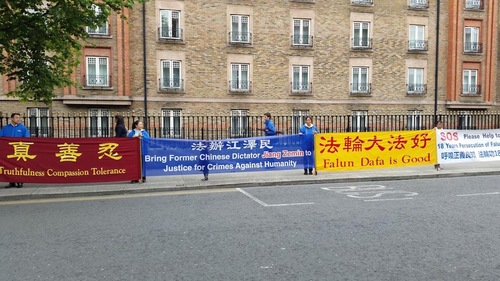 Falun Gong practitioners in Ireland hold a peaceful protest across the street from the InterContinental Dublin Hotel to raise the awareness of the ongoing persecution of the practice in China.
Raising Awareness of the Ongoing Persecution
Passersby took fliers from the practitioners, with many wanting to know more about the practice and why they were being persecuted. Many stood in front of the banners and read the messages.
About eight police officers patrolling near the hotel listened to a practitioner clarifying the facts relating to the wrongful persecution. They were stunned upon learning that the CCP harvested organs from living practitioners without anesthetics.
Saluting Practitioners for What They Do
Louis Walsh, a known Irish entertainment manager, drove by the practitioners that day. While he was waiting for the traffic light to change, a practitioner told him about the persecution. Walsh told the practitioner that they were doing something magnificent and very important. "Well done," he said.
A man stopped his car near the practitioners and asked what happened. After he was told about the persecution, he said that the Chinese government does shady things underneath its glorious surface. He used the example that the CCP used to suppress Confucianism during the Cultural Revolution, and now it's promoting communism by building the Confucius Institute in other countries.
After the practitioner told him that there was a lot of evidence showing that the CCP sells organs harvested from practitioners, he was in disbelief. He told the practitioner that he was a reporter for a news website and that he would write about the issue.
Chinese Embassy Mobilizes Vehicles to Block the Protest from Street View
On the afternoon of June 9, before the Chinese delegation left the hotel, the Chinese Embassy sent two trucks to park in front of the banners. They attempted to block passersby and passing cars from seeing the protest. The police immediately asked the two vehicles to move.
The embassy again sent three cars to park in front of the banners that evening, blocking half of the street. The practitioners called the police. An officer came and sternly asked the drivers to move the cars immediately.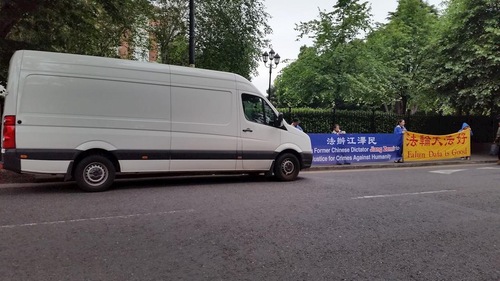 The Chinese Embassy used cars to block the banners, attempting to prevent passersby and drivers from seeing the protest.