I am a veteran disciple who obtained the Fa in 1996. There are so many miracles that have happened to me over the years that it's impossible to describe them all in just a few days. I grew up during the CCP's Cultural Revolution and as a result didn't learn much in school. Due to my limited education, I missed the first eight sharing conferences for practitioners in China. This time I'm determined to share my experiences so I may express my deep gratitude to our revered Master. Without Dafa, there'd be no me. Master has borne so much for me and only by cultivating solidly and saving more people can I not let Master down.
…
Mr. Zhang Jinsheng was imprisoned for his beliefs and mistreated in prison. Two years after developing a serious medical condition he was released in critical condition and died two weeks later.
Ms. Gong Ruiping, a teacher recognized for excellence, has been repeatedly arrested and persecuted for her belief in Falun Gong.
Australians from different ethnicities and races kept cheering and waving their hands, exclaiming, "Beautiful!"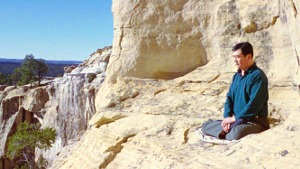 Master Li quietly watching the world from amidst the mountains after leaving New York following July 20th, 1999. (Published January 19, 2000)