"Good or evil comes from that instant thought. Cultivators should always follow the Fa's requirements to be mindful and timely look inward, and danger will not occur. As long as we follow the Fa principles, Master will be by our side to protect us. I truly thank Master for his saving grace."
…
After two injections, Mr. Xu became delirious and his limbs began to shake uncontrollably.
A practitioner that the entire village stood up for is denied legal counsel and imprisoned.
A young woman who began to practice in high school has seen opportunities unfold and avoided danger by following Master's arrangements.
~ Accounts of Persecution ~
~ Experience Sharing Conferences ~
~ Other Community Events ~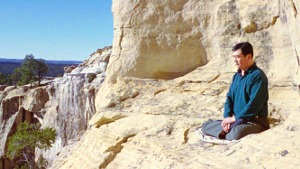 Master Li quietly watching the world from amidst the mountains after leaving New York following July 20th, 1999. (Published January 19, 2000)