Initially, we had the predestined relationship to come together and form a Fa study group. Who would have thought that this would lead to us working together on a project? All of us were awed by the extraordinariness of Dafa. We started an animation production team and resolved to make plans for this project after our weekly Fa study session.
…
Petition signer: "I admire Falun Gong. It's able to uplift China's morality."
A schoolteacher endures electric shocks, sleep deprivation, beatings, sexual assault, force-feeding and other tortures in over twelve years of persecution.
A reminder to not let Fa study become a formality by overemphasizing quantity over quality.
~ 9th China Fahui on Minghui.org ~
~ Accounts of Persecution ~
~ Journeys of Cultivation ~
~ Evil Meets with Evil ~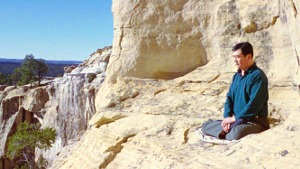 Master Li quietly watching the world from amidst the mountains after leaving New York following July 20th, 1999. (Published January 19, 2000)