(Clearwisdom.net) Mr. Meng Hualong, nearly 60, a practitioner from Deyang City, Sichuan Province, has been imprisoned since 2005 at the Xinhua Forced Labor Camp in Sichuan Province. He has suffered from such torture methods as "tying the ropes," electrical baton shocks, and being forced to wear a winter hat and down coat for 10 hours on a hot 86oF summer day.
(Clearwisdom.net) On August 3, 2008, over 20 policemen from the Public Security Bureau in Wucheng County broke into Falun Gong practitioner Qin Baoli's home in Jiangguantun Village. They searched Mr. Qin's house and confiscated his property. It was in shambles when they left. They even took a ladder and climbed up to the rooftop and damaged the roof. In the end, the police took a computer, a printer, and some other personal effects, filling up a car.
(Clearwisdom.net) On July 14, 2008, practitioner Ms. Wang Yan from Fuxing District, Handan City, Hebei Province, was followed by officers from the Hualin Police Station in Fuxing District when she left her home. The police took her back to her home and placed her residence under surveillance.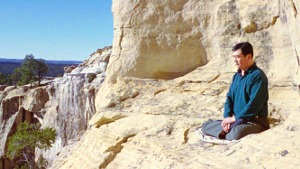 Master Li quietly watching the world from amidst the mountains after leaving New York following July 20th, 1999. (Published January 19, 2000)