Disabled Practitioner Ms. Liu Guijin Taken to Labor Camp in Shenyang City, Family Not Allowed to Visit (Photo)
(Clearwisdom.net) Ms. Liu Guijin, 58, lives in Beijing. Both of her legs were crippled as a result of being tortured in previous detentions. She was arrested on May 14, 2008, in Beijing, and was transferred to the notorious Masanjia Labor Camp in Shenyang City, Liaoning Province in July 2008. Her family tried many times to visit her in Beijing and in Shenyang, but they were rejected at both places. They are very worried about her safety.
Ms. Liu is currently locked up in the New Inmate Ward, also called the Third Ward in the First Branch of Liaoning Province Women's Labor Camp, Zip Code 110145. Her personal ID number is 13020319520919302.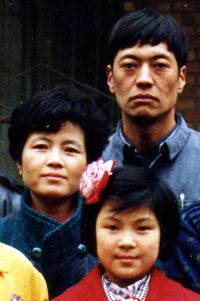 Ms. Liu Guijin's family
Related report: http://www.clearwisdom.net/emh/articles/2008/8/26/100133.html