(Clearwisdom.net) On April 23, 2008, police officers from the Benxi City Police Department in Liaoning Province arrested local practitioners during a well-coordinated operation. Some officers said that the operation and the list of practitioners were from the Liaoning Provincial government. We now know that some practitioners have been detained at the Grand White Building in the Caibei Area.
(Clearwisdom.net)
Ms. Hu Runlian, 52, is from Leshan City, Sichuan Province. She was formerly an employee of the Industry and Business Bank in Shizhong District, Leshan City. She started practicing Falun Gong in July 1997, and gradually her many illnesses disappeared. When the Chinese Communist Party started the persecution, Hu Runlian went to appeal for justice for Falun Gong. However, she was
illegally arrested
and detained, and her home and belongings were confiscated. She was dismissed by her company, and after being detained at a forced labor camp she was sentenced to prison. Ms. Hu has suffered financially, physically and spiritually.
(Clearwisdom.net) At about 9:00 pm, on April 23, 2008, police officers from the Shuangliao City Power Factory Department, Siping Prefecture, Jilin Province, along with agents from the National Security, the Shuangliao City Department, and the Liaoxi Station, arrested Falun Gong practitioner Mr. Wang Zengwu. Persons involved in the arrest were Gao Tiejun (male), the director of the power factory department; the deputy director, Li Cheng (male); the director of national security division, Yan (male); the instructor of the police station and a women Du (given name unknown); Wang Hongpeng (male) from the police department; Zhang Dongshuai; and other police officers totaling about 10 .
~ Accounts of Persecution ~
~ Opinion & Perspective ~
~ Rallies & Protests ~
~ Journeys of Cultivation ~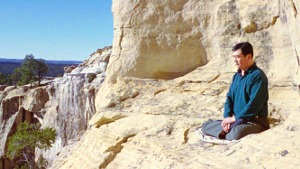 Master Li quietly watching the world from amidst the mountains after leaving New York following July 20th, 1999. (Published January 19, 2000)