78-year-old Woman Develops Severe Bone Diseases While Serving Time for Her Faith
(Minghui.org) Ms. Wang Xuezhen, 76, developed severe mobility issue with her spine after spending nearly three years of a four-year prison term, for her faith in Falun Gong.
Ms. Wang's family received a notice from the Guangdong Province Women's Prison on February 23, 2022 that she had high blood pressure, compression bone fracture in her lumbar and thoracic spine, and degeneration of her lumbar spine. The prison guard said that Ms. Wang was receiving medical treatment, but as her family has been denied visitation to her, they are very worried about her health.
In addition to Ms. Wang's ordeal, her son, Mr. Ma Minqing, is also serving a 7.5-year term for his shared faith in Falun Gong.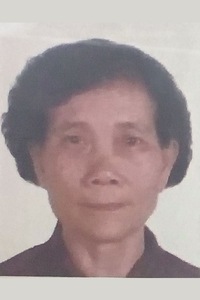 Ms. Wang Xuezhen
Ms. Wang, a retired employee of the Guangdong Provincial Drug Administration, took up Falun Gong, a spiritual and meditation discipline, in 1997. The Guangzhou City, Guangdong Province resident was arrested on July 9, 2019, for raising awareness about the persecution of Falun Gong by the Chinese communist regime.
Ms. Wang was tried by the Haizhu District Court on January 3, 2020. Her family wasn't notified of the hearing. Ms. Wang refused to accept the court-appointed lawyer, who was instructed to enter a guilty plea for her. She acted as her own lawyer and defended her innocence.
Ms. Wang argued that no law in China deems Falun Gong a crime and that there is no legal basis for the persecution. She said she didn't do anything wrong. She also testified against the police for ransacking her home without her or her family's presence and for accusing her of committing a "crime" for trying to be a good person.
When the lawyer hired by Ms. Wang's family visited her in early August 2020, she told the lawyer that she was having excruciating back pain and was sometimes unable to walk, so she had to crawl on the floor. She asked to see a doctor, but the guards ignored her.
Someone familiar with Ms. Wang's situation told her family in late October 2020 that she was subjected to the stretching torture in the Haizhu District Detention Center. She was so badly injured that she was unable to stand up straight or walk. She was in a wheelchair when her lawyer visited her again on November 3, 2020.
The Haizhu District Court sentenced Ms. Wang to a four-year prison term and a 5,000-yuan fine through a video conference on March 17, 2021. Sitting in a wheelchair, Ms. Wang still tried to argue how she had benefitted from practicing Falun Gong, but judge Chen Peng stopped her.
Related reports:
77-year-old Woman Sentenced to Four Years for Her Faith
76-Year-Old Woman Bedridden and Unable to Walk As a Result of Torture in Custody
76-year-old Woman Suffers Severe Back Pain in Detention, Denied Medical Treatment
Mother and Son Await Verdicts for Their Shared Faith
Eight Guangzhou Residents, Including Six in Their 70s and 80s, Arrested for Their Faith in Two Days
All content published on this website are copyrighted by Minghui.org. Minghui will produce compilations of its online content regularly and on special occasions.