77-year-old Woman Sentenced to Four Years for Her Faith
March 29, 2021 | By a Minghui correspondent in Guangdong Province, China
(Minghui.org) After one and a half years of detention, Ms. Wang Xuezhen, 77, lost the ability to walk on her own due to the abuses in custody. She is now facing a dire situation after being sentenced to four years in prison on March 17, 2021, for upholding her faith in Falun Gong.
Falun Gong, also known as Falun Dafa, is a spiritual discipline that has been persecuted by the Chinese communist regime since 1999.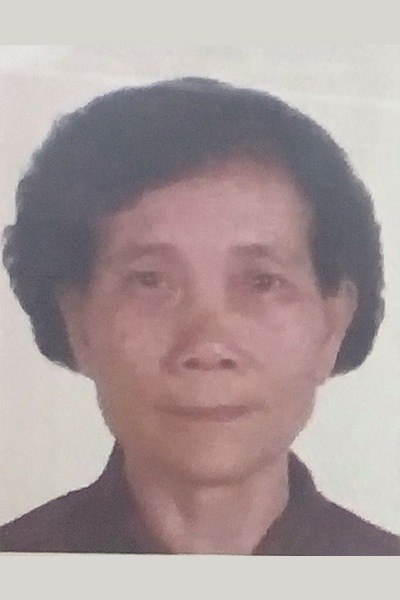 Ms. Wang Xuezhen
Ms. Wang, from Guangzhou City, Guangdong Province, was arrested on July 9, 2019, for raising awareness about the persecution of Falun Gong. The Guangzhou City Procuratorate approved her arrest on August 16, 2019. After receiving her case in early October, the Guangzhou City Procuratorate transferred her to the Haizhu District Procuratorate, which indicted her in early November and moved her case to the Haizhu District Court.
In recent years, the Haizhu District Procuratorate and Haizhu District Court have been assigned to handle most of the Falun Gong cases in the Guangzhou region as a way to prosecute practitioners more quickly.
Ms. Wang was tried in the Haizhu District Court on January 3, 2020. Her family wasn't notified of the hearing. Ms. Wang refused to accept the court-appointed lawyer, who was instructed to enter a guilty plea for her. She acted as her own lawyer and defended her innocence.
Ms. Wang argued that no law in China deems Falun Gong a crime and that there is no legal basis for the persecution. She said she didn't do anything wrong. She also testified against the police for ransacking her home without her or her family's presence and accusing her of committing a "crime" for trying to be a good person.
Ms. Wang's hearing occurred one day after the hearing for her son, Mr. Ma Minqing, also a Falun Gong practitioner was held. Although they were arrested for their faith on the same day, Ms. Wang didn't know about his arrest until she happened to see him in the detention center.
When the lawyer hired by Ms. Wang's family visited her in early August, she told the lawyer that she was having excruciating back pain and was sometimes unable to walk, so she had to crawl on the floor. She asked to see a doctor, but the guards ignored her.
Someone familiar with Ms. Wang's situation told her family in late October that she was subjected to the stretching torture in the Haizhu District Detention Center. She was so badly injured that she was unable to stand up straight or walk. She was in a wheelchair when her lawyer visited her again on November 3.
The Haizhu District Court judge sentenced Ms. Wang to four years with a 5,000-yuan fine through a video conference on March 17, 2021. It's not clear whether her son has been sentenced.
Related reports:
76-Year-Old Woman Bedridden and Unable to Walk As a Result of Torture in Custody
76-year-old Woman Suffers Severe Back Pain in Detention, Denied Medical Treatment
Mother and Son Await Verdicts for Their Shared Faith
Eight Guangzhou Residents, Including Six in Their 70s and 80s, Arrested for Their Faith in Two Days
All articles, graphics, and content published on Minghui.org are copyrighted. Non-commercial reproduction is allowed but requires attribution with the article title and a link to the original article.
Category: Accounts of Persecution